Russian Pole Vaulter Walks Back Her Anti-LGBT Comments
Yelena Isinbayeva, champion pole vaulter and "mayor" of the Olympic village in Sochi, says she was "misunderstood" and opposes "any discrimination against gay people on the grounds of their sexuality."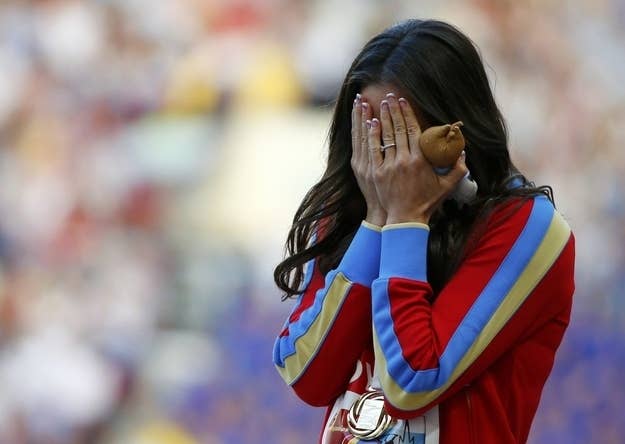 A day after voicing support for Russia's anti-LGBT propaganda law and calling homosexuality a "problem," two-time Olympic winner Yelena Isinbayeva walked back her comments on Friday by claiming she was "misunderstood."
"English is not my first language and I think I may have been misunderstood when I spoke yesterday," Isinbayeva said in a statement distributed by the Russian organizing committee of the IAAF World Championships, the Associated Press reports.
"What I wanted to say was that people should respect the laws of other countries particularly when they are guests," she added. "I respect the views of my fellow athletes and let me state in the strongest terms that I am opposed to any discrimination against gay people."
Isinbayeva's new statement differs markedly from comments made at a news conference held after she won the world pole vault title for the third time on Thursday, where she spoke disapprovingly of LGBT relationships.
"If we allow to promote and do all this stuff on the street, we are very afraid about our nation because we consider ourselves like normal, standard people," Isinbayeva said. "We just live with boys with woman, woman with boys. … It comes from history. We never had any problems, these problems in Russia, and we don't want to have any in the future."
Isinbayeva, 31, has competed internationally for 15 years and speaks English freely, if awkwardly.
Her comments earned her a storm of criticism worldwide from athletes and the LGBT community. British heptathlete Louise Hazel, who took gold at the 2010 Commonwealth Games and competed at the 2012 London Olympics, said Isinbayeva was "being outwardly homophobic" and "clearly not in touch with the rest of the world," and called for the International Olympic Committee to review Isinbayeva's role as a youth ambassador.
"A role model is somebody we can look to for inspiration and also to imitate," Hazel told the BBC. "You're not supposed to exclude anyone and that's what she's done in making these comments.
"They're sending the message that discrimination is OK and it quite clearly is not in this day and age," she added. "I just don't feel that it's in keeping with the spirit of sport in general and the all-encompassing, all inclusive values of the Olympic Games."
Singer Boy George put it more bluntly:
Yelena Isinbeyana is a stoopid bitch!

— Boy George (@BoyGeorge) August 15, 2013
Homophobic's are truly the dullest shitheads on earth! Whatever language they squeak!

— Boy George (@BoyGeorge) August 16, 2013
Isinbayeva's comments have had few repercussions for her in Russia, where she is feted as a national icon and where 76 percent of the population supports the law, according to a poll by the independent Levada Center published a week after its passing. Both the Sochi organizing committee and the International Association of Athletic Federations, track and field's governing body, backed Isinbayeva Thursday.
Mass-market tabloid Moskovsky Komosomolets ran an article accusing Western media of using her comments as a "convenient pretext to drag up everything just to say how wrong the IOC was to give the Games to Russia." The paper also claimed that nine U.S. states have passed "gay propaganda" bans analogous to Russia's in schools.
Like Isinbayeva, Russian officials have issued muddled and contradictory statements about whether the law will be enforced during the games and whether visiting athletes would be subject to it. The IOC has asked it for "clarification."
Max Seddon is a correspondent for BuzzFeed World based in Berlin. He has reported from Russia, Ukraine, Azerbaijan and across the ex-Soviet Union and Europe. His secure PGP fingerprint is 6642 80FB 4059 E3F7 BEBE 94A5 242A E424 92E0 7B71

Contact Max Seddon at max.seddon@buzzfeed.com.

Got a confidential tip? Submit it here.