Girlfriend Of Slain Russian Opposition Leader Says She Didn't See His Killer
Boris Nemtsov, one of the loudest critics of President Vladimir Putin, was shot dead just outside the Kremlin on Friday.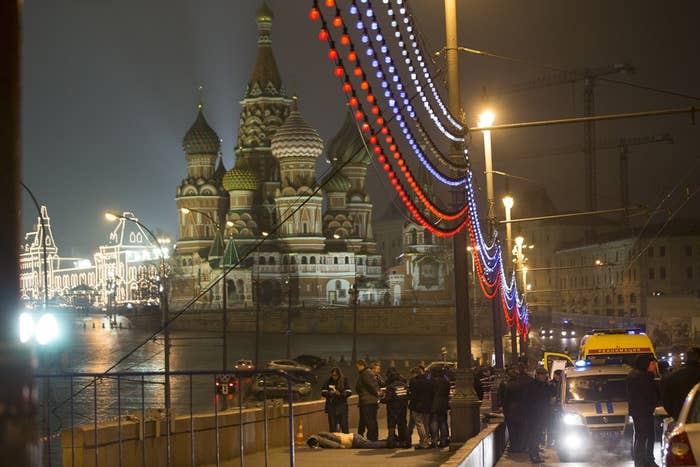 What We Know So Far
Boris Nemtsov, a former deputy prime minister and noted critic of the Putin administration, was fatally shot in central Moscow on Friday.
Vladimir Putin has promised to bring his killers to justice by personally overseeing the investigation.
Western leaders have decried Nemtsov's murder.
Updates
Nemtsov's girlfriend, who was with him the night he was killed, said Monday that she did not see anything suspicious and did not see the killer.
Anna Duritskaya, a model from Ukraine, was visibly upset during an interview with Russian media outlet Dozhd, Reuters reported. She said that she did not wish to speak about what happened.
"I am in a very difficult psychological condition and I cannot talk about this any more now," she said. "I feel bad ... I saw no one. I don't know where he came from, he was behind my back."
Duritskaya was walking with Nemtsov on a bridge when he was shot by a gunman who then escaped in a light-colored vehicle.
"I turned around and all I saw was a light-colored car," she said according to the Associated Press. "I saw neither the brand nor the license plate of the car when it was driving away."
Duritskaya has been under police protection and has been barred from leaving the country by Russian officials. She said that all she wants is to go home to her mother in Ukraine.
"I have every right to leave the territory of the Russian Federation," she said according to Reuters. "I am not a suspect. I am a witness who gave full testimony and did everything possible to assist the investigation."
Duritskaya spoke out as questions began to swirl about whether the shooting could have been captured on surveillance video.
A Russian newspaper reported that sources in the country's Interior Ministry said there was no video of the incident because the cameras weren't working, the AP reported.
However, a spokeswoman for Moscow's information technology department told the AP that the cameras were operating properly. She said that she could not confirm the incident was captured on video because of the ongoing investigation.
People laid flowers at the scene of Nemtsov's murder on Saturday, in the shadow of Moscow's Red Square.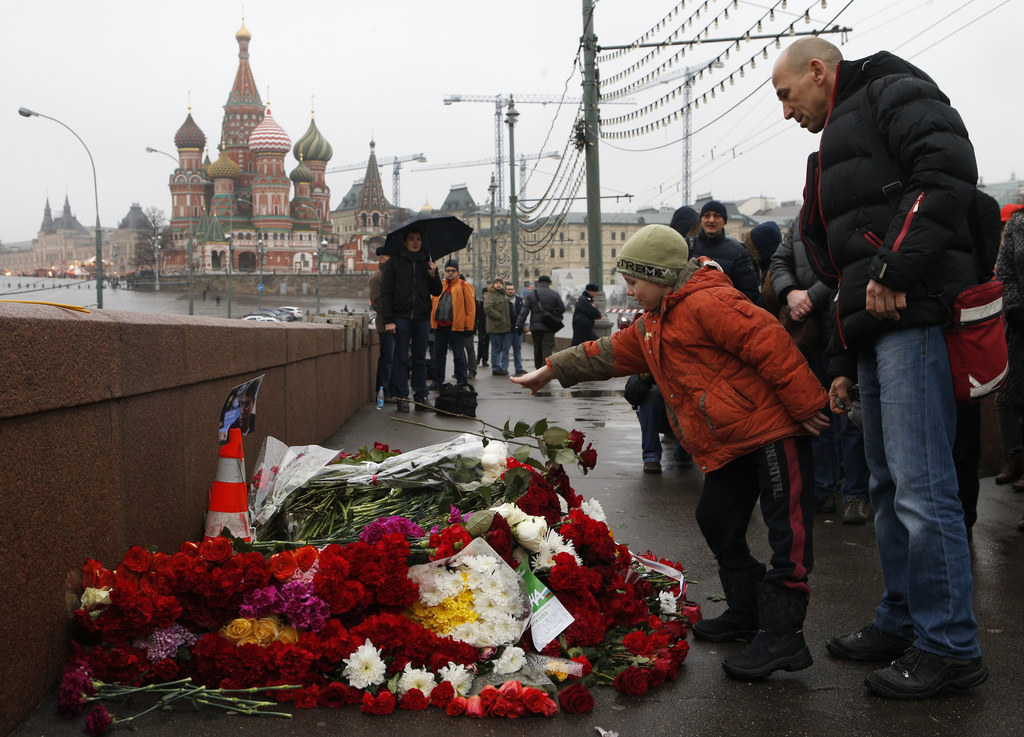 Thousands of people visited the site to lay flowers and light candles in memory of the slain politician.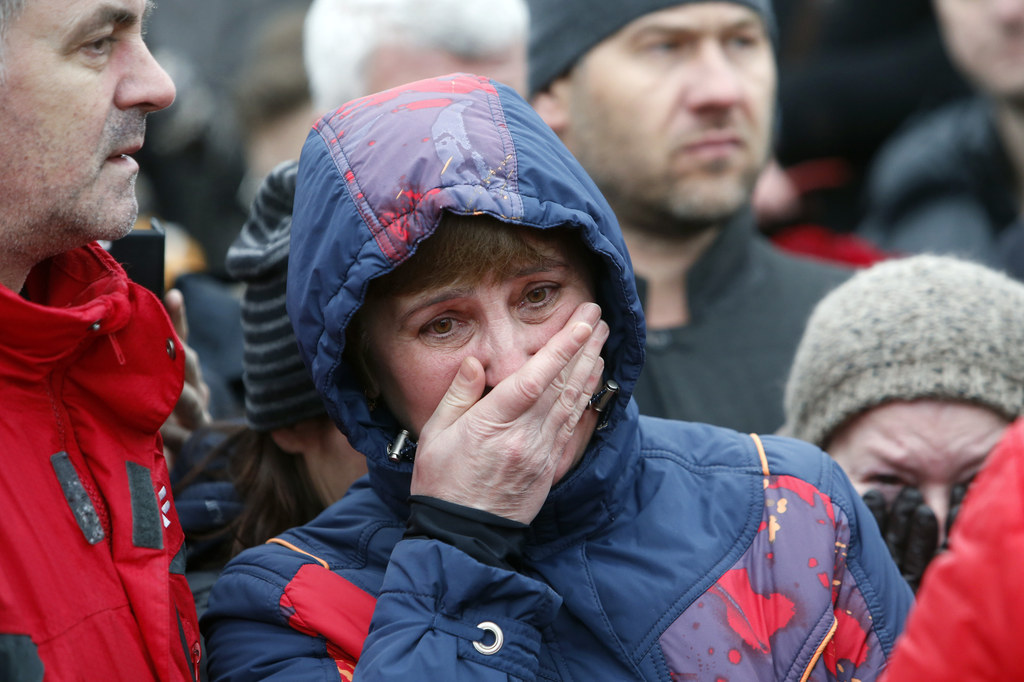 The floral tributes were piled at least three feet high, according to Reuters.
French President François Hollande is among the Western leaders who have condemned the "odious assassination" of Nemtsov.
British Prime Minister David Cameron also added his name to the chorus of condemnation, releasing the following statement:
I am shocked and sickened by the callous murder of Boris Nemtsov as he walked in the heart of Moscow last night. This despicable act must be fully, rapidly and transparently investigated, and those responsible brought to justice.

Boris Nemtsov was a man of courage and conviction. His life was dedicated to speaking up tirelessly for the Russian people, to demanding their right to democracy and liberty under the rule of law, and to an end to corruption. He did so without fear, and never gave in to intimidation. He was greatly admired in Britain, not least by his friend Lady Thatcher, who visited him in Russia and who would have been appalled by today's news. The courage of Nemtsov's life contrasts with the utter cowardice of his murder.

I extend my condolences to Boris Nemtsov's family and friends. The Russian people have been deprived of a champion of their rights. Boris Nemtsov is dead. But the values he stood for will never die.
Russian President Vladimir Putin on Saturday promised to do everything to punish those behind the murder of opposition leader Boris Nemtsov, who was shot to death in central Moscow on Friday.
In a telegram shared on the website of the Russian president, Putin sent his condolences to Nemtsov's mother.
"Please accept my deepest condolences on the irreparable loss. I sincerely share the grief has befallen you," Putin said.
"Boris Nemtsov left his mark on the history of Russia, in politics and public life. He dropped out to work on important positions in the difficult transition period for our country. He always openly and honestly stated his position, defended his point of view.
"We will do everything to make sure the organizers and executors of this vile and cynical murder are punished," he said.
---
A former deputy prime minister of Russia who later became one of Vladimir Putin's top opponents died on Friday after being shot four times on the street in central Moscow.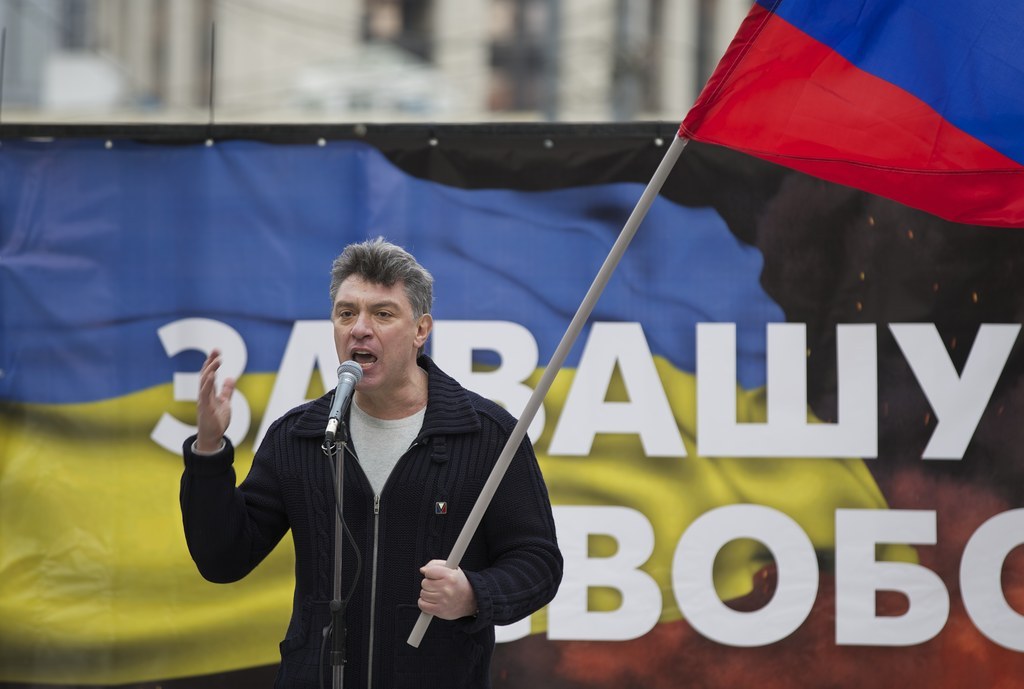 LifeNews, a pro-Kremlin cable channel with barely concealed links to Russia's security services, reported that Boris Nemtsov, 55, died in a gangland-style shooting just outside the Kremlin on Friday night. Nemtsov died on the scene from wounds to his back, the TASS state news agency reported.
An official with the Investigative Committee, Russia's version of the FBI, said there had been at least six shots, Meduza, an independent Russian news site, reported.
Media gave differing accounts of whether Nemtsov was shot by one or multiple assailants, citing police sources. The killer or killers managed to escape despite the fact that the attack took place on a bridge just south of Red Square, one of Russia's most heavily guarded and surveilled locations, Russian media reported.
"I'm standing on the bridge and looking at Nemtsov's body on the ground. He's definitely been killed," Nemtsov's lawyer, Vadim Prokhorov, told the Kommersant newspaper.
Ilya Yashin, a fellow opposition politician, confirmed Nemtsov's death. "They shot Nemtsov," he wrote. "He's dead."
Journalists tweeted from the scene, on a bridge near the Kremlin.
Putin's spokesman said Putin had been informed of the murder. "Putin noted that this brutal killing has all the signs of an ordered one and carries an exclusively provocative character," Dmitry Peskov told TASS, a Russian state news agency. It is standard for the Kremlin to blame some of Russia's greatest unsolved crimes, like the murder of critic and journalist Anna Politkovskaya, on forces aiming to portray it in a bad light.
Peskov said Putin had ordered the heads of Russia's main security agencies to form a special group to investigate Nemtsov's murder, which he would oversee personally.
Hours earlier, Nemtsov had been on the nominally liberal Ekho Mosvky radio station promoting a march he was set to lead on Sunday in protest of the Kremlin's handling of Russia's economic crisis and the conflict in Ukraine. The liberal opposition hoped to garner an attendance in the thousands. The Kremlin had already fought back. Alexei Navalny, the opposition's top figure, was jailed for 15 days last week on administrative charges filed in a transparent attempt to stop attending.
Last week, Nemtsov told Russian magazine Sobesednik, "I'm scared that Putin will kill me."
LifeNews, a pro-Kremlin news agency, published what it described as surveillance footage of a vehicle believed to have been involved in the killing.
The news agency reported the white vehicle, a Ford Focus or Ford Mondeo, was recorded heading toward the bridge where the killing occurred.
Law enforcement officials were reportedly searching for the car in the city.
President Obama condemned the "brutal murder" and called for an impartial and transparent investigation into Nemtsov's death.
According to an official statement released on behalf of President Obama, the two met in Moscow in 2009.
"I admired Nemtsov's courageous dedication to the struggle against corruption in Russia and appreciated his willingness to share his candid views with me," the statement read.
The President described him as a "tireless advocate for his country," and called on the Russian government to "ensure that those responsible for this vicious killing are brought to justice."
The White House offered their condolences to his family and to the Russian people, "Who have lost one of the most dedicated and eloquent defenders of their rights."
Condolences poured in from Russia's liberal elite. Garry Kasparov, the former chess grandmaster turned Putin critic who now lives in self-exile in New York, wrote the following:
Kasparov told BuzzFeed News that the blame for Nemtsov's death lay with the Kremlin.
"He was going after every wrongdoing, revealing the truth about Putin's billions and stealing money. He didn't give them a chance just to forget about their crimes, and they silenced him," Kasparov said.
"The man's shot in cold blood intentionally in the back. This is not about robbery. It's the next stage," he added. "There's no good reason to kill him except for the fact that the regime wanted him out."
"The tragic irony is that he didn't want to see another revolution," Kasparov said. "I was more radical — I kept telling him, "It's all useless, elections, all the little things, this regime will not be changed through the ballot. There will be blood."
Michael McFaul, the former U.S. ambassador to Moscow who was harassed by the Kremlin and its supporters throughout his tenure there, expressed his shock at the murder.
Mikhail Khodorkovsky, the former tycoon who is now one of Putin's greatest critics after a politicized jail term, wrote: "Borya's death is a sorrow for me and my family. We all loved him. He was devil-may-care, but a very good guy."
Prominent lawyer Mark Feygin, part of the team that defended opposition group Pussy Riot, wrote "He died like a real hero. The best memorial will be revenge."
Vladimir Ashurkov, an associate of Navalny's who now lives in self-exile in London, wrote: "Of all the politicians, Boris Nemtsov was the most human. Kind and sympathetic. Bless his memory."
Max Seddon is a correspondent for BuzzFeed World based in Berlin. He has reported from Russia, Ukraine, Azerbaijan and across the ex-Soviet Union and Europe. His secure PGP fingerprint is 6642 80FB 4059 E3F7 BEBE 94A5 242A E424 92E0 7B71

Contact Max Seddon at max.seddon@buzzfeed.com.

Got a confidential tip? Submit it here.