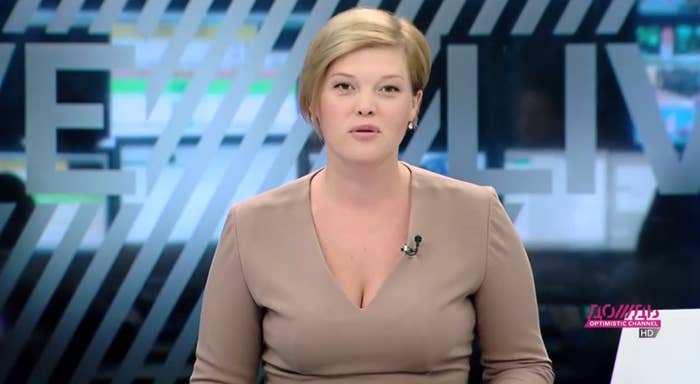 KIEV, Ukraine — A journalist for Russia's only surviving independent news channel is recovering in the hospital after two men brutally beat her on Friday evening.
Ksenia Batanova, senior producer for the news network Dozhd, suffered a skull fracture and a concussion after the assailants hit her in the face more than ten times while she was walking to her apartment in central Moscow, the channel said in a statement. The men reportedly said nothing while attacking her, then took her phone and earrings after she lost consciousness.
Though the reason for the attack was not immediately clear, its circumstances and seemingly targeted nature raise chilling parallels with numerous past assaults on journalists in Russia. Despite promises by officials including President Vladimir Putin to bring those responsible to justice, nobody has been convicted in all 14 murders of journalists since 2004, earning the country tenth place on the Committee to Protect Journalists' worldwide Impunity Index. An investigator from Russia's highly politicized serious crimes unit visited Batanova, 33, in the hospital on Sunday to interview her about the crime.
Physical assaults and death threats to intimidate reporters are also commonplace, although they have declined significantly since the lawless 1990s and two wars in Chechnya. Lev Shlosberg, a lawmaker in Pskov on Russia's western extreme, believes he suffered a similar assault last month to stop him investigating the deaths of local soldiers in Ukraine for a town newspaper. Mikhail Beketov, the editor of a newspaper in a Moscow suburb, died last year of complications from horrific injuries he sustained in a 2008 beating after he reported on a murky construction project linked to Putin's friends.
A lone beacon of objectivity in the storm of propaganda blasting from Russian television since March, Dozhd has devoted considerable airtime to the soldiers' deaths and ensuing cover-up, even running a tally of their names on its website. Alexander Vinokurov, the channel's owner, said he did not know the reason for the attack on Batanova and hoped it was not connected to her work or to her role as a monitor in local elections that were held on Sunday, which saw voters turn out in record lows to vote for a slate of almost entirely government-backed candidates. State media emphasized the theft of Batanova's phone to suggest that the attack was a robbery.
"The level of cruelty and violence in modern Russia is incredibly high in all aspects of public life; there's no limit on the violence regardless of who the victim is," said Oleg Kashin, a reporter who survived a brutal assault in 2010 related to his work.
"Everyday criminality and the basic ease with which people are attacked in Russia is the flip-side of the cruelty cultivated by the state — on the lexical level at the very least," Kashin said. "There's no taboo on cruelty. You can hit and kill us."
Despite its humble beginnings as a pokey but plucky and digital-savvy channel catering to Moscow's disaffected liberal minority, Dozhd has been the most prominent victim of Russia's crackdown on the press, which began when Putin returned to the Kremlin in 2012 and intensified dramatically during the Ukraine crisis. But in February, cable operators dropped it en masse after a government-backed denunciation campaign by lawmakers and state media over a supposedly offensive opinion poll about the siege of Leningrad in World War II.
An obvious ploy to cut off its funding and brand its viewers as traitors, the campaign appeared to have been brewing since the protests against Putin's return, which saw the hitherto docile channel turn into an opposition firebrand.
Though the pressure subsided in April when Putin said he wanted the channel to survive, parliament later rushed through a law that banned all advertising on cable and satellite TV, a measure that appeared aimed solely at Dozhd. The channel drastically cut its already tiny budget and subsists on revenue from online subscriptions and about two hundred small cable operators.