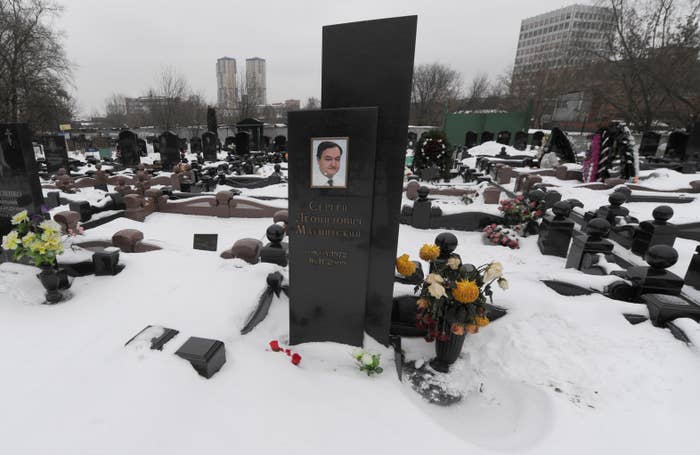 LONDON — When lawyer Sergei Magnitsky exposed a staggering $230 million fraud, the Russian officials he said were behind it had him arrested. Eventually, they put him on trial — four years after he died in jail under suspicious circumstances.
Now, Russia is investigating Magnitsky again — this time for stealing the money himself.
The Kafkaesque saga of Magnitsky has taken a new twist after Russian officials raided the Cypriot law firm of his old client, London-based Hermitage Capital Management, last week, the company's head told BuzzFeed News. The search, carried out with full compliance of Cyprus's Justice Ministry, is the first time a Western country has cooperated with Russia's attempts to blame Magnitsky for the fraud he exposed.
"They're cooperating with the people they're supposed to be investigating," Hermitage CEO William Browder told BuzzFeed News. "This raises a very serious question about whether Cyprus is part of the European Union, or whether it's a colony of Russia."
Magnitsky was an unassuming lawyer in his mid-thirties until he uncovered the Hermitage fraud, which allegedly saw officials from Russia's Interior and Tax ministries collude to get a $230 million tax rebate using stolen Hermitage documents. His case became a byword for widespread corruption and judicial abuse in Vladimir Putin's Russia after Magnitsky was jailed by the very same officials he accused of carrying out the fraud and beaten while being held without charges, then died in 2009 after being refused medical treatment. Though Russia's own presidential human rights council concluded that Magnitsky was tortured, no officials were held responsible for his death.
Russia has pointed blame at Browder and Magnitsky in lieu of prosecuting any of the officials they implicated in the fraud. A Moscow court convicted both men — Browder in absentia, Magnitsky posthumously — of separate tax evasion charges in surreal proceedings in 2013, the first time Russia had put a dead man on trial in decades.
One of the Russian officials who visited Cyprus, Artem Radchenkov, was involved in rejecting Magnitsky's mother's appeals against the posthumous trial. Radchenkov was also a lead investigator in the infamous 2012 "hooliganism" case against punk activists Pussy Riot for their protest in Moscow's main church.

The Mediterranean island's company ownership laws have long made it a favored destination for investing money into Russia, where legal protections are much flimsier. Hermitage used several Cypriot companies to invest in Russia, where Browder made a fortune trading shares in state-run gas monopoly Gazprom. That also makes it a key conduit for secretly funneling money out of Russia. About $30 million of the $230 million stolen in the fraud passed through Cyprus, according to extensively detailed allegations prepared by Hermitage.
Neither Cyprus's nor Russia's Interior ministries have returned requests for comment at time of publication.
The European Union and Interpol have denounced previous proceedings against Browder and Magnitsky as politically motivated. In 2012, Congress passed an act in Magnitsky's name that introduced sanctions for officials Browder says were involved in the fraud. Russia responded by banning all adoptions of Russian orphans by U.S. citizens.