Russia Comments On Its Ukraine Involvement With Sexism And Shrugs
Vladimir Putin failed to answer a question about reports by BuzzFeed News and Financial Times reporters who met Russian soldiers in eastern Ukraine. Russia's defense ministry responded by calling the FT reporter a "naive girl."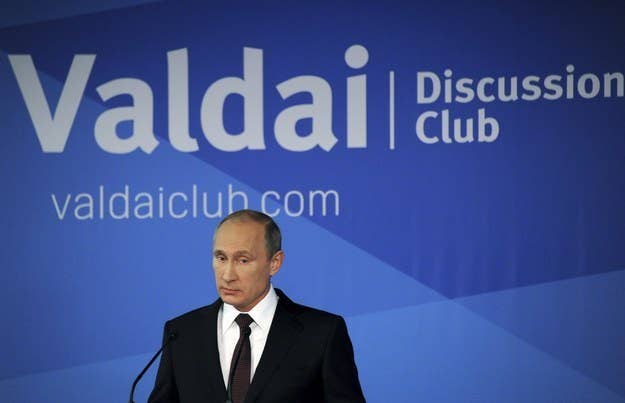 KIEV, Ukraine — Recent sightings of Russian troops still active inside Ukraine elicited awkward denials from Moscow on Friday.
Asked about an incident last week where reporters for BuzzFeed News and the Financial Times met men in rebel-held eastern Ukraine who said they were active duty Russian soldiers, Russian President Vladimir Putin dodged the question, responding instead with a long ramble about Ukrainian history.
Putin was speaking at the annual meeting of the Valdai Discussion Club in Sochi, an annual forum for foreign dignitaries and Russia experts. Though the meeting was initially conceived as a venue for dialogue between the Kremlin and the international community, Putin has increasingly used it in recent years as a soapbox to mouth off about international politics rather than hear criticism of his domestic record.
Several longtime attendees have skipped Valdai meetings since Putin returned to the presidency in 2012, while voices praising Putin have been more prominent. Viacheslav Volodin, Putin's head of domestic policy, told attendees that "there is Putin and there is Russia — [if] there's no Putin, there's no Russia." RT host Peter Lavelle told Putin that he was "probably the most popular man in history [and] looked on as a savior of sorts."
Putin devoted his speech and much of his remarks to criticism of the U.S. Washington, he said, was using "Big Brother" to "blackmail" world leaders, supporting "neo-Nazis and Islamic radicals" around the world "because they are instruments for their interests", and brought the 9/11 attacks on itself by financing Afghan militants who later formed Al-Qaeda and the Taliban.
"There's an impression that the so-called victors in the Cold War decided to squeeze out the situation and rebuild the world exclusively according to their own image and own interests," Putin said, according to a transcript on the Kremlin website. "Excuse me, that's how nouveaux riches behave after huge riches suddenly fall upon them, in this case world domination, world leadership," Putin said.
Russia's defense ministry, meanwhile, called the FT reporter, Courtney Weaver, a "naive girl charmed by her camouflaged companions" for her story on the incident in the war-ravaged eastern Ukrainian city of Luhansk, in which six men told her and this reporter that they had been sent by the Russian army to train local rebels.
"Now in the eyes of the foreign public any man in camouflage with a glass of vodka, even if he doesn't have a weapon, looks like a 'Russian soldier,'" the ministry said in a statement carried by Russian state media. "It's strange that the article didn't have any bears, caviar, matryoshka dolls, and balalaikas. We would recommend the editors of this authoritative publication to take a more critical approach next time towards impressions from a correspondent's chance acquaintances in a restaurant," the statement said.
Russia vehemently denies that it deployed its army to roll back a Ukrainian offensive and secure the status of two pro-Kremlin separatist rump states in August, despite a mounting, increasingly overwhelming body of evidence to the contrary. Reuters and the Guardian observed charred tanks and an armored vehicle with distinctive markings and designs only used by the Russian army.
The Kremlin says that some of the numerous Russian soldiers reported to have died in Ukraine during the conflict — members of Russia's presidential human rights council claim that they number at least 100 — were "volunteers" who had left military service and gone to fight on their own. Others are said to have died in "training exercises" near the Ukrainian border rather than active combat on the other side.
Putin, however, signed a bill on Wednesday extending pension benefits to the families of soldiers who go missing in action or are killed while training. Valentina Matvienko, the chair of Russia's Senate and a longtime associate of Putin's, has asked lawmakers to extend compensation to the families of soldiers who "volunteer" for rebel militias, according to the bill's author.
Russia's denials of its involvement in Ukraine come as the Kremlin and its media have made increasing reference to conspiracy theories diverging completely from the accepted reality in the West. In an interview last week, Russian security council chair Nikolai Patrushev said that the CIA was trying to overthrow Putin by conspiring to lower global oil prices and accused U.S. and British secret services of starting a separatist war in the Russian province of Chechnya in the 1990s. Russian TV recently suggested that the CIA engineered the plane crash that killed the CEO of French oil giant Total in Moscow this week because of his opposition to Western sanctions against Russia.
"Russians and Westerners are talking past each other," the Wall Street Journal's Brussels bureau chief Stephen Fidler wrote from the Valdai meeting on Thursday. "It isn't just that they have different opinions about the same event; it is that they believe in a different set of facts.
Max Seddon is a correspondent for BuzzFeed World based in Berlin. He has reported from Russia, Ukraine, Azerbaijan and across the ex-Soviet Union and Europe. His secure PGP fingerprint is 6642 80FB 4059 E3F7 BEBE 94A5 242A E424 92E0 7B71

Contact Max Seddon at max.seddon@buzzfeed.com.

Got a confidential tip? Submit it here.