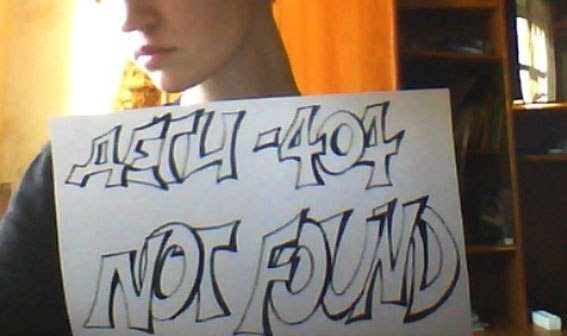 KIEV, Ukraine — For tens of thousands of LGBT Russian teenagers, Elena Klimova's "Children 404" group has been a refuge, the only place in an increasingly homophobic society where they can discuss their sexuality without fear of reprisal.
"I was 13 when I understood that something was wrong with me," Ilya, a teenager from the central Russian city of Ufa, wrote on the group's page on Russian Facebook clone Vkontakte. "I just started liking one of my classmates one day, and I couldn't do anything about it."
Stories like Ilya's may be enough to see the group temporarily suppressed — or even permanently shuttered — under Russia's controversial ban on "gay propaganda." On Monday, Russia's state communications watchdog, Roskomnadzor, announced that it was charging journalist Elena Klimova, the group's founder, with "promoting homosexuality to minors."
The full extent of the charges will become clear on Tuesday, when a local branch of the agency sends a report to a magistrate, the agency said in a statement on its Facebook page. Under the law, Klimova's group can be fined 1 million rubles (about $21,000) and forcibly shut down for 90 days.
Founded during the upswell in officially backed homophobia last year that preceded the passage of the law, Klimova's group takes after the American "It Gets Better" campaign, offering teenagers a space to share their stories anonymously to a sympathetic audience of their peers. In the more difficult cases, a team of 15 volunteer psychologists offer the teens professional help.
Teens who post to the group mostly do so anonymously, obscuring their faces with a piece of paper that says "Children 404" — a reference to the "Page Not Found" message browsers show when URLs are entered incorrectly. "I realized I was a lesbian when I was 13. I can't explain or understand why that happened. Things just wound up that way," a teenager in the Crimean city of Simferopol wrote. "But the main thing is that I'm happy."
Roskomnadzor — whose brief also, ironically, includes online suicide prevention campaigns — did not specify what exactly in the group had fallen foul of the law, but said it had received over 150 complaints seeking to shut down the group. "There should be no place in this extremely narrow and delicate field for a dilettantish approach that is armed with the energy of an emotional outburst and is not reinforced by the appropriate expertise," the statement said.
Klimova told the independent website Slon that the charges were groundless. "What's the state offering for these teens right now? The answer's obvious: nothing," she said. "Roskomnadzor says that it's found homosexual propaganda, but instead of showing where I have forbidden materials, they're writing that I just don't have the special knowledge to publish them. It's absurd!"
The charges are the latest in a groundswell of pressure against the group from anti-gay activists, often with the implicit sanction of authorities. The premiere of a film about the group was disrupted by protesters holding signs reading "Get Sodomy Out Of Russia" and "Western Depravity Must End"; prosecutors in Moscow later summoned the film's directors for questioning.
Three policemen then interrogated Klimova earlier this month on the basis of an appeal to Russia's chief prosecutor from Anna Levchenko, a pro-Kremlin youth activist who runs a campaign against pedophiles which has been endorsed by Russian President Vladimir Putin. In a letter published on her website, Levchenko said that she and her fellow activists had interviewed several teens from the "Children-404" forum and concluded that it was aimed at damaging their psyche by asking them simple factual questions about their sexuality.
"This boy needs psychiatric help, and not the joyful cries of LGBT activists — 'You're one of us!'" Levchenko wrote. "You can see why those homosexualists get beaten up, hazed, and humiliated every which way. Disgust is a normal reaction for any decent person."