Putin Adviser Calls Ukraine A "Nazi Frankenstein" As It Signs EU Deal
The Kremlin was quick to disavow Sergei Glazev's claim that Ukrainian President Petro Poroshenk was a "Nazi," but has warned of consequences for signing the deal.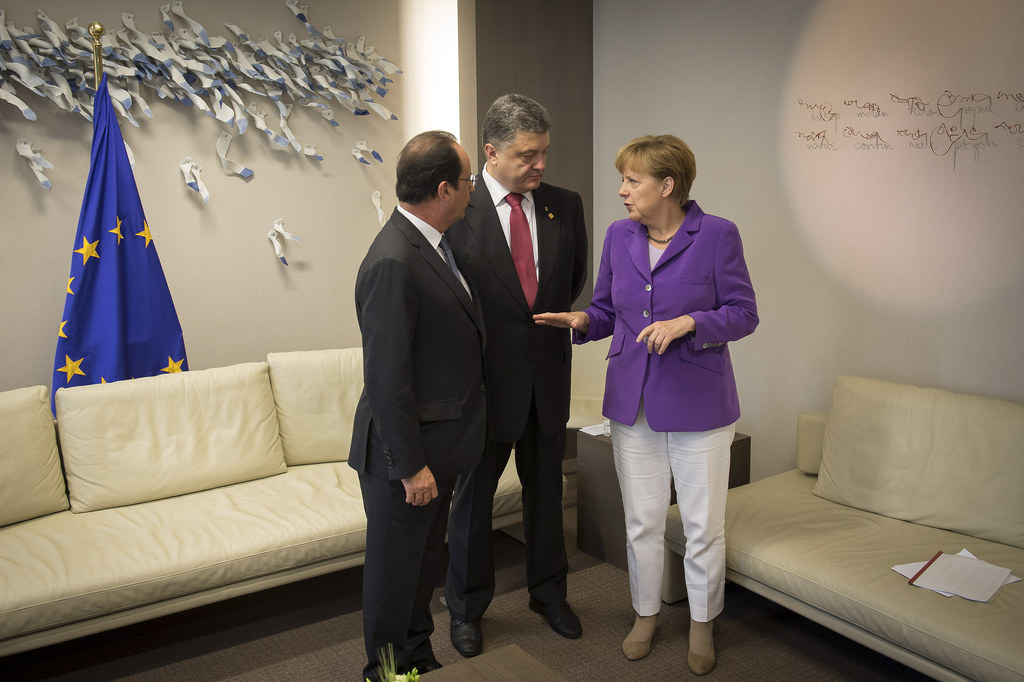 KIEV, Ukraine — Calling it the most important day in his country's history since independence, Ukrainian President Petro Poroshenko signed an economic deal with the EU on Friday despite threats from Russian officials, one of whom called him a "Nazi."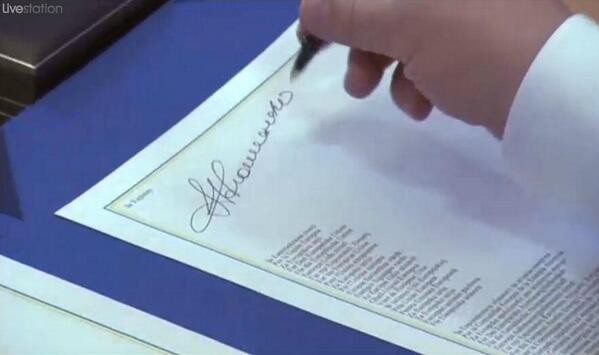 Poroshenko signed the agreements in Brussels alongside leaders from Georgia and Moldova. The move is part of an EU program aimed at bringing post-Soviet states into the West's orbit, and is bitterly opposed by Russia, which wanted Ukraine to join its rival Eurasian Union and warned of "serious consequences" for it and Moldova.
Hundreds of thousands of Ukrainians protested for months in Kiev's central square after Poroshenko's predecessor, Viktor Yanukovych, backed out of the deal last year. Yanukovych fled to Russia after over 100 people died in clashes with police in February.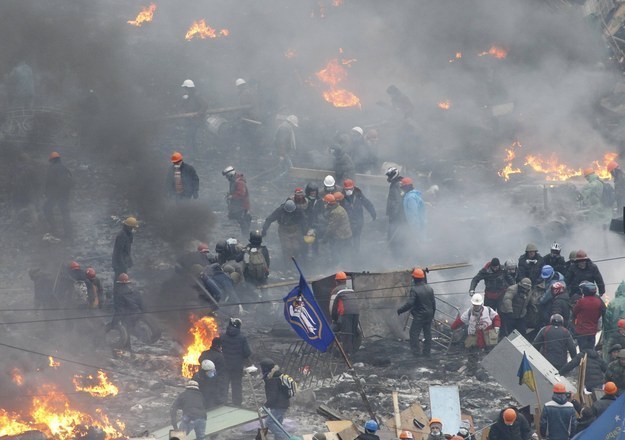 Ukraine "paid the highest possible price to make her Europe dreams come true," Poroshenko told reporters. "Historic events are unavoidable," he said, waving a commemorative pen from the summit last year where Yanukovych backed out of signing the agreement.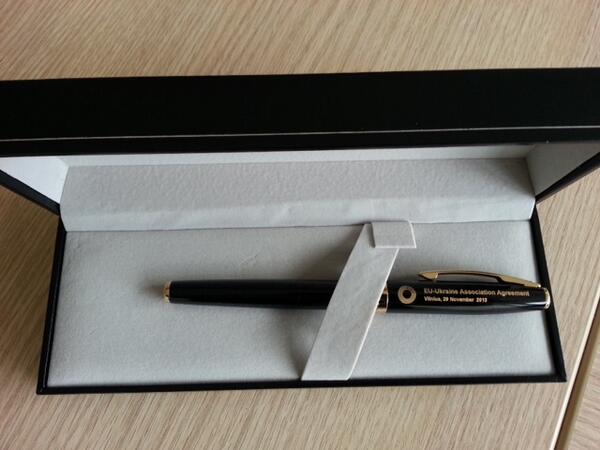 Moscow was initially open to letting Ukraine sign the deal until EU officials said it could not do so and join a Russian-backed customs union as well. Fearful of losing its considerable significant political and economic influence over Kiev, Russia enacted a trade blockade and backed Yanukovych with a $15 billion loan aimed at increasing its dependence on the Kremlin. European officials rushed the signing forward after Russia annexed Crimea in March, sparking global tensions and armed conflict with separatists in eastern Ukraine.
"As far as Ukraine goes, that particularly worries us," Russian President Vladimir Putin said at a ceremony in the Kremlin on Friday. "Attempts to force an artificial choice between Europe and Russia on the Ukrainian people pushed society to a schism and painful internal confrontation," Putin added. Deputy Foreign Minister Grigory Karasin warned of "grave consequences" for Ukraine and Moldova for signing the deal, according to Interfax.
European Commission experts say that Ukraine's economy will benefit to the tune of $1.6 billion from the deal, according to the Associated Press. That's a drop in the ocean, however, compared with the $35 billion that Ukraine needs to stave off default over the next year and a half. Alexei Pushkov, chair of Russia's parliamentary foreign affairs committee, told Interfax that Ukraine stood to lose $30 to $40 billion if Russia took "defensive measures" against the agreement.
The Kremlin was quick, however, to disavow comments made by Sergei Glazev, a hardline nationalist who advises Putin on Ukraine, told the BBC that Poroshenko was a "Nazi" and said that Europe was "trying to push Ukraine to sign this agreement by force."
"They organised [a] military coup in Ukraine, they helped Nazis to come to power. This Nazi government is bombing the largest region in Ukraine," Glazev said. "I think after the signing of the agreement with EU, [the] European public will be ... surprised when this Nazi Frankenstein, which was born by the Euro bureaucrats and some politicians, will knock on the European countries' doors," he added.
While the remarks were not particularly out of character for Glazev — whose frequent public rants that the Ukraine crisis is a nefarious Western plot against Russia are not thought to have significant influence on Ukraine policy — they were out of step with Putin's recent efforts to broker a diplomatic resolution to the separatist conflict.
Putin has partially endorsed Poroshenko's peace plan and is backing unofficial multilateral negotiations in east Ukraine. The other parties have all but admitted that Ukrainian pro-Moscow proxy politician Viktor Medvedchuk, whose daughters' godfather is Putin, is there at his personal behest. German Chancellor Angela Merkel, who has led diplomatic efforts at reconciling Putin and Poroshenko, backed Medvedchuk's involvement earlier this week. Separatists in Donetsk released four monitors from the Organization for Security and Cooperation in Europe who had been held for 32 days as bargaining chips on Friday, though the fate of another team in Luhansk was still unknown.
Russia still has yet to win over Kiev and the U.S., however, who accuse it of simultaneously backing an escalation of the military conflict in Donetsk and Luhansk provinces by sending heavy weaponry like tanks and anti-aircraft missiles to the rebels in recent weeks. The conflict has rapidly deteriorated since then, with both sides engaging in increasingly brutal skirmishes. A United Nations official estimated on Tuesday that 423 people have died since the conflict began in mid-April and said that the number of refugees had doubled in the last two weeks.
EU heads of state are discussing U.S.-backed sanctions against broad sectors of Russia's economy, but said in a statement Friday that they would postpone a decision until Monday. Further sanctions would be contingent on releasing the remaining OSCE monitors, securing the border, and sustaining the ceasefire.
Few believe that all 28 countries, some of which have significant trading partnerships with Russia, will back the measures to punish Russia for its support of the separatists. Putin wants Poroshenko to extend a week-long ceasefire past the 10 p.m. deadline later Friday to allow negotiations to continue.
The agreement gives Ukrainian businesses that meet EU standards the right to trade freely in Europe. It also requires Ukraine to pass a series of EU-designed measures aimed at reducing the crippling corruption in the country and improving the business climate. Poroshenko has raised the hope that Ukraine will eventually itself join the EU, though this is likely to remain a far-off prospect for at least a decade.
Max Seddon is a correspondent for BuzzFeed World based in Berlin. He has reported from Russia, Ukraine, Azerbaijan and across the ex-Soviet Union and Europe. His secure PGP fingerprint is 6642 80FB 4059 E3F7 BEBE 94A5 242A E424 92E0 7B71

Contact Max Seddon at max.seddon@buzzfeed.com.

Got a confidential tip? Submit it here.