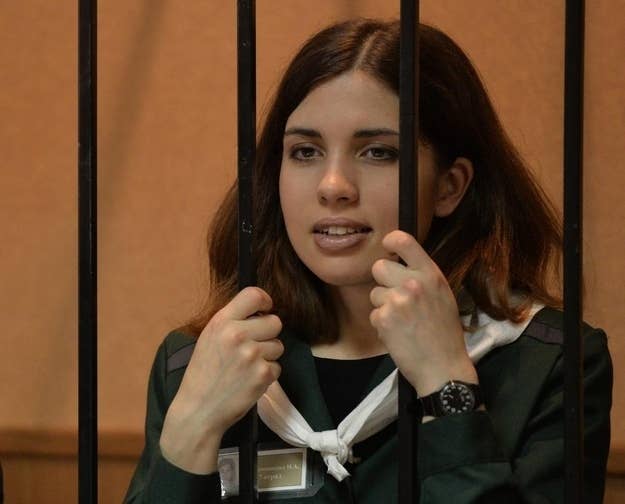 The family of jailed Pussy Riot member Nadya Tolokonnikova has not heard from her since she was removed from prison three weeks ago after she wrote a letter complaining of slavery-like conditions and transferred to a new prison by train through Siberia.
Tolokonnikova's family and legal team have not been able to contact her since Oct. 21, when she was abruptly removed from a prison colony in the swampy central Russian province of Mordovia, where she was serving a two-year sentence on charges of "hooliganism motivated by religious hatred."
Petya Verzilov, Tolokonnikova's husband, told BuzzFeed by telephone from the Siberian city of Krasnoyarsk Monday that he had been told she was being transferred to a prison in the town of Nizhny Ingash 300 miles away, but did not expect to hear anything definite until the end of this week.
"What's actually going to happen is a complete mystery," Verzilov said. "It's an informal way to keep her out of the press because of her letter — this was their way of getting revenge."
Tolokonnikova, 24, was moved after launching a hunger strike in protest at horrific conditions she described in an open letter, including 16-hour workdays for essentially no pay and a near-total absence of basic safety and hygiene precautions. The letter sparked nationwide outrage and widespread calls to reform Russia's Soviet-era prison system.
Verzilov flew to Krasnoyarsk last week after hearing from a source in the prison ministry that Tolokonnikova was in Nizhny Ingash, only to be told upon arrival that she was still being transferred. Russian law requires officials to inform prisoners' families of their whereabouts only 10 days after they arrive at the new prison. Verzilov nonetheless visited the prison and met with the director, who, he said, "left a pretty good impression."
"There's no way that it could be any worse" than the old prison, he added.
Izvestia, a pro-Kremlin newspaper, ran a story Monday citing prison official sources as saying Tolokonnikova would spend at least another week on her way to the Siberian prison colony. Tolokonnikova was in good spirits and made no complaints, one source said.
Her father, Andrei Tolokonnikov, told BuzzFeed he was worried officials wanted to hide her to avoid negative publicity if it turned out she had been mistreated.
"They want to hide Nadya," he said. "It's because of what she exposed, and the Olympics, and, perhaps worst of all, because of her health. Specifically the state of her face. Or because she's covered in welts, or she's been beaten, or something else we don't know and can only guess at," he added.