One Reported Dead In Crimea As Conflict "Enters Military Phase"
"This is a dangerous political game," Ukraine's acting president says.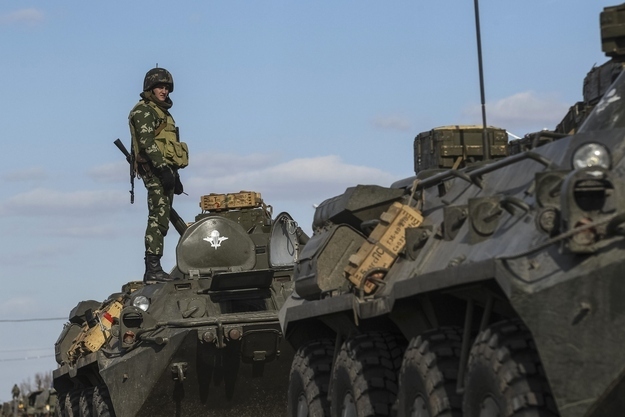 SEVASTOPOL, Crimea — The crisis in Crimea claimed its first victims Tuesday as a Ukrainian soldier died during a Russian attack on a military base and a pro-Russian "self-defense" fighter was shot on the street, Ukrainian and Crimean officials said. Ukraine's political leaders accused Russian President Vladimir Putin of "copying fascists" after he annexed the peninsula and said the conflict was entering a "military phase."
Putin signed an agreement with Crimea's political leaders earlier Tuesday annexing the province, following a referendum Sunday in which over 95% of voters opted to break away from Ukraine and join Russia. Ukraine and the West have said the referendum is illegal and violates Ukraine's territorial integrity.
Ukraine's acting President Oleksandr Turchynov and Prime Minister Arseny Yatsenyuk gave a joint statement Tuesday saying Putin was "copying fascists" and "committing crimes" by annexing Crimea.
"This is a dangerous political game. This is not just a provocation against Ukraine, it is an attempt to destabilize the situation in the region, in Europe, and all over the world," Turchynov said.
"Now the conflict is essentially moving from a political phase to a military phase thanks to the Russian soldiers," Yatsenyuk added.
Moscow now considers Crimea a part of Russia, the Kremlin said in a statement, although the annexation still has to be formally ratified by Parliament. Crimea's political leaders, who got four percent of the vote at the last election and took power in a vote Feb. 28, presided over by armed, masked men, say they are nationalizing all Ukrainian government property on the peninsula and consider the Ukrainian soldiers stationed there "illegal occupiers."
Ukrainian defense ministry spokesman Vladislav Seleznyov wrote on Facebook that a Ukrainian private was killed and a captain wounded during a Russian attack on a base in the provincial capital, Simferopol. Russian soldiers fired shots into the air when they stormed the base, Seleznyov said, and arrested the Ukrainian officers at the base. Seleznyov did not give the names of the soldiers or say how they had been wounded in the attack. A pro-Ukrainian activist claimed that Russian snipers had set up positions during the attack.
Crimea's official news agency cited a source in the province's defense ministry who said that a sniper killed one person and injured two others from an abandoned building across the street from the base. The dead man and one of the injured men were local "self-defense" fighters, the agency reported, while the other man was from the Ukrainian base.
It was unclear whether the men were part of the amateur "self-defense" units that sprung up around the province in late February or Russian soldiers, whom Moscow has repeatedly claimed were actually local forces despite obvious evidence to the contrary. Putin appeared to drop that pretense in a speech Tuesday when he said Russia had not exceeded the limit of 25,000 troops allowed under an agreement with Ukraine.
"People tell us about some sort of Russian intervention in Crimea, about aggression," Putin said. "It's strange to hear that. I can't really remember a single case from history when intervention happened without a single shot and without human victims."
The unnamed man is the first soldier to die in the conflict since Russian troops without insignia seized the province in late February.
Max Seddon is a correspondent for BuzzFeed World based in Berlin. He has reported from Russia, Ukraine, Azerbaijan and across the ex-Soviet Union and Europe. His secure PGP fingerprint is 6642 80FB 4059 E3F7 BEBE 94A5 242A E424 92E0 7B71

Contact Max Seddon at max.seddon@buzzfeed.com.

Got a confidential tip? Submit it here.