On The New Front Of The Battle Between Ukraine And Russia
Nationalism, and cash, at the barricades.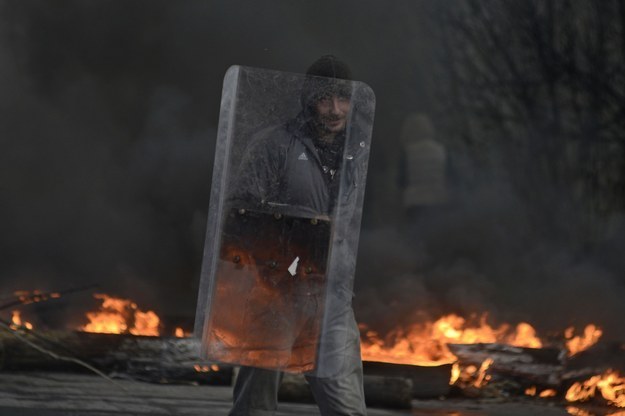 SLOVYANSK, Ukraine — Fears of war between Ukraine and Russia spiked Sunday after Ukraine's central government appeared to have lost control of the country's key eastern province, where anti-government militants now control several towns and at least one person died in a shootout. Acting President Oleksandr Turchynov said he would send in the army to reclaim occupied buildings in Donetsk province, which he said were controlled by "terrorist cells" trained and armed by Russia.
"This is not a war between Ukrainians. This is an artificially created conflict situation with the goal of weakening and destroying Ukraine itself," said Turchynov in an address. "But it will weaken our enemies in the end," Turchynov continued. "Today the whole civilized world condemns Russia."
Further bloodshed looked inevitable after Ukraine's attempt to regain control of the town of Slovyansk, which became the epicenter of the unrest on Saturday when armed men seized its police station, failed miserably on Sunday morning. An anti-terrorist operation aimed to reclaim it only made it so far as a crossroads a few kilometers outside, where a Ukrainian special forces captain, Gennady Bilichenko, died in a shootout with anti-government militiamen.
Ukrainian Interior Minister Arsen Avakov said five officers were wounded in the shooting near the village of Semyonovka, home to a famous Soviet-era psychiatric hospital used to confine dissidents. Russian state media cited anti-government forces who said one of their men died and two others were wounded.
By the evening, Avakov announced he would create special battalions of "patriots" effectively aimed to replace Ukraine's actual police force in the Russian-speaking southeast, huge swathes of whom have either defected to the separatists or simply given up doing their job. Those officers in Kharkiv not among the 30% Avakov fired for "sabotage" earlier in the week stood idly by as pro-Russian activists viciously beat pro-Ukrainian protesters in an underpass, injuring at least 10. Others allowed pro-Russian activists to seize a government building in the southern city of Mariupol.
Police stations in Donetsk, the provincial center, and half a dozen surrounding towns on strategic roads are now under the control of irregulars who say they want to hold a referendum delegating greater autonomy to Ukraine's provinces. Many of them wore mismatched camouflage and masks. BuzzFeed saw several men wielding sticks and baseball bats, but few with automatic rifles or machine guns. Some of them had set up checkpoints along main roads and entrances into cities with tires, sandbags, dirt, and trash. Those outside Slovyansk set the tires on fire to create plumes of smoke obscuring the way in for special forces, echoing tactics of protesters on Kiev's Maidan who scared former president Viktor Yanukovych into fleeing for Russia in February after months of clashes. The sign at the entrance to Kramatorsk, a small town between Donetsk and Slovyansk, was partially repainted in the white, blue, and red tricolor of the Russian flag.
Russia's Foreign Ministry said in a statement on Facebook that Western governments bore responsibility for "avoiding civil war in Ukraine" because they backed "the stranglehold of national radicals and the chauvinist, Russophobic, and anti-Semitic actions of the committee that took reign in Kiev with the direct backing of the U.S. and Europe." Yanukovych unexpectedly appeared on Russian state television shortly afterward to claim that Ukraine was on the brink of civil war provoked by a meeting he said Central Intelligence Agency director John Brennan had in Kiev earlier Sunday.
"Don't obey criminal orders," Yanukovych implored Ukraine's security agencies. "Don't shoot your own people: You won't be forgiven," he added. Kiev wants Russia to extradite Yanukovych on mass murder charges for allegedly ordering police snipers to fire on protesters in late February, killing over a hundred people. Ukrainian officials say Yanukovych personally gave the orders to shoot after consulting with top Russian spies.
Kiev's government and Western diplomats said Russia was behind the weekend's uprisings, pointing to numerous documented instances of men leading the building seizures wearing fatigues and carrying weaponry resembling that used in Moscow's pseudo-covert seizure of Crimea last month. By Sunday, however, control of buildings in Slovyansk and Kramatorsk appeared to have been given over to local irregulars sporting orange-and-black ribbons, a symbol of Russia's victory in World War II that the Kremlin has used to promote its revanchist nationalism during the Ukrainian crisis.
Anti-government protesters told BuzzFeed as one that they had come to the buildings on their own initiative and vehemently denied Russia or Yanukovych had a hand in the unrest. Asked if they had seen "green men," slang for the Russian troops without insignia in Crimea widely believed to have reappeared in Donetsk province Saturday, many of them pointed to green clothing they were wearing and insisted their movement was organic.
"The Kiev government is scared of the truth," said Marina Grigoreva, 31, a single mother of two, standing outside ramshackle barricades by Slovyansk's police station, now flying the black, blue, and red flag of the self-proclaimed "Donbass People's Republic." Turchynov and Prime Minister Arseny Yatsenyuk "sit there and take us for blithering idiots," she continued. "They thought we would put up with this forever."
Though Ukraine's government accuses Moscow of launching a "Crimean scenario" in the southeast, the situation here is more complex: Donetsk province is heavily ethnic Ukrainian, and far fewer of its residents support joining Russia, which has threatened to send troops. Most people who spoke to BuzzFeed said they wanted a referendum to give southeastern provinces, which are predominantly Russian-speaking and were Yanukovych's support base, more autonomy rather than seceding from Ukraine outright.
Kiev made belated attempts to reach out to the region this week after protesters who Russian encouragement — and, perhaps, operational support — seized government buildings in Donetsk and the two other major eastern cities, Kharkiv and Luhansk. Yatsenyuk visited Donetsk on Friday and said he was receptive to protesters' demands to expand the powers of eastern provinces.
Anti-government protesters said that was too little, too late after the new government made almost no attempt to reach out to the east for over a month, with almost no figures from Kiev so much as visiting the east or making public statements in Russian. Many people outside the buildings said they thought Kiev was out to repress them by forcing western Ukraine's culture on them and denying them access to Russian TV. Kiev blocked all Russian channels last month in an attempt to stop the spread of state news, a constant source of unverified and often blatantly untrue scare stories about "fascists" intent on subjugating the east.
"It's a bit like this: I understand Scotland's still a restive region, right?" said Dmitry, an estate agent in a leather jacket and surgical mask outside the occupied police station in Kramatorsk, its windows smashed or blocked with sandbags and its walls riddled with bullet holes. "It's like we're England and a bunch of Scots in kilts broke into my house and said you have to live with our history and our culture and speak our language. We don't want that."
Other protesters said they were upset over Kiev's intent to move closer to the European Union. Ukraine cannot get a much-needed $18 billion loan from the International Monetary Fund without harsh austerity reforms that would obliterate the East's depressed industrial economy, the vast majority of which relies on trade with Russia. Many protesters said they worked in Slovyansk's tottering ceramics industry, which they said was on the brink of collapse after orders from Russia dried up due to the political crisis. Others, particularly the elderly, waxed nostalgic about the collapse of the Soviet Union, for whose vast and inefficient command economy most of the region's factories were intended.
"I lived the best years of my life in the USSR," said Viktoria Nemankina, 56, at a prayer barricade about a dozen elderly women bearing Orthodox Christian icons had set up at a bridge outside Slovyansk. "Back then, there was only one bank. Now there are all kinds of banks and everyone lives off loans," she said, adding that most local residents paid 17 to 23% monthly interest on credit from Ukrainian banks.
For every committed anti-government protester, there were just as many who appeared motivated by more material means. "Let's go over there — they pay more," one woman in Slovyansk told her friend as they shuffled toward the barricades. Andrei Dzindzia, a famous Ukrainian driver's activist released since BuzzFeed wrote about his legal troubles in December, posted cell numbers on Facebook of people in various eastern towns who, he said, paid $500 for storming a building and 500 hryvnias ($42) for guarding it. Others reeked of alcohol or appeared to have spent the previous several nights sleeping on the streets, their skin the mottled gray of the chemical smoke from the region's factories.
Dmitry Podushkin, 47, guarding a decrepit and disused airport he said he owned outside Kramatorsk, said that many of the men around town had been paid off by business interests linked to Yanukovych. "You're wrong to think they're gone — those people are still here," he said, gesturing at eight toughs who said they were lurking outside the airport, which has not seen a flight in 10 years, to stop pro-Kiev forces landing there. Two cats skulked past as a ruddy man in an ill-fitting low-rent New Jersey mobster suit argued with an incoherent dirt-covered barefoot man over whether they supported federalization or joining Russia.
"There will be conflict, and there will be victims," Podushkin continued. "That's the goal of this whole movement. Russia wants to taint the new leaders with blood so they can compromise and control them."
Max Seddon is a correspondent for BuzzFeed World based in Berlin. He has reported from Russia, Ukraine, Azerbaijan and across the ex-Soviet Union and Europe. His secure PGP fingerprint is 6642 80FB 4059 E3F7 BEBE 94A5 242A E424 92E0 7B71

Contact Max Seddon at max.seddon@buzzfeed.com.

Got a confidential tip? Submit it here.