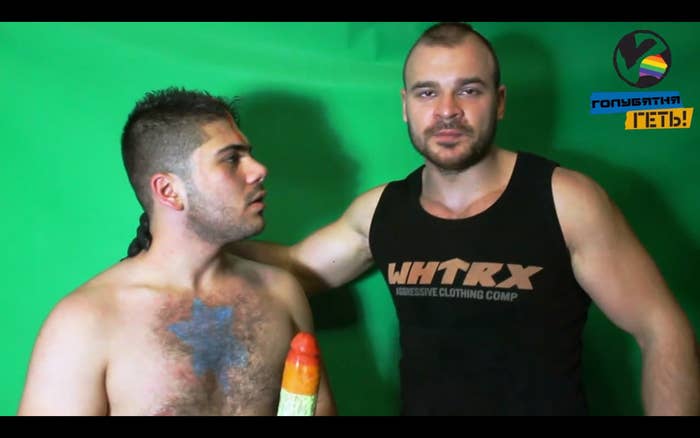 KIEV, Ukraine — The Russian neo-Nazi behind a right-wing viral video movement that lures gay men into honey traps and humiliates them says he has fled Russia.
Maxim Martsinkevich, known as Tesak ("Machete"), wrote on his VKontakte page on Sunday that he had left Russia "on an urgent vacation" to avoid criminal charges for "extremism," which carry a maximum two-year prison sentence. The charges appear to be based on a video he filmed in Ukraine last month in which he trapped, humiliated and seemingly beat a gay man from Iraq. Prosecutors have yet to charge Martsinkevich, but police searched his and his parents' apartments last week.
Martsinkevich's girlfriend posted a photo from the search on Instagram: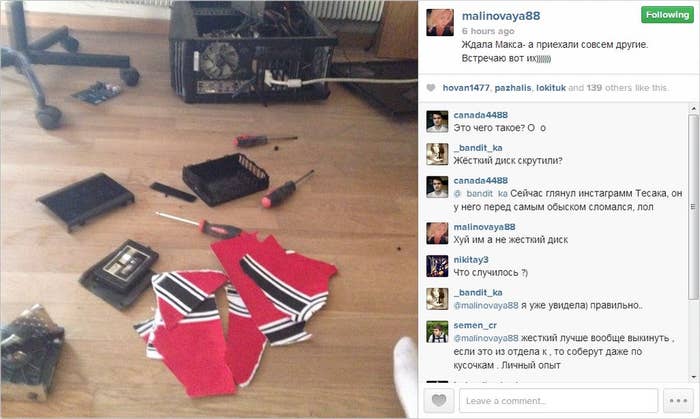 The incident first came to light in Ukraine, where police in the eastern city of Lugansk launched a criminal case for "hooliganism" after members of the country's Iraqi diaspora complained about the attack. One member of the diaspora told a local tabloid that the targeted student had told them he had gone to meet a girl and was then attacked by seven men who threatened him and demanded money. The Iraqis went to file charges, but withdrew them after they saw the video, showing the man with boy presented by Martsinkevich as being 15 years old, and said they wanted the student to leave the country "so as not to cast a shadow on the rest [of them]."
The video is part of a right-wing viral video craze Martsinkevich started called "Occupy Pedophilia," which lures young gay men in chatrooms into what they think will be sexual encounters with teenagers. (It also has a spinoff, "Occupy Gerontophilia," aimed at older men). In the video, Martsinkevich confronts an Iraqi man expecting to have sex with a boy whom Martsinkevich says is 15 years old. He disrupts the Iraqi man in the middle of a shower, shaves his head in a reverse mohawk, paints a rainbow on his head and a star on his chest, and forces him to make a "confession." Martsinkevich is also seen brandishing a police baton before the video cuts to a screen saying "No To Violence" while the Iraqi man's bloodcurdling screams are heard.
Russia then opened an investigation into the video. Martsinkevich posted what appeared to be the Russian criminal case against him:
According to the document posted by Martsinkevich, the charges were filed Thursday after "specialists" from the Russian Institute of Ethnology and Anthropology decided the video of the Iraqi contained "elements of racial and ethnic enmity and hatred" against "the social groups 'pedophiles' and 'Iraqi gays.'" The Russian case covers the video of the incident rather than the act itself. The document says the charges were filed after a legal appeal by Alla Gerber, 81, a legendary anti-fascist activist and member of Russia's Public Chamber, a semi-official governmental advisory body. It was not immediately possible to verify the authenticity of the document.
Martsinkevich has two prior convictions under the vaguely worded statute — ostensibly aimed at right-wing hate groups and terrorists but used against everything from South Park to Scientology — for interrupting a political debate by leading chants of "Sieg Heil!" and staging a mock execution of a Central Asian drug dealer while dressed as a Ku Klux Klansman. He spent three years in prison for the charges and was released in 2010.
Martsinkevich posted a photo Sunday from a beach in Thailand:
This is the full video of the incident in question. Warning: disturbing images.