Is This A Photo Of Edward Snowden Grocery Shopping In Russia?
Snowden's Russian lawyer said the NSA whistleblower is considering applying for Russian citizenship.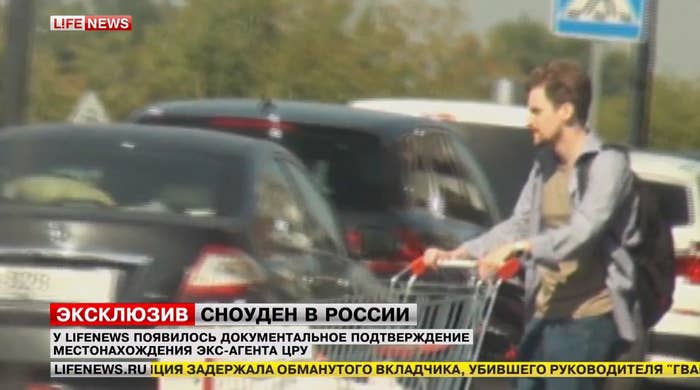 NSA whistleblower Edward Snowden is living in Moscow, does his own grocery shopping, and is considering applying for Russian citizenship, Russian tabloid website LifeNews claimed Monday.
LifeNews posted a grainy still of a man resembling Snowden and wearing a shirt similar to the one he wore in the widely circulated still from his Guardian interview in June. The site, which is known for its sensationalist leaks apparently from Russian security services, did not state how it had obtained the photograph or confirmed that it was Snowden.
Snowden's lawyer, Anatoly Kucherena, told LifeNews that Snowden was the man in the photograph, but denied that he was in Moscow, and worded his comments to avoid making any factual assertions about Snowden's location. "It's obviously Snowden, but wouldn't claim that he lives in Moscow," Kucherena said. "I think that the picture wasn't taken in Moscow," he added, pointing to the fact that it was impossible to make out the regional numbers on the license plate of the BMW in the background.
Kucherena also said Snowden is considering applying for Russian citizenship, which requires that he live in Russia for at least five years. Snowden is currently on year-long temporary asylum in Russia, which he can renew endlessly. Kucherena said that Snowden has received job offers in publishing, journalism, and "his specialty," presumably meaning information security, but was unlikely to make a decision without first meeting with his relatives. Snowden's father Lon, Kucherena confirmed, is planning to visit him in Russia soon and has already received a visa, but needs to fill out "several formalities" before doing so.
Kucherena added that he speaks to Snowden "as needed and when it is possible and required," and went on to muddy the waters around his previous statements that Snowden was traveling around Russia undetected and had hired bodyguards. "I believe he's got security, certainly," he said. Snowden is living "fairly poorly," Kucherena added, and is subsisting on money sent him from unspecified Russian and foreign foundations.
Max Seddon is a correspondent for BuzzFeed World based in Berlin. He has reported from Russia, Ukraine, Azerbaijan and across the ex-Soviet Union and Europe. His secure PGP fingerprint is 6642 80FB 4059 E3F7 BEBE 94A5 242A E424 92E0 7B71

Contact Max Seddon at max.seddon@buzzfeed.com.

Got a confidential tip? Submit it here.