Hated At Home, Saakashvili Meets Rapturous Reception In Kiev
Georgia's former president is far more popular in Ukraine than he is at home. Saakashvili has not returned to Georgia, where he faces the threat of prosecution, since leaving office last month.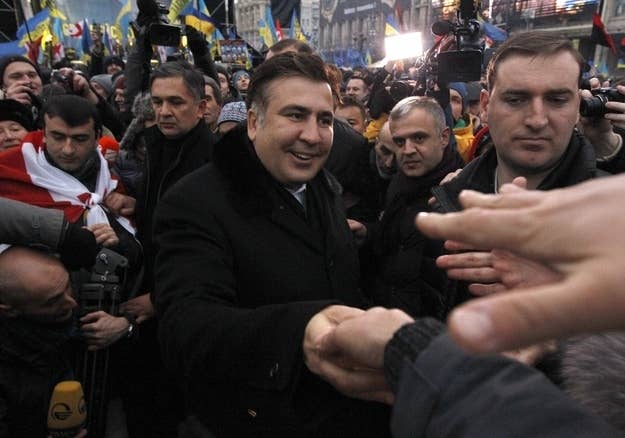 KIEV, Ukraine — He may be a figure of loathing at home who left office hounded by enemies and threatened with prosecution, but Ukrainians gave former Georgian president Mikheil Saakashvili a hero's welcome as he visited pro-European protests in Kiev Saturday.
"Today, you're not just defending your future, the future of Ukraine, but the future of all of us," Saakashvili said in Ukrainian, flanked by leaders of the three major opposition parties, to cheers from about ten thousand protesters. "Victory in Ukraine will put an end to the Putin regime, and they'll write in history books that the Russian Empire ceased to exist on the Euromaidan," he added, using the popular name for the protests against President Viktor Yanukovych's decision to move away from the European Union towards Russia.
Once the standard-bearer for pro-Western governments in the former USSR seeking to break from Russia's grip, Saakashvili left Georgia a diminished figure when his term expired in mid-November. He has yet to return since, spending most of his time in the U.S. negotiating with universities over setting up a center to study reforms.
Aides say he has no plans to return to Georgian politics, where voters turned on him last year over justice system abuses and his perceived authoritarian manner. Bidzina Ivanishvili, the eccentric billionaire whose coalition defeated Saakashvili's party in parliament, has repeatedly hinted at having him arrested for any one of a litany of alleged crimes. Several dozen of his associates face criminal charges.
In Ukraine, however, Saakashvili is half-favorite son, half the son they never had. Saakashvili has deep ties to Ukraine: he studied law at the Institute of International Relations in Kiev, served in the Soviet border guards in Ukraine, and still speaks the language, albeit haltingly. (He delivered his speech Saturday from notes, a rarity for a man garrulous enough to think nothing of rattling off 30 minutes at the United Nations offhand.)
Saakashvili also represents the fulfilled promise of the wave of "color revolutions" which he started by leading 2003's Rose Revolution to overthrow the neo-Soviet government of Eduard Shevardnadze. Ukraine followed suit with the largely Georgian-inspired Orange Revolution a year later, which prevented Yanukovych from becoming president.
The hundreds of thousands who gathered in the streets of Kiev in support of Viktor Yushchenko's candidacy, however, ended up disappointed. Yushchenko failed as a radical pro-Western reformist in many of the ways at which Saakashvili had succeeded, and left office with approval ratings in the single digits. His prime minister, Yulia Tymoshenko, was tarnished with accusations of corruption; she has drawn little sympathy from protesters here, despite being in prison since 2011 on abuse of office charges widely believed to be politically motivated.
Saakashvili's whirlwind tour of Kiev — he arrived Friday evening and left for Moldova 24 hours later — offered protesters a reminder of what their movement has lacked, too. With Tymoshenko in jail, the remaining opposition leaders lack the charisma to excite the Kiev crowds. Liberal Arseny Yatsenyuk and boxer Vitali Klitschko, a friend of Saakashvili's, are uninspiring speakers and have struggled to put forward a decisive program. (The third, nationalist politician Oleh Tyahnibok, is a stirring orator, but far to the right of the protest mainstream.) Klitschko's party, UDAR, is a close ally of Saakashvili's United National Movement: Saakashvili figures are advising him during the protests, and the former president had dinner with Klitschko and his boxer brother Vladimir Friday evening.
Saakashvili, on the other hand, wasted no time in ruffling feathers. He began remarks at a press conference earlier Saturday by accusing Russian President Vladimir Putin of trying to steal Ukraine's future like a corporate raider. "Young people here don't know the Soviet Union, but they know that it is not good, he said. "Russia can't give anyone anything good."
Before his speech, he stormed through the tightly packed crowd on Independence Square, shaking hands with well-wishers as protesters chanted his nickname, "Misha!" — simply happy to be back in the thick of things again. "I'm a Ukrainian, I'm a Georgian, and I'm a European," he said, concluding his speech. "They'll eat us one by one. That's why we have to be together."
Correction: An earlier version of this article incorrectly said Saakashvili attended university at Kiev Mohyla Academy; Saakashvili's undergraduate law degree is from the Institute of International Relations at Taras Shevchenko University.
Max Seddon is a correspondent for BuzzFeed World based in Berlin. He has reported from Russia, Ukraine, Azerbaijan and across the ex-Soviet Union and Europe. His secure PGP fingerprint is 6642 80FB 4059 E3F7 BEBE 94A5 242A E424 92E0 7B71

Contact Max Seddon at max.seddon@buzzfeed.com.

Got a confidential tip? Submit it here.