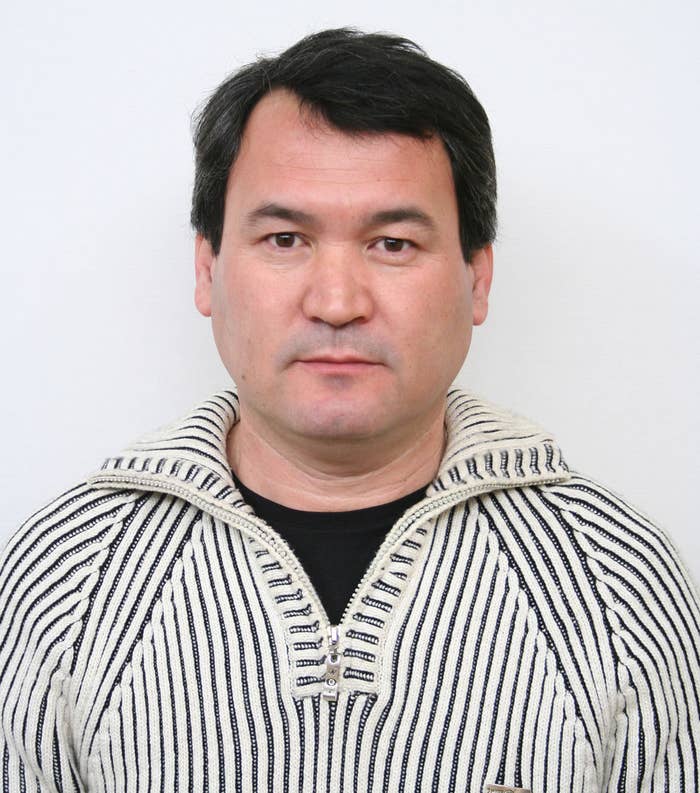 BORISPYL, Ukraine — Kayum Ortikov, a tall, genial former security guard at the British embassy in Tashkent, fled Uzbekistan in 2011 after having spent six months in the infamous torture dungeons of his homeland. Security service officers wanted Ortikov, 44, to admit he was a British spy, and tied him to a bedframe suspended from the ceiling, viciously beat him, and said they would kill him if he didn't confess. Today, he often cannot sleep. When he does, he frequently dreams of having his limbs cut off and wakes up screaming in the middle of the night.
On Thursday, after a serpentine journey that took him from the basements of Tashkent, the capital, to a Kiev suburb, Ortikov and his family will fly to Harrisburg, Penn., granted political asylum by the United States. What Ortikov wants to know, however, is where the British government, his former employer, is in all this. Human rights groups, British lawmakers, and the United Nations have all flagged his case, but Britain failed to provide Ortikov, who suffers from severe post-traumatic stress disorder, any help with his medical bills, consular assistance, or, he says, so much as the time of day.
"I still don't believe I'm alive," Ortikov said in the kitchen of his three-room ground-floor apartment just outside the Ukrainian capital. "I don't want to be a hero, or anything like that — I just want people to know what happened."
A spokesman for Britain's Foreign and Commonwealth Office told BuzzFeed in a statement that Britain was "deeply concerned" at allegations of torture, but declined to comment on Ortikov's refugee status. "Locally-engaged staff make up a valuable part of the FCO's workforce and make a key contribution to our foreign policy objectives," the spokesman said. "We take our responsibilities to them very seriously."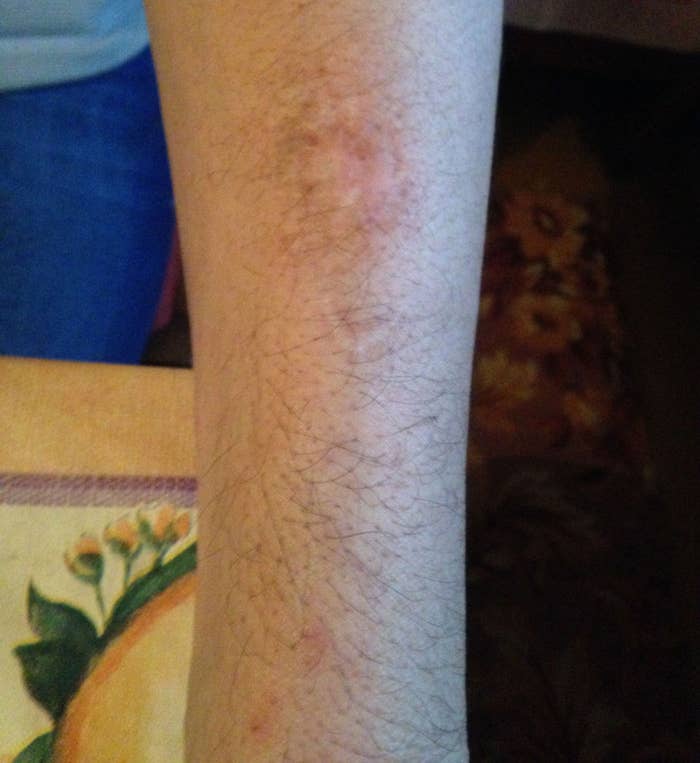 Ortikov's ordeal began seven years ago, when he says Uzbek military counterintelligence asked him to give false evidence that men who had gone on an army exchange program with him in 1999 were spying for Western governments. He refused. Soon, he noticed his home telephone heating up and making clicking sounds, leading him to think it was tapped. When he drove to work at the embassy, men in suits, ties, and sunglasses would follow him. Eventually, undercover Uzbek military special forces agents approached him and asked him to inform on former military personnel working in the U.S. and British embassies. When he refused again, the agents told him, "You'll get it."
Ortikov claims he was largely unaware at the time of Uzbekistan's reputation for being a Kafkaesque bastion of paranoia and torture. The security services of longtime President Islam Karimov rule the Central Asian dictatorship, a key partner for the U.S.-led war in Afghanistan, with an iron fist. Since government forces massacred hundreds of protesters in the city of Andijan in 2005, the country has been largely closed to the outside world. Foreign journalists and rights groups have not operated there for years. A British ambassador was fired in 2004 after making complaints over the country's rights record, including a notorious case in which prisoners were reportedly boiled alive.
The United Nations' torture watchdog recently said the practice was "widespread," citing one of Ortikov's claims — that police threatened to have an HIV-positive inmate rape him at the start of his custody — in a report issued last November. Uzbekistan flatly denies all of this, and accuses the U.N. of being misled by "politically biased" NGOs. Ortikov says that most Uzbeks, however, are unaware of those reports, which come from dissidents and torture victims brave enough to contact foreign NGOs; many of those who have been through harrowing experiences like his choose not to talk about it.
"There's been a tendency in recent years to think of torture in Uzbekistan as a thing of the past," said Steve Swerdlow, a Central Asia researcher for Human Rights Watch who has investigated the case. "What Kayum Ortikov's ordeal shows is that torture in Uzbekistan is happening now, and the most brutal, horrific methods are being employed to obtain confessions from innocent people."
Convinced he had done nothing wrong, Ortikov went about his life for another few months until police arrested him for trafficking 11 of his own relatives who, like millions of Uzbeks, sought seasonal labor in Russia. At his trial in January 2009, the relatives he had supposedly sold into slavery tried to give evidence that he had actually helped them find work and reimbursed them for back wages their Russian employer owed them, even though he had no obligation to. Ortikov was nonetheless convicted and sentenced to six years in prison. Though Ortikov had warned an embassy colleague of what was about to happen to him, the embassy provided him with no assistance during the trial and terminated his employment immediately after his conviction, he said.
Ortikov was taken almost immediately to a dank basement. Lakhmachi, prisoners paid by the state to torture fellow inmates, beat his balls with plastic slippers for 21 minutes before he passed out. When he woke up, they congratulated him on setting a new record. Guards later told him he had become "famous" throughout the Uzbek penal system for his ability to withstand torture. Once, he was left tied up for 10 days with no water or food. Torturers ran needles through his hands. Guards blasted him with cold water from a hose and then left him naked with the air conditioning on blast for a whole hour. A flaming newspaper was held to his genitals, giving him permanent scars from the burns. Guards tried to cover the wounds up with toothpaste. A prison doctor who saw them burst into tears. Some of his torturers eventually refused to continue working him.
All the while, officials told Ortikov to confess to spying for Britain or die of the torture. "You're not the first," one of them said, "and you're not the last." At one point he was summoned by representatives of Uzbekistan's four security agencies, who admitted the human trafficking charges were bogus and asked him to give evidence against other embassy workers. He refused and was sent to a new basement, stripped naked, and beaten viciously as he walked from the front door to his cell. Lakhmachi took turns in groups of three to punch his knees while he hung from the ceiling, swigging from a litre bottle of vodka in the corner as they did so.
Ortikov's thoughts turned to suicide. He tried to slash his head and neck with a razor he found in his cell, but failed. He attempted to swallow a rusty nail and didn't even feel it. He slit his wrists with his teeth; the wound was cauterized with sugar. "I had no feelings, no sense of smell or pain," he said. "They turned me into a log of wood." When security officials threatened to kidnap and rape his two young daughters, he asked them to kill him instead.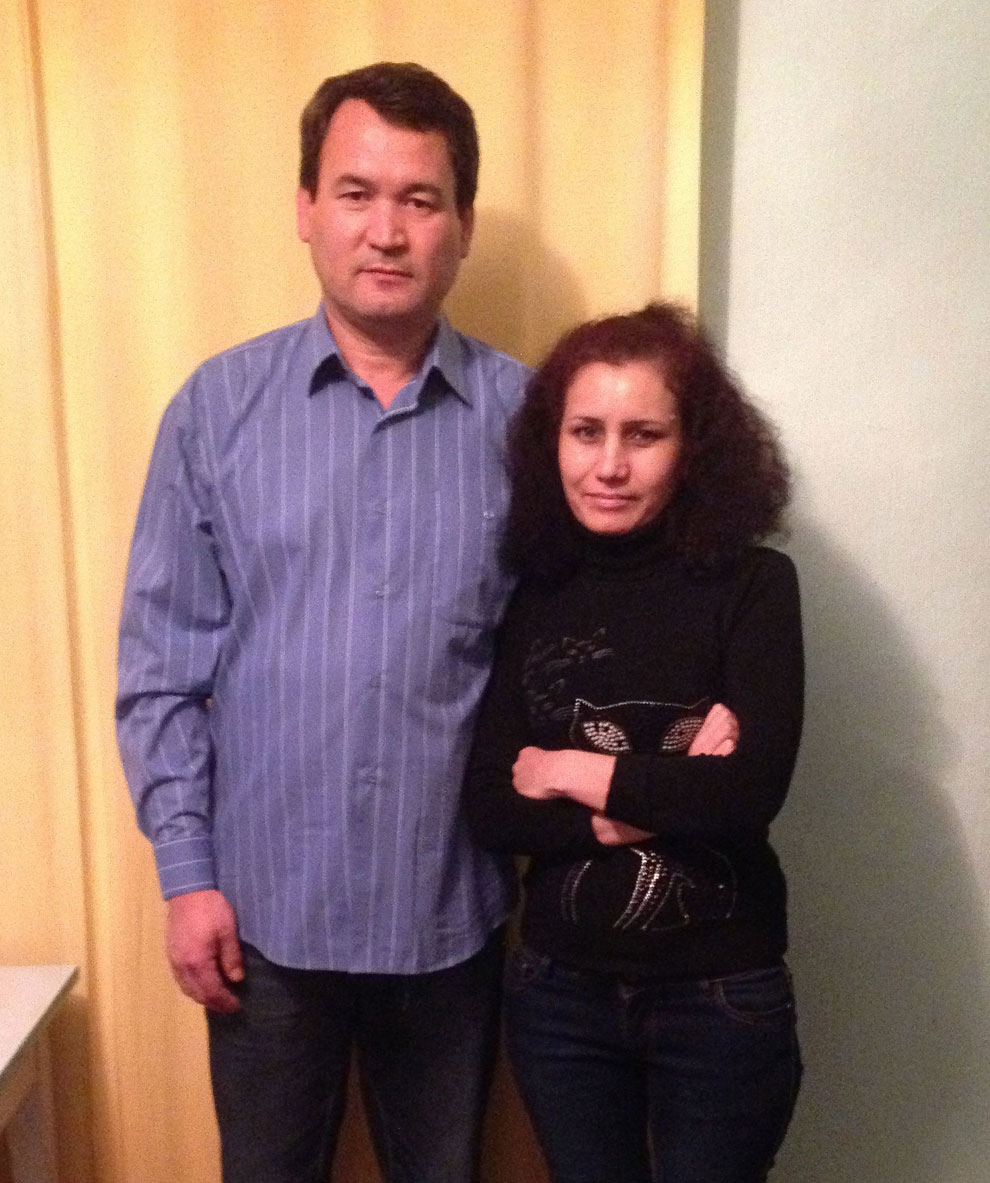 After six months of nonstop torture, Ortikov was allowed to bathe, see the sun, eat real food, and was then transferred to a normal prison in the city of Navoi. Why this suddenly happened is unclear. Ortikov says that he managed to kill time while pressure from human rights organizations over his case grew. Human Rights Watch's submission to the U.N.'s Committee Against Torture cites his wife, Mohira Ortikova, as saying that he eventually confessed, though both he and his wife deny this.
During that time, he had lost over 75 pounds. His skin was hanging off his bones. "The first time I saw him, I didn't even recognize him," Ortikova said.
While her husband was in the basement, Ortikova filed over 30 appeals to various government agencies, all of which were denied with identical wording: Ortikov was a convicted criminal. She wrote to the British ambassador at the time, Iain Kelly, but received no response. In late 2009, nearly a year after Ortikov was arrested, she met Kelly's successor, Rupert Joy. Joy assured her he would do everything he could to free her husband and said he had several plans to do so, but urged her to keep the matter quiet so as to protect Ortikov.
After Ortikov told her he had been tortured, however, she ignored his pleas not to tell anyone and appealed to international human rights organizations. The Red Cross unsuccessfully searched for him in the Navoi prison 200 miles southwest of Tashkent in April 2010. (The organization has since suspended all prison visits in Uzbekistan, saying in April 2013 that government interference made its work "pointless.") Guards confiscated inmates' radios after stories about Ortikov's wife appeared on the Uzbek-language services of Radio Free Europe and the BBC.
A year later, Human Rights Watch put an editor at the British newspaper the Independent who happened to be in Tashkent to play an amateur soccer match in touch with Mohira Ortikova. When the journalist, James Hanning, told embassy officials he planned to write a story about the case in May 2011, Ortikov was abruptly released in a matter of weeks.
It's not clear whether the specter of media pressure forced Britain into action: Ortikov's release may have been a coincidence, or a random event. The Ortikovs, for their part, believe that the British embassy made no serious effort to free him until they faced bad publicity over the case and point to the long gaps in Mohira Ortikova's contact with the embassy as evidence. They suspect that the U.K. could have interfered on his behalf far earlier, but chose not to, perhaps for fear of offending an important security partner.
The case eventually came to public attention last year, when the Independent finally published two articles about Ortikov. Three parliamentary committees called on British Prime Minister David Cameron to intervene in the case late last year, but were unsuccessful.
"It seems that British officials simply don't want there to be any formal recognition of responsibility for this family and what they endured, even though it would not have happened but for his association with the British embassy," Swerdlow, the Human Rights Watch researcher, said.
Last month, Baroness Sayeeda Warsi, secretary of state at Britain's Foreign Office, told parliamentarians who inquired about Ortikov's case that the embassy in Tashkent "repeatedly intervened with the Uzbek authorities [...] when we became aware of allegations that he was being mistreated." Warsi further claimed that embassy staff in Tashkent kept constant contact with Ortikov's family during his imprisonment and after his release.
Ortikov sees things differently. Since he fled to Kiev with his wife and four children, Ortikov has repeatedly attempted to get Britain to take action over his case, but to no avail. The first time, he appeared unannounced at the embassy in Kiev and asked for the ambassador, Simon Smith, but was not admitted. He then saw a man who turned out to be Smith's deputy, Martin Day, leaving the building with his son, cornered him, and spent an hour talking about his case. Day promised to send a message to London.
Three months later — during which time he heard nothing from U.K. authorities — Ukrainian security services told Ortikov that Uzbekistan's feared SNB security agency was looking for him and that they could not guarantee his safety from them even within Ukraine. Ortikov went to the embassy and waited in a corridor for several hours, but nobody received him. At one point Day walked past him and ignored him, Ortikov said.
After the Independent published the article about him it had withheld in 2011 last summer, British officials met with the Ortikovs again and assured them that Warsi had taken a personal interest in their case. Since then, however, the Ortikovs have not heard back from anyone. Britain deferred the case to the U.N.'s refugee agency, which eventually helped the Ortikovs find asylum in the United States late last year.
As he awaits his departure, Ortikov has been studying the cultures of the 50 U.S. states. He says his favorite is Alaska because of its snow and unspoiled nature. He dreams of going fishing and seeing bears.
"I'm so tired I feel 20 years older," Ortikov said. "My skin crawls when I hear the word Britain," he added, choking back tears. "Cursed be the day when I went to work at the British embassy. Why did I do it?!"