A Russian Man Created A Tool To Counter All The Pride Profile Pics On Facebook
Russia's most famous homophobe wants the country to ban Facebook. Another lawmaker would rather ban him instead.
A Russian man has created a Photoshop tool that embosses the Russian flag over Facebook profile pictures in response to the popularity of the Pride rainbow.
Graphic designer Oleg Chulakov came up with the idea after seeing the popularity of the Pride flag filter, including among Russian users. Over 5,000 people downloaded a Photoshop tool Chulakov made, prompting him to create the web app.
Though Chulakov insists his idea was not motivated by homophobia, many users have tagged their Russian flag profile pictures with #pridetobestraight and #pridetoberussian, as well as their grammatically correct Russian equivalents.
"Give children the rainbow back!" user Valya Ivanova wrote.
Vsevolod Chaplin, a spokesman for the Russian Orthodox Church, said that the Supreme Court's decision to strike down bans on same-sex marriage was "godless and sinful."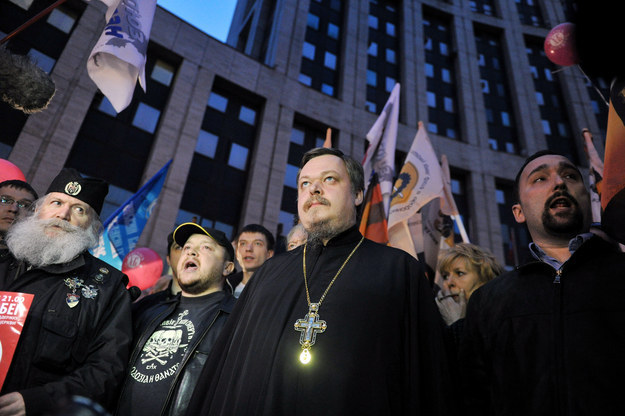 "People who like 'American-style democracy' and try to reconcile it with traditional values need to have a long, hard think after this decision," Chaplin told the Interfax news agency. "Remember that what they really want to do is take away your right to live according to your faith, take away your soul, take away your chance to build a life for your society and government in accordance with eternal and unchanged moral laws given to us by God."
Vitaly Milonov, a local lawmaker in St. Petersburg and Russia's most famous homophobe, said he had asked Russia's internet watchdog to ban Facebook for violating laws banning "gay propaganda."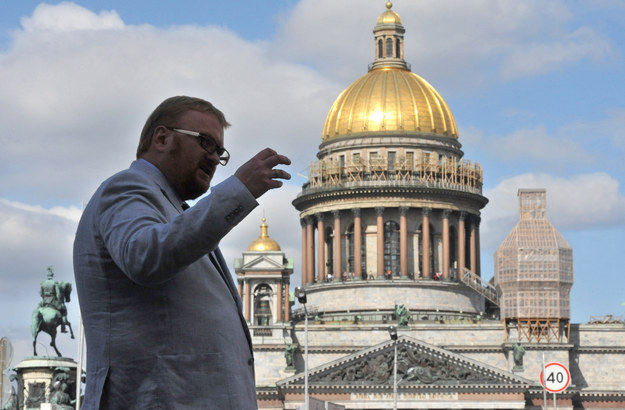 "Facebook doesn't have age limits — you can't control how many underage users there are. So it'd be totally reasonable to wipe out Facebook on Russian territory," Milonov told RSN on Saturday. Milonov, the author of a local law against "promoting homosexuality to minors" that later became the basis for a nationwide ban in 2013, said that he would appeal to Russian President Vladimir Putin and the country's security services if Facebook were not immediately banned for "wishing evil on our homeland."
Alexei Lisovenko, a local lawmaker in Moscow, wrote a letter to Russia's lower house of parliament asking them to ban the Pride flag, which he said was a tool the State Department could use to overthrow the Russian government. "America has lost all reason once and for all and now its gay fever threatens the whole civilized world," he wrote on his blog. "Billions of U.S. dollars will flood into gay propaganda all over the world, creating the grounds for 'rainbow revolutions.'"
Konstantin Dobrynin, a member of Russia's upper house of parliament, responded to Milonov's proposal by saying that Russia should adopt the U.S. army's "don't ask, don't tell" policy into law. "The important thing for Russia is not to turn away from the realities of the age and fall into retrograde, crass gay-bashing," but to find a balance "between the conservative part of society and everyone else," Dobrynin told Interfax. "The most important thing is to lower the pent-up aggression against minorities," he added.
"But we need to get quasi-politicians openly exploiting gay-bashing and spamming the legal system out of our politics and our life as soon as possible," Dobrynin said. "They, and not gays, are a clear and present threat for Russia's security, and they're the ones the government needs to fight."
Putin and other senior Russian officials have yet to comment on the Supreme Court's decision.
Oleg Chulakov created the Russian flag campaign. An earlier version of this story misidentified him.
Max Seddon is a correspondent for BuzzFeed World based in Berlin. He has reported from Russia, Ukraine, Azerbaijan and across the ex-Soviet Union and Europe. His secure PGP fingerprint is 6642 80FB 4059 E3F7 BEBE 94A5 242A E424 92E0 7B71

Contact Max Seddon at max.seddon@buzzfeed.com.

Got a confidential tip? Submit it here.