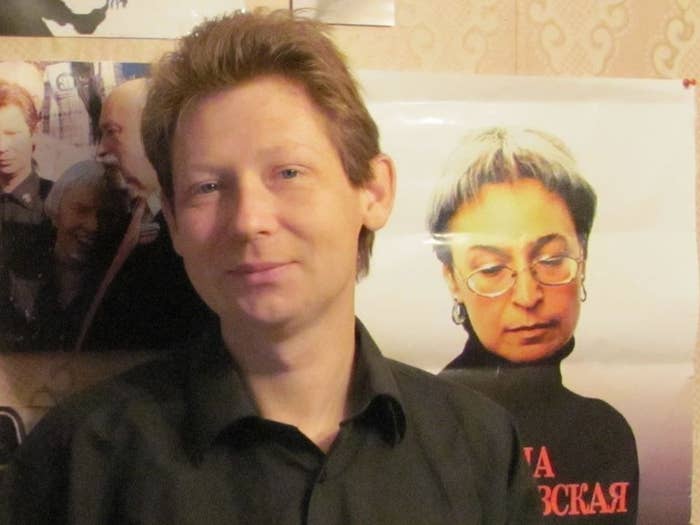 A severe police beating that hospitalized a prominent Russian LGBT activist for a month may have contributed to his death Friday, a fellow human rights campaigner says.
Alexei Davydov died in Moscow Friday morning after slipping into a coma, according to several fellow Russian activists. Davydov, 36, was a leading Russian LGBT activist and widely viewed as a controlling influence on the movement's most prominent and mercurial figure Nikolai Alexeyev. He was also active in the anti-Putin opposition group Solidarity.
Though the cause of Davydov's death is as yet unclear, Davydov's health worsened considerably after police broke his arm while violently dispersing a protest in 2011, Pavel Chikov, head of legal aid NGO Agora, which represented him, told BuzzFeed.
During the month he spent in the hospital with multiple fractures, Davydov — who was also diabetic — learned that he had acute kidney failure and subsequently spent large amounts of time undergoing dialysis. Police, however, claimed that they did not break Davydov's arm; neither they nor the Investigative Committee, Russia's equivalent of the FBI, began proceedings to look into the beating.
Friends simply said Davydov died after a long illness. He left no relatives, Chikov said, making it difficult for his friends and supporters to gain access to his medical documents and explore their legal options over his death. Activists have opened a Facebook group to raise funds for his funeral.
Davydov "made an enormous contribution to the Russian LGBT movement since 2006," Alexeyev wrote on Facebook. "He never cared about arrests and attacks. He just pursued our mutual goal! He has no relatives. He dedicated all his life to activism. He was always next to me in the worst times, including the day my flat was raided by police and prosecution just a month ago," he added.
Despite his worsening health, Davydov remained committed to the fight for LGBT rights in Russia to the end. In July, he was among a group of activists who unfurled a rainbow banner on Red Square that read "Homophobia is the religion of goons!" Just last week, he picketed outside Russia's parliament, demanding that anti-gay lawmakers be forced to undergo psychiatric treatment. He intended to participate in a protest outside the Sochi 2014 Olympics headquarters in Moscow Wednesday, but was hospitalized that morning.