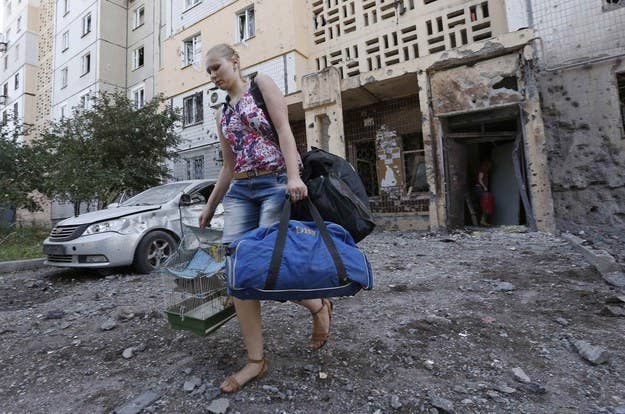 DONETSK, Ukraine — The street cleaner had just sent his wife to work at the building next door when a whistling came down from the sky. A moment later, an explosion smashed all the windows in the downtown apartment block and blasted three holes into the parking lot. Emergency workers later found the man's body smashed to pieces under a pile of ripped-up asphalt and shrapnel. His scalp was lying around the corner.
Tuesday's attack was the first time that shelling hit central Donetsk, a hitherto tranquil rebel stronghold. It left three people dead, including the street cleaner (his wife survived), and wounded 15. The nearby city of Horlivka declared three days of mourning after heavy fire killed 17 overnight and wounded several dozen others. At least four more people died in shelling in the Donetsk suburb of Yasynuvata.
As Ukraine makes a massive push to drive pro-Russian rebels from key cities in its east, it is civilians that are getting caught in the crossfire. Soaring civilian casualty figures underscore the difficulties the pro-Western government faces in regaining control of its eastern provinces without alienating the local population. At least 1,129 have died since the conflict began in April, and 3,442 have been injured, the United Nations said on Monday. A further several hundred thousand are believed to have fled, including at least 100,000 who have crossed the border to Russia where they now live as refugees.
The flow of refugees, paradoxically, may be keeping casualties down, simply because so many people have left. One block hit by a shell in Donetsk has 40 apartments; only six of them were still occupied before Tuesday's attack, and nobody was hurt. Remaining locals are furious at the indiscriminate use of artillery and rocket fire, which is almost universally blamed here on Ukrainian forces despite government claims that rebels are doing it to discredit them.
"They're not professionals. Human life is not important to them," said Nikolai Antonenko, a professional marathon runner who lives in one of the damaged buildings. "How could the rebels shoot up their own homes? Everyone has family here — it's nonsense."
In Washington to meet senior U.S. officials on Tuesday, Ukrainian Foreign Minister Pavlo Klimkin said that Kiev was using "exceptional restraint" to avoid killing civilians and damaging homes. "Our armed forces have shown exceptional restraint during their military operations in order to avoid casualties among peaceful civilians and prevent destruction of their towns and villages," Klimkin wrote in a CNN op-ed.
Ukraine has repeatedly said that rebels have taken up positions in populated areas, making it difficult to dislodge them without causing civilian casualties. Tuesday's shelling made that problem clear. The four damaged residential buildings surround a fortified interior ministry complex where a rebel could be seen manning a turret pointing toward the direction the shells had come from. Frightened locals whispered that the rebels pounded shells for hours every night at government positions on the town's northern outskirts.
At the same time, officials insist troops have orders not to open fire on civilian areas and that rebels are responsible for all the attacks that have seen civilians killed. Recent events have made these claims seem implausible. In a report published last week, Human Rights Watch presented evidence that, at least twice this month so far, Ukrainian troops had attacked rebel positions in populated areas with Grads, Soviet-designed unguided missiles, fired from government positions. Many other attacks remain unexplained, including a horrific rain of Grad fire on Horlivka on Sunday that killed 13 civilians, including two children, and destroyed swaths of residential areas.
U.S. officials also said Tuesday that Kiev has recently fired short-range ballistic missiles against rebel forces, CNN reported. It was not clear where the missiles were filed, though the lack of reports to the contrary suggest they did not densely hit populated areas.
Andriy Lysenko, spokesman for Ukraine's security council, said that Ukrainian forces had an order from President Petro Poroshenko not to fire on populated areas. "If anything blows up in the city, that means it was a provocation by the terrorists," Lysenko said at a briefing in Kiev, local news agencies reported.
Russia's foreign ministry, in a typically pugnacious statement, said that "the Kiev authorities have started a massified attack on the peaceful population and peaceful citizens of the East of Ukraine.
"We demand once again that Kiev end the war against its own people," the statement said.
The self-proclaimed "Donetsk People's Republic" is clearly keen to capitalize on the resentment the attacks generate. On Tuesday, officials from the makeshift breakaway state swarmed to the damaged buildings to evacuate residents and turn off the electricity, heat, and gas systems. Municipal workers — nominally employed by the government but under the control of the separatists — swept up broken glass and removed debris. Rebels even sent men with badges saying they were criminal investigators, even though the Donetsk People's Republic does not, in practice, have a legal system.
"The [separatists] came and shouted 'get out' and ran around all the floors and took us to the other side of the road," said Lyubov Vasilyevna, an elderly resident. Like many locals in the conflict zone, she only gave her first name and patronymic, fearful of retribution from both sides. "I don't support either side — they should just sit in their garrisons and not touch each other — but I bow my head before the guys who came to see us," she added.
The separatists, for their part, say Ukraine has been afraid to engage them in close combat because of the heavy losses their forces have sustained: Over 350 Ukrainian soldiers have died during the conflict, according to Kiev's national security council, while rebels have shot down at least 10 Ukrainian aircraft. (No figure exists for the rebel forces' losses, though they are believed to be far greater.) Igor Strelkov, the former Russian intelligence officer who commands the militia, told reporters on Monday that rebels were beating back Ukraine's new offensive in towns near where a missile downed a Malaysia Airlines jetliner two weeks ago, killing all 298 on board.
"The enemy is throwing everything they've got into battle," Strelkov said. "As a result of the intensified battles, most of the attacks have been repelled and the enemy has already begun to retreat."
Kiev appears increasingly confident that, should conditions on the ground remain the same, it can recapture Donetsk by Ukraine's independence day, Aug. 24. Winning what increasingly looks like a civil war appears to be a higher prerogative even than securing the plane's crash site, where about 80 bodies remain unaccounted for. Government forces began their offensive on Sunday at the same time as 40 Dutch policemen arrived in Donetsk to secure the site, rendering it inaccessible. The attacks are clearly aimed at cutting Donetsk off from the rest of rebel-controlled territory and the porous Russian border, where Kiev claims they still receive a steady supply of reinforcements and high-tech weaponry from their eastern neighbor.
Andrei Purgin, so-called first deputy prime minister of the Donetsk People's Republic, told reporters at a late-night briefing that rebels were still prepared to help the experts reach the crash site. Purgin warned that the trip was only possible if they "join up with our fighters and try to break through [...] in flak jackets, with grenades and in armored vehicles."
Should Ukrainian forces win out, Kiev is now likely to still face local resentment in the east that will last for years. Some people close to the government fear the best outcome may be a "Northern Ireland scenario," where local rebels go underground and switch their focus to pinpoint attacks on government forces, a phenomenon already noted in several cities recaptured by Ukraine. Locals in Donetsk, too, are unlikely to greet a liberating Ukrainian force warmly.
"You think that they will forgive each other for killing each other?" said Elena Viktorovna, a resident of one of the shelled apartment blocks who declined to give her last name. Locals ambled past her out of the building with half a facade missing, carrying bags of clothes, household items, and pets. "How can you have a united country after this? Ukraine doesn't exist anymore."