BBC Crew Attacked In Russia In Apparent Ukraine War Cover-Up
Thugs in the city of Astrakhan beat up a BBC cameraman and smashed his camera before fleeing. After they reported the incident to police, the crew found the footage had been destroyed.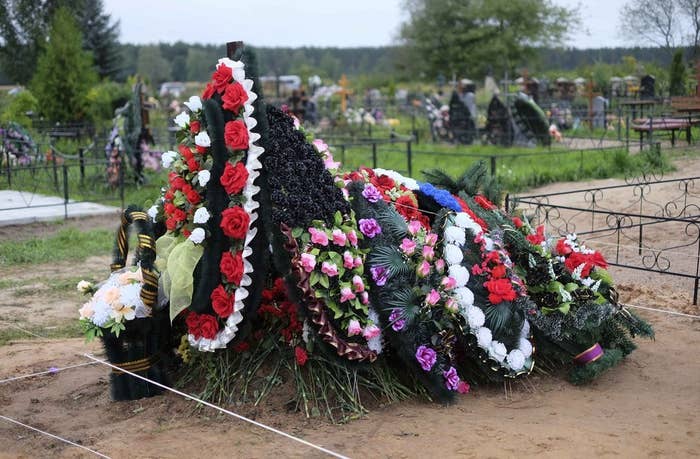 KIEV, Ukraine — A BBC crew reporting on Russian soldiers who died in the Ukrainian conflict was attacked on the street by thugs and had its footage destroyed in an apparent attempt to suppress the story.
Three men in the southern Russian city of Astrakhan beat up the crew's cameraman and destroyed his camera before escaping with it in a getaway car, the BBC said in a statement on Thursday. After the crew reported the incident to police, they found the footage of an interview with a dead soldier's sister that they had left in their car was wiped from their hard drives while they were in the station.
The story, which the crew managed to upload before the assault, focuses on the death of Konstantin Kuzmin, a Russian soldier who told his sister he was being sent to fight in the separatist conflict in eastern Ukraine in late July. Soon afterwards, his family lost contact with him, and on Aug. 17 a military commissar told them he had been killed by a shell fired across the border from Ukrainian territory.
Kuzmin's story is only one of many that appear to detail Russia's increasingly overt operations in eastern Ukraine, which Moscow continues to deny despite a growing body of evidence. Members of Russia's presidential human rights council say the Kremlin is suppressing information about the soldiers' deaths to hide its involvement in the conflict, echoing cover-ups of losses in previous wars in Chechnya and Afghanistan. A local lawmaker in the town of Pskov was severely beaten last month for, he believes, reporting on a local paratrooper brigade that was almost entirely wiped out by rocket fire.
The BBC launched a formal protest with Russian authorities on Thursday. "The attack on our staff, and the destruction of their equipment and recordings, were clearly part of a coordinated attempt to stop accredited news journalists reporting a legitimate news story," the BBC said in a statement. "We deplore this act of violence against our journalists and call on the Russian authorities to conduct a thorough investigation and to condemn the assault on our staff."
Foreign reporters in the region condemned the attack.
Russia is one of the world's most dangerous places to work for journalists. Fourteen reporters have been killed in the last 10 years, according to the Committee to Protect Journalists; none of their murders have been solved, despite promises from President Vladimir Putin and other senior officials to bring those accountable to justice.
Violent intimidation is also common. A producer for Russia's only independent TV channel, one of the few domestic outlets investigating the soldiers' deaths, was hospitalized last week with a skull fracture after two men beat her near her apartment.
Attacks on reporters for foreign media are extremely rare. The Kremlin, however, is visibly unhappy with Western outlets' reporting on the Ukraine crisis. State TV devoted an entire segment last month to paparazzi-style trolling of journalists from the Financial Times and the Wall Street Journal who were covering a Russian humanitarian aid convoy at the Ukrainian border.
An earlier version of this story identified the woman interviewed by the BBC as Konstantin Kuzmin's mother, not his sister.
Max Seddon is a correspondent for BuzzFeed World based in Berlin. He has reported from Russia, Ukraine, Azerbaijan and across the ex-Soviet Union and Europe. His secure PGP fingerprint is 6642 80FB 4059 E3F7 BEBE 94A5 242A E424 92E0 7B71

Contact Max Seddon at max.seddon@buzzfeed.com.

Got a confidential tip? Submit it here.