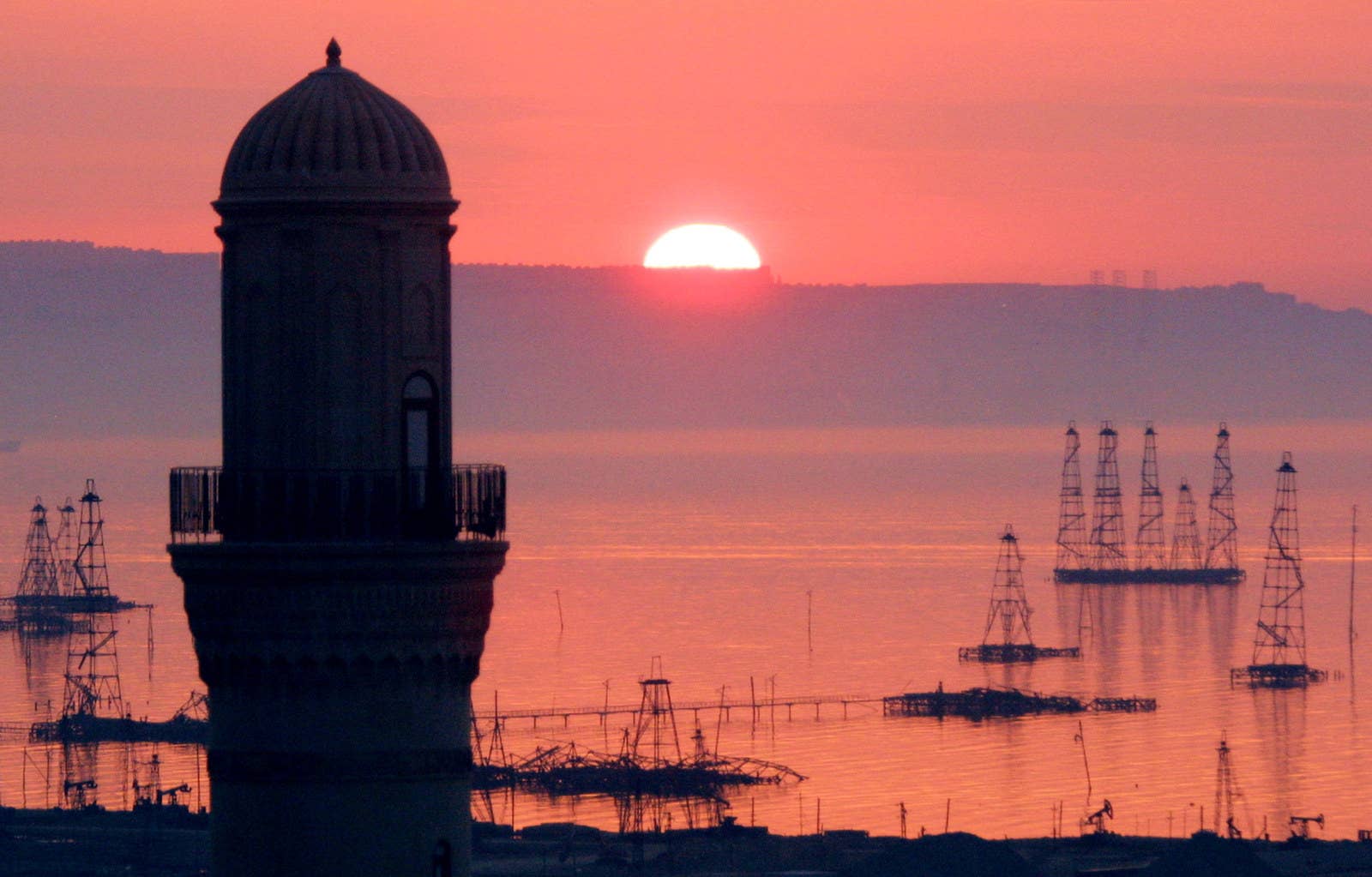 BAKU, Azerbaijan — Opulent and brashly ambitious, Ibrahim Ibrahimov personified the ostentatious capitalism that has defined Azerbaijan for the past oil-fueled decade. The oligarch exploited ties with the family of Ilham Aliyev, the country's strongman president, to become one of the country's richest men and build the Khazar Islands, a giant artificial development on the Caspian Sea soon to be home to the world's tallest building.
Last month Ibrahimov, along with nearly a hundred other businessmen with outstanding debts to Azerbaijan's largest state-run bank, found himself in another place that has become synonymous with Aliyev's rule: jail.
Ibrahimov and several other businessmen were released after repaying some of the debt, but their arrests appeared to signal that the oil boom fueling Azerbaijan's meteoric rise may be coming to an end. Declining production and prices well below the $90 per barrel that the country needs to balance its budget have left the country badly in need of new revenue. Azerbaijan's central bank abruptly devalued its currency, the manat, by a third in February and may have to do so again before year's end, according to Moody's.
Lavish spending has long been a calling card for Azerbaijan, which has built an image as a modern state on revenues from the world's third-largest oil field in the Caspian. The country has sold itself to the West as an alternative to Russian oil and gas supplies, strategic partner for NATO and Israel, and host of extravagant events like 2012's Eurovision Song Contest.
Five years after domestic oil production hit its peak, the country still relies on energy for 70% of its income and 95% of its exports.
On Friday, the country hosted the inaugural opening ceremony for European Games, a new multi-sport event. It cost an eye-popping $100 million — more than double the price of the far larger opening to London's 2012 summer Olympics. That reportedly included a $2 million payout to Lady Gaga, who hid in a hotel for several days before emerging to play one song. Opposition figures say they estimate the total cost of the games to be as much as $8 billion.
Azeri officials admit they will have to diversify beyond oil and gas, but five years after domestic oil production hit its peak, the country still relies on energy for 70% of its income and 95% of its exports. "Azerbaijan is not the richest country in the world," said Ali Hasanov, a senior aide to Aliyev. "Its resources aren't always going to bring in the expected revenue."
The crunch has raised hopes among some that it will provide a stimulus to root out the cronyism and corruption that plague Azerbaijan. "If you could have invented laboratory conditions for making the conditions for reform, you would have designed it around a sub-$60 per barrel oil price, devaluation of the currency, difficult times in neighboring markets, and some big vanity projects that have to be financed in a hurry," said a Western businessman in Baku, who spoke on condition of anonymity to avoid offending contacts in Azerbaijan's government. "It's kind of the perfect conditions for pushing towards reform."
But the mass arrests of businessmen — which came in the midst of a massive crackdown on rights advocates — has not inspired much confidence that reform is the path the government will choose. In the run-up to the European Games, Aliyev's government arrested more than 80 people who now meet the criteria for political prisoners, according to the campaigning organization Sport for Rights.
Hasanov, the presidential aide, denied the arrests had anything to do with government finances. "A legal obligation is a legal obligation," he said. "And if someone doesn't repay a debt, then he has legal responsibility and should answer for it."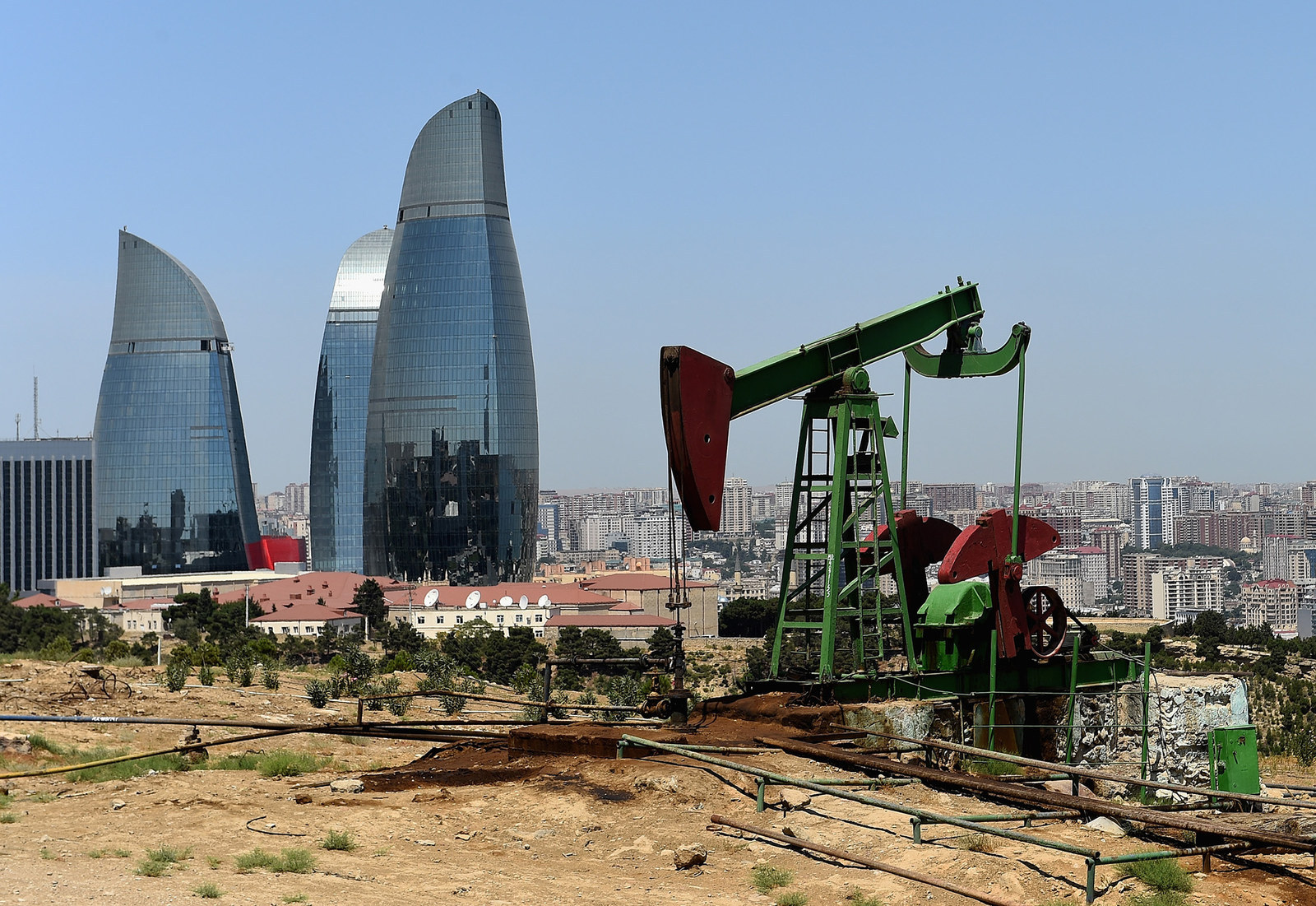 Aliyev has staked the country's future prosperity on the massive Shah Deniz II gas field in the Caspian. A consortium led by BP is exploiting the field, which is to provide gas to Europe through two pipelines that together cost about $45 billion. The project will not come online for several years, however, and is unlikely to produce enough to dent Russia's stranglehold on the European gas market.
"At best, we'll be producing 10 billion cubic meters in 2020. Hungary alone consumed 13 billion a year," said Natiq Jafarli, an economist and founder of the REAL movement, an opposition group whose founder is one of the 80 alleged political prisoners.
The oil boom imbued Azeri officials with a sense of pride. Since the Baku-Tbilisi-Ceyhan oil pipeline came online in 2005, the number of Azeris living below the poverty line went from 49% of the population to 5% today, according to Hasanov.
"We're not Equatorial Africa," said Asim Mollazade, who leads a small pro-business party in parliament. "There's no need to teach us how to wash our hands."
Now, the drop in the oil price is having a visible impact. Many storefronts in downtown Baku's most prized areas are up for rent — an unheard-of prospect during the boom years. Remittances home from the millions of Azeris living abroad have dropped sharply after the economic slowdown in Russia, where most of them work.
Azerbaijan is trying to use its oil revenues to develop the country's non-oil sector in response, a move even government supporters admit will be challenging. "Azerbaijan for the better part of 200 years has been an oil country; it's part of our history, it's part of our culture, you can't eradicate it overnight," said Fariz Ismailizde, deputy director of ADA University, a new institution with a lush Palo Alto-style campus funded by Azerbaijan's foreign ministry.
A case in point is tourism, a sector the government has sought to develop by backing hotel construction and large events like the European Games. With visa requirements for Westerners still in place, however, the flow of tourists has yet to materialize. This week, a TV station owned by Aliyev's cousin showed an interview with an obviously Azeri man who said that he was a tourist from London named "James Bond" and praised Baku in broken English.
Western diplomats and local opposition activists say the European Games have already had an impact on ordinary Azeris' pocketbooks. Some public sector workers have complained at receiving reduced salaries through an unacknowledged, government-imposed "Olympic tax." Small businessmen are increasingly complaining of shakedowns from the tax police, according to several people with ties to the business community. Traffic police even started collecting fines for driving in European Games-only lanes without announcing it, allowing them to collect $40 fines from thousands of unsuspecting drivers.
Activists say the crackdown on dissent is partly an attempt to stave off popular anger at corruption, which is endemic in Azerbaijan. Many of the reporters and activists behind bars claim that it stems from the top. A recent report based on work by the Radio Free Europe journalist Khadija Ismayilova, who has been in jail since December, alleges Aliyev's family owns a $25 million house in west London. After visiting Aliyev's opulent villa outside Baku in 2009, a U.S. diplomat wrote that it was "unclear whether Aliyev understands or is concerned with the sharp contrast between his life and that of average Azerbaijani citizens" in a cable later published by Wikileaks.
"The clearest model" after the Soviet Union collapsed "was this grotesque form of capitalism, and that's what they've tried to copy," the Western businessman said. "And with the wave of wealth that's hit the country, that's the sort of capitalism that they've built for themselves — grabby, nasty, blingy."
Aliyev will have to decide between sustaining Azerbaijan's economic model to secure his own power, or rooting out corruption and inequality to keep people happy, said Jafarli, the opposition economist.
"If he were like Lee Kwan Yew [Singaporean leader who died in March], we would be happy," Jafarli said. "But it's like someone told him about what Milton Friedman wrote — that more economic freedom will lead to more political freedom — and he took it the wrong way."