Ambassador McFaul: "We Never Set Out To Have A Good Relationship With Russia"
The outgoing ambassador talks to BuzzFeed days before he leaves Russia following a tense two years as Washington's man in Moscow.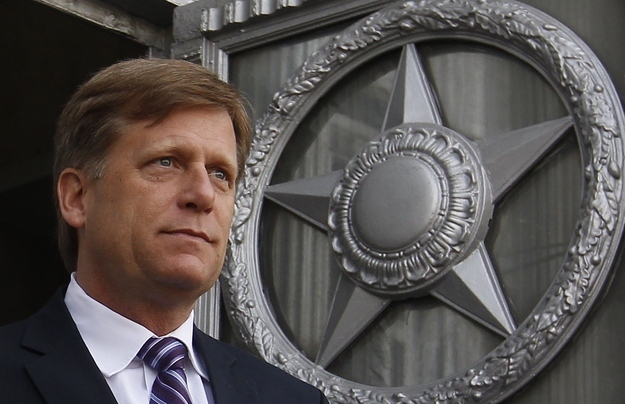 KIEV — Most ambassadors prefer to go out with a whimper rather than a bang, a few platitudes at their farewell reception covering for any disagreements behind closed doors. Michael McFaul is not most ambassadors.
McFaul's last major act before he steps down later this month after two years as U.S. envoy to Russia was to deliver Vladimir Putin a slap in the face. The U.S. Olympic delegation he shepherded to Sochi was studded with openly gay athletes instead of the high-profile officials the Kremlin craved, a calculated rebuke of Russia's anti-gay policies.
"Our message could not have been clearer," McFaul recently told BuzzFeed by phone from Moscow. "It's hard to imagine a more high-profile delegation to the Olympics. Do you remember who was at the opening of the last Olympics? I don't."
Sandy-haired and genial to a fault, McFaul, 50, will be long remembered in the pantheon of U.S. ambassadors to Moscow, if not always for the right reasons. He presided over a period marked by enmity and frisson notable even for U.S.-Russia relations, long strained. He lasted an unusually short time in the job: ambassadorial postings generally last a year longer, if not more. And he was an unusual choice to begin with. McFaul had planned to resume his academic career at Stanford after two years as Barack Obama's Russia hand before the offer to make him only the second political appointment to Moscow in 30 years came "totally out of the blue."
McFaul's departure was less of a surprise, since his wife and two teenage sons left Moscow for California in late summer. When he told Obama in September that he was thinking of leaving, the president was "incredibly sympathetic," McFaul said. "His children are about the same age as my children — he said, 'Stay as long as you can, but I'll understand when it's time to go home,'" McFaul added.
Rocky times during his tenure had already led McFaul's critics in both Washington and Moscow to write his political obituary many times over, though he insists that had nothing to do with his decision. McFaul entered politics spearheading a "reset" of U.S. ties with Russia; he leaves with them at a new nadir. Since his return to the Kremlin in 2012, Vladimir Putin has infuriated the White House on hot-button issues from Syria to whistleblower Edward Snowden. Publicly, Putin has recast Russia as tradition's last bastion against the West, which he accuses of trying to undermine it through support for everything from same-sex marriage to the Ukrainian opposition.
Much of the brunt for this has fallen on McFaul much more than what would be typical for an ambassador. Partly, he says, this is a result of overly rosy expectations for the reset, which began as an attempt to drag relations out of the gutter following the Georgian War and focused on issues where the two sides were likely to find common ground, like arms reduction.
"We never set out to have a good relationship with Russia. That was never the goal of the reset," McFaul said. "The goal of the reset was to achieve outcomes that made us safer and more secure, and kept us closer to our values."
McFaul points to areas where the U.S. and Russia work closely together, such as work to contain the nuclear programs of Iran and North Korea, and puts much of the friction down to Russian "schizophrenia" over how to deal with the U.S. Though the Kremlin antagonized the U.S. so much over a range of issues last summer that Obama cancelled a presidential summit (he made a point of meeting with Russian LGBT groups instead), Russian officials ask their U.S. counterparts at every meeting when they can reschedule it. They were even keen for Obama to attend the Olympics. While the rest of the world remembers the two leaders slumped dejectedly at their last meeting in June, Russian state TV instead shows footage of them smiling and laughing. Putin, in other words, had done all he could to thwart the U.S. diplomatically, but the message was still that they were best of friends.
"I do not allow anyone in my embassy, when they're writing cables, to say 'Russia decided to do this,' 'Russia decided to do that,'" McFaul said. "There's not a uniformity of views."
His reception when he moved to Moscow in January 2012 was, likewise, mixed. Protests against Putin's return to the presidency were at their height; the Kremlin, as McFaul put it, decided to discredit the movement by painting the U.S. "as an enemy of Russia fomenting revolution." That made McFaul a sitting duck. Putin loyalists seized on his academic specialization in democratic transitions to claim that he had been sent to complete "Russia's unfinished revolution" — the name of a book he published in 2001 subtitled "Political Change from Gorbachev to Putin." State media — sometimes accompanied by pro-Kremlin activists and even sword-wielding Cossacks in fur hats — preyed on his lack of diplomatic experience to harass him into gaffes.
McFaul put himself out front nonetheless. He made a point of speaking Russian in public whenever possible, despite a propensity for mistakes that sometimes landed him in trouble (he particularly regrets scolding state journalists by once saying Russia was a "wild country"). Demonized in mainstream Russian media, he took his message online — still something of a parallel universe — and quickly earned a wide following with his prolific tweeting, often in Russian. It struck a chord in official circles, too. When Russian secret services arrested an alleged, embarrassingly clumsy U.S. spy in an ill-fitting blond wig last year, they timed the announcement to coincide with one of McFaul's Twitter Q&As.
McFaul wants to be remembered as a traditional diplomat first and foremost, however. "People have this false impression that all I do all day is sit at home and tweet," he said. "The truth is that I had been in every single meeting that the president had with our Russian counterparts, and I continued to do that kind of work as an ambassador.
"If I'm not the one doing it, who would be better to do this job?" he added. "I'm glad that I was the one."
Max Seddon is a correspondent for BuzzFeed World based in Berlin. He has reported from Russia, Ukraine, Azerbaijan and across the ex-Soviet Union and Europe. His secure PGP fingerprint is 6642 80FB 4059 E3F7 BEBE 94A5 242A E424 92E0 7B71

Contact Max Seddon at max.seddon@buzzfeed.com.

Got a confidential tip? Submit it here.