Yahoo Plans To Turn Over Half Of Its Alibaba Winnings To Investors
The company reported its second-quarter earnings today.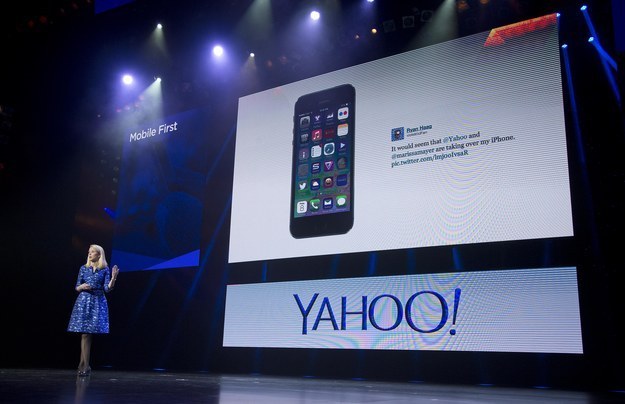 Yahoo reported its second-quarter earnings today, which missed analyst expectations but included a bit of information that should please investors: it will return at least half of its proceeds from Alibaba's impending IPO to shareholders.
"We would like to take this opportunity to let our investors know that we are committed to return at least half of the after-tax IPO proceeds to shareholders, in line with our overarching commitment to maximizing shareholder value through prudent capital allocation," Yahoo CFO Ken Goldman said as part of the earnings release.
Alibaba is expected to go public later this year in one of the largest tech IPOs in recent years, and Yahoo owns a 21% stake in the company. While Yahoo CEO Marissa Mayer had been on a spending spree with some cash generated by selling a small part of the company's stake in Alibaba, she insisted that Yahoo's leadership would be "good stewards" of the company's capital. It appears that the company plans to do just that, and many investors in Yahoo bought shares in connection with the tantalizing prospect of Yahoo's incoming Alibaba winnings.
Still, Yahoo as a core business still appears to be struggling. Analysts were expecting the company to earn 38 cents per share, but the company reported earnings of 37 cents per share, falling just under expectations. The company's display ad revenue was once again down year-over-year in the second quarter, though its search advertising revenue rose slightly.
"Our top priority is revenue growth and by that measure, we are not satisfied with our Q2 results," Mayer said as part of the earnings release. "While several areas showed strength, their growth was offset by declines."
Still, the good news on the Alibaba front was more than enough to keep shareholders happy, with Yahoo trading up 2.5% in extended trading after the earnings report came out. The company also said Alibaba agreed to lower the number of shares Yahoo will have to sell in the company's upcoming IPO from 208 million shares to 140 million shares.
Yahoo will be flush with an enormous amount of cash when Alibaba does go public, but the company still has yet to figure out how to turn around its core business. While committing to return half of that to shareholders will still give Yahoo an enormous amount of breathing room, it's still not clear if Mayer's turnaround strategy has worked yet.