Wall Street Says Apple Isn't Selling Enough iPhones
The company sold 51 million iPhones during the holiday quarter. But that still wasn't enough, sending the stock down 5% in extended trading.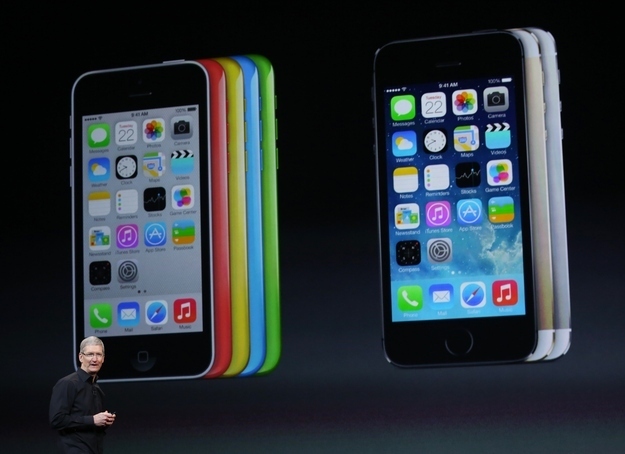 Apple disappointed Wall Street by selling only 51 million iPhones and giving weak earnings guidance for the first quarter.
The company still sold more iPhones during the holiday quarter than it did last year, when it sold 47.8 million phones in the same quarter a year earlier, according to its earnings release today. However, analysts were expecting the company to sell around 55 million iPhones.
It comes at a time when Apple is said to be considering not only releasing phones with bigger screens, but also ditching the plastic backing of the cheaper iPhone 5c. The iPhone 5c was widely panned as a half-hearted attempt to get into the market for cheaper iPhones, though Apple CEO Tim Cook has said the company never intended to make a "cheap" product.
When asked about why the mix favored the iPhone 5S, he said on the earnings call, "People are really intrigued by [the iPhone 5S's fingerprint scanner called] TouchID. It's a major feature that excites people. That associates with other things that were unique to the 5S."
After the earnings report, shares of Apple were down more than 8%, which should give activist shareholder Carl Icahn even more ammo to pressure Apple into doing something with its large cash pile. When asked about increasing the buyback, Cook basically gave a non-answer saying, "We're a big believer in buying back the stock and that doesn't change today whether the stock goes up or down."
Apple reported revenue of $57.6 billion, up from $54.5 billion in the same quarter a year earlier. It brought in a net profit of $13.1 billion, unchanged from the same quarter a year earlier.
During the same quarter, Apple sold 26 million iPads, up from 22.9 million iPads the year earlier — a record for Apple. The company also sold 4.8 million Macs, compared to 4.1 million in the same quarter a year earlier.
The company's guidance for the next quarter was also soft, coming in at between $42 billion and $44 billion. While Apple has been expanding rapidly in China, including signing a long-sought-after deal with one of its largest providers China Mobile, it would represent the possibility of a year-over-year decline in revenue. Apple reported $43.6 billion in revenue in the second quarter last year.
The lower guidance was largely a result of changes in "channel inventory" — basically, iPhones that are still in the process of being made — because of demand for the iPhones. Other factors affecting guidance were foreign exchange headwinds, lower sales of its declining iPod unit, and deferrals on iOS devices.
Update: This post now contains comments Cook made throughout the earnings call.