Twitter Makes Vine A Little Easier To Use
The updates should actually make the experience a little better for the app's power users. The app is still quite valuable to Twitter, if only as a platform to produce Internet celebrities.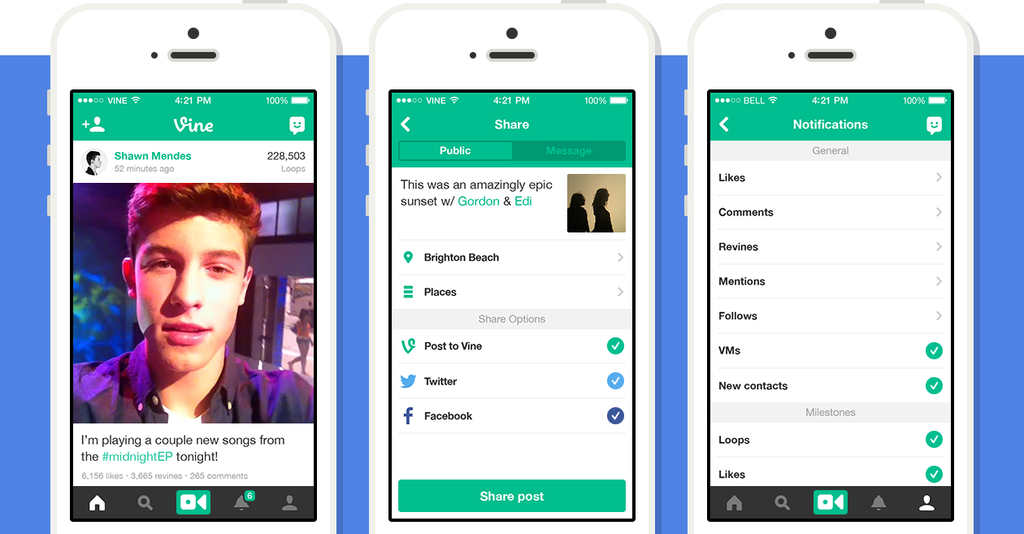 Twitter has a few small updates for Vine today geared toward making it a little easier to use for both the app's casual users as well as the mini-celebs it's generated.
Users can now choose whether to publish a Vine or send it as a message after shooting it. Before the update, users were forced to go to a dedicated "Messages" screen before shooting the video. There's also a new navigation bar, as shown in the screenshots above, designed to be a little more user-friendly.
Perhaps the most interesting update is a deeper level of configuration over which notifications users will receive based on Vine activity. This should be particularly useful for some of Vine's power users, who routinely receive tens of thousands of notifications — leading to a potential a deluge of push alerts that could easily get out of hand.
Like Twitter and also Instagram and YouTube, Vine has spawned a whole subculture of Internet celebrities with hundreds of thousands, or even millions, of followers. This is interesting as a business play, as the audiences of these celebs could be tapped in some way similar to how the audiences for television and movie celebrities are tapped in the form of advertisements and sponsorships.
This most recent update marks a busy few months for Vine (as well as its parent company, Twitter). Twitter has continued to roll out a series of updates to its video-sharing application, such as counting the number of "loops," or complete play-throughs, a Vine user and a specific video has. Twitter added a messaging component to Vine in April this year.
While smaller than its flagship product, the focus on building out Vine as a formidable video platform is interesting for a company like Twitter, even if it only serves as a springboard to build fame for its current legion of mini-celebrities.