So you've decided to build a startup...

Now there's an app coming from an Irish-based company to get primed for the real thing. This is "Hipster CEO," a game about running a startup.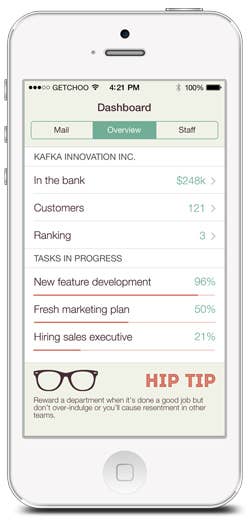 It's basically two things: first, a simulation about running a startup, and second, a parody of the "hipsterdom" that's hitting the tech startup scene.

So, what do these two have in common?

While the startup life is often glamorized, most startups are actually going to fail, for a number of reasons. They're referred to as classic "startup mistakes" — like a founder giving up too much control of the company, giving others a window to make executive decisions. That's a problem often faced by startups that raise massive amounts of money.
In reality, the startup world — much like other industries — is flooded with these kinds of clichés and stereotypes, from the founder trying to build a workplace like Google with toys and free food too quickly, to the startup's hiring teams constantly seeking out those "rockstar" developers that are "killing it."
In startup land, you have your "brogrammers," "wantrepreneurs," and, of course, "hipsters."

Things associated with the tech startup hipster status stereotype include: an affection for artisan coffee, cheap beer like PBR, cut-up skinny jeans and hoodies all over the place, throwing massive unnecessary parties with millions raised from venture capitalists for the sake of publicity, and acquiring millions of users without ever generating a single dollar in revenue.
"Hipster CEO, my new iOS game, allows players to run a company how they like," the company wrote in a blog post. "But, just like real life, their business won't last long if they don't have a solid bottom line."
You'll have to appeal to the general public eventually, but that comes later. For now, bask in the glory of an ideal early-stage venture capital-backed startup.

What are you waiting for? Get yourself ready to build a startup — anyone can do it, and now you can do it sans the consequences! (Once the game launches, that is.)
Update: Yes, it's actually real, and should be coming in the next few months, according to its creator Ger Kelly.