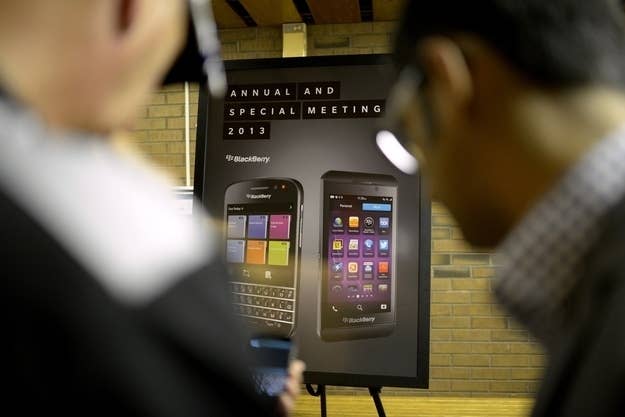 BlackBerry's new flagship smartphone, which was supposed to save the company, is officially a flop.
BlackBerry is taking a huge pre-tax charge against inventory and supply of nearly $1 billion, which is primarily attributing to the BlackBerry Z10. That smartphone was supposed to put BlackBerry back in competition with the iPhone and Android devices, but apparently wasn't able to do enough to save the company — which is reportedly shopping for buyers.
"As a consequence of the more intense competition the Company is experiencing in its hardware business, it expects to report a primarily non-cash, pre-tax charge against inventory and supply commitments in the second quarter of approximately $930 million to $960 million, which is primarily attributable to BlackBerry Z10 devices."
Increased competition is right, as the iPhone and Android have essentially decimated BlackBerry's market share and sent the company's stock diving along with it.

BlackBerry's stock is now down another 20% just before the end of trading on Friday.

In addition, BlackBerry is preliminarily delivering its quarterly earnings, which brought in $1.6 billion in revenue, while analysts were expecting the company to bring in around $3.1 billion in revenue. It's also cutting 4,500 jobs, carrying a Q2 operating loss of somewhere between $950 million and $995 million.
And in addition to all that, the company is trimming its lineup of smartphones to focus almost exclusively on enterprise markets and what it calls "prosumers."
The portfolio will focus on enterprise and prosumer-centric targeted devices, including 2 high-end devices and 2 entry-level devices in all-touch and QWERTY models. With the launch of the BlackBerry Z30 - the next generation high-tier smartphone built on the BlackBerry 10 platform -- this week, the Company will re-tier the BlackBerry Z10 smartphone to make it available to a broader, entry-level audience. At the same time, the Special Committee of the Company's Board of Directors continues to evaluate all strategic alternatives for the Company.