The Head Of Dow Jones Is Stepping Down
Lex Fenwick, CEO of Dow Jones and an alumnus of Bloomberg, is leaving the company. He is being replaced by an interim CEO, Will Lewis.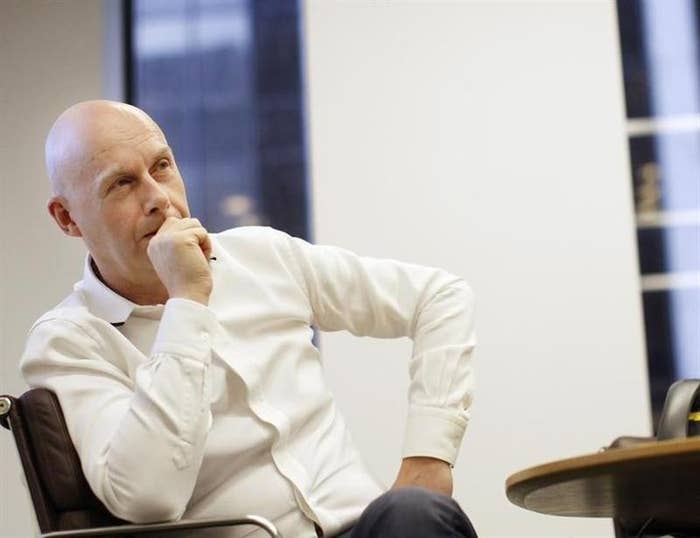 Dow Jones' own master salesperson, Lex Fenwick, is stepping down as CEO of the publisher of The Wall Street Journal.
Fenwick was the architect behind many of Dow Jones' most recent changes, notably "DJX" — an initiative to make the company's real-time news platforms more competitive with other companies like Bloomberg. Now, the company says it is "reviewing the institutional strategy of Dow Jones with an eye towards changes that will deliver even more value to its customers" and "planning improvements to DJX" as part of that.
An alumnus of Bloomberg, Fenwick tore through the offices of Dow Jones in New York and embraced a more open floor plan, much in the same way Bloomberg's offices have a few dozen blocks away on Lexington Ave, according to an earlier profile by Reuter's Jennifer Saba. While he didn't bring his signature Bloomberg orange coloring over to Dow Jones, a bit of the purple did come with him (the same color as his suits, according to that profile).
His flair was iconically materialized in the form of a big chandelier that went up in the Dow Jones reception area, replacing an otherwise normal reception area with a towering light fixture complete with its own novelty Twitter account. A few other perks came with him — including a new snack bar in the Dow Jones office with a slightly wider selection of coffee, a staple at Bloomberg's snack station in its Lexington office. (The snack bar also has its own Twitter account.)
DJX (also with a dash of purple) was tasked with roping together all of Dow Jones' products under a single banner, but Dow Jones lagged on News Corp's first quarter this year. "We were hurt this quarter by lower print volumes, a decline in institutional sales at Dow Jones, which were partially offset by cover price increases in the U.K. and Australia and growth at The Wall Street Journal and WSJ.com," News Corp CFO Bedi Ajay Singh said on the company's most recent earnings call.
"It really goes back to that period of... trauma, where Dow Jones lost ground to its competitors. So this is a major restructuring of that business. The first iteration of DJX is just off the blocks, and so you'll have to give the Dow Jones team and us a little while before we can give you an accurate read on its market penetration," News Corp CEO Robert Thomson said. "But this is a significant development for Dow Jones and, frankly, trying to improve the fortunes of -- part of the business is about 30% of the Dow Jones business, but trying to reverse the fortunes of a part of the business that is -- hasn't performed to its -- to our expectations or to its potential for really almost 2 decades."
His interim replacement, William Lewis, joined News Corp in 2010 after serving as CEO of the Telegraph Media Group. He was appointed Chief Creative Officer at News Corp by Thomson last year to "build new businesses, target acquisitions and drive digital initiatives for the company," the company said in the release.