The Facebook Gaming Platform Is Not Dead (Yet)
Games running on Facebook's platform are alive and well, Facebook game partnerships head Dan Morris tells BuzzFeed News. The company even has a hall of fame for its newest hits.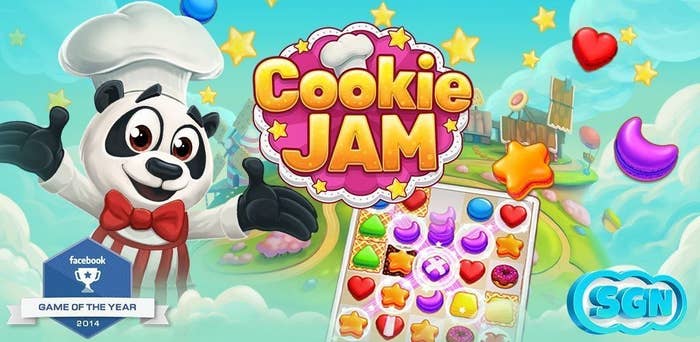 Facebook isn't giving up on its games just yet.
Despite a slight recent downturn in revenue generated by online games, the company still sees it as a mature and lucrative destination for game developers — one that will continue to drive revenue even as most developers shift to a mobile-first strategy, Facebook head of games partnerships Dan Morris told BuzzFeed News.
The company sees itself as two parts of the puzzle: one of the destinations online for games that could span multiple devices, and a tool for developers to find gamers and drive downloads and activity to their games, as well as save progress across multiple devices. The company says it has driven more than 350 million installs since launching its app install ads, and 65% of top grossing apps on Apple App Store and Google Play use mobile app ads that either drive installs or get users to return to games.
"We know that there are hundreds of millions of people every month who are continuing to engage in a Facebook-connected game — that's post install," he said. "We see a lot of people who can be reached and potentially retained via Facebook's channels, and that's what 2015 is increasingly about for us."
Facebook's current gaming platform, meanwhile, experienced its first ever revenue decline, falling 2% in the third quarter compared to the same period in 2013. Speaking during the company's third quarter earnings call, Chief Financial Officer Dave Wehner said Facebook expects the trend to continue. Part of Facebook's challenge is that, for the most part, its traditional gaming platform isn't really seen as a go-to for game developers any more.
While gaming companies in 2014 universally adopt a mobile-first strategy — with the most successful having risen to prominence on the strength of massive hits like Candy Crush Saga — developers have increasingly found themselves developing user experiences that can span multiple devices. That includes the desktop, where Facebook can serve as a destination.
Not surprisingly, that still includes Facebook — one of the original online platforms for games that drove the rise of companies like Zynga on the strength of viral hits FarmVille and CityVille. And hits like Candy Crush Saga use Facebook Login to save progress across multiple devices. That, in turn, opens up the opportunity to create a desktop gaming experience, with Facebook being the natural place for those games to live. Though, even for a company like King Facebook user activity continues to drop, according to the company's most-recent financial release.
Internally, the company remains heavily devoted to its gaming platform, and has made a hall of fame and a best-of list for games. This year's inductees include "Top Eleven Be A Football Manager," a mouthful of a game that's basically exactly as it sounds but has more than 5 million people playing. Others include Zynga's "Words With Friends and Poker," as well as a number of other casino-style games.


Below is a lightly-edited transcript of the conversation with Morris about the future of the Facebook gaming platform heading into 2015:
BuzzFeed News: What's the current state of the Facebook gaming platform?
Dan Morris: The first thing to say, is, the Web platform we have on Facebook is pretty darn healthy. It was a more than $3 billion market last year and a lot of companies grew their Facebook game revenues last year. That's not to say the ecosystem is not in a wild growth mode, clearly it's not. what we have is a mature and pretty healthy market for a lot of great companies.
the second thing i'd say is, we are and continue to be and think we will be is a healthy part of the revenue mix for multi-platform game companies. One of the things that makes us happy and gratified is the heads of those companies are not shy to say Facebook is a big partner for them. We're their number option for marketing with app installs, and we're increasingly a source for retention and re-engagement for social channels.
I don't think the web platform is going to be growing insanely. 2015 is not only gonna be the growth and refinement of [the mobile app install and re-engagement ad business], but us really starting to demonstrate and quantify how we can impact other parts of mobile business operations. That's through retention channels, re-engagement, notifications, and a lot of other things we're productizing right now.
What kind of behavior are you seeing that suggests people still play Facebook games?
Dan Morris: One thing that we have identified over the last year or two is that when a Facebook player discovers a game, they can be retained for a very long time. Their lifetime value to the game developer can be an awful lot over the course of a one to three year engagement. When most people induct a game to a hall of fame it sort of means it's dead and gone. But these games that we're inducting into the hall of fame continue to be big, profitable, great businesses years after they launch. I think the days of rapid growth are probably over, but boy the audiences you build on our platform are pretty amazing audiences. that behavior persists.
What are some themes Facebook sees emerging as game developers head into 2015?
Dan Morris: We're seeing multi-platform is increasingly interesting to game publishers. Our web platform is interesting to companies that consider themselves mobile first, it is a great additional market to address. We've had Kim Kardashian launch on Facebook.These are games that are taking advantage of a great incremental opportunity on the web platform. We've got enormous numbers of people who are playing games on [both mobile and Web] and we're the connective tissue for that.
BuzzFeed News: Where does Facebook fit into the grand scheme of mobile gaming in 2015?
Dan Morris: I think what we're expecting is for Facebook to become a big part of what game developers call the discovery problem. Getting your game discovered in app stores that have at this point have one million or more apps is just not easy to do. We solved a piece of that problem by virtue of the app install ads, which are a really great place to spend marketing dollars and get quality players. What i'm expecting going forward is for Facebook to start to iterate and innovate on how we solve other parts of the discovery problem.