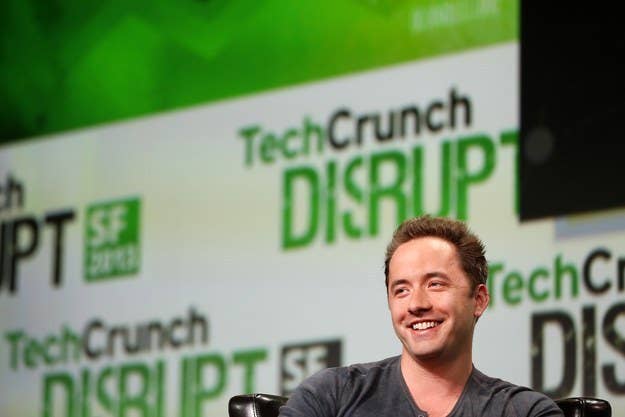 With a seemingly sustainable business, plenty of capital, and crucial momentum, Dropbox seemed poised only months ago to be 2014's next big tech IPO. Entering the second half of the year, the company's future seems somewhat less certain.
While file-sharing was at one point dominated by Dropbox thanks to its dead-simple interface and efficient service and pricing, rapid user migrations to mobile have complicated the company's outlook. As tech giants like Apple and Google begin to roll out competing products and smaller startups go after select pieces of Dropbox's pie, some in the investor community in Silicon Valley are already whispering that Dropbox's future might not be as rosy as they once predicted.
That's because Dropbox, once known for its simplicity and usefulness among average consumers, may very well find itself left behind by those same users who flocked to it by the tens of millions on PC. The company, like Facebook before its IPO, faces a critical decision of whether to remain an open or closed ecosystem, and how to extend that ecosystem to mobile devices.
Even if the company makes the wrong call, it will probably continue to exist as one of the pre-eminent file-sharing companies — and will be distributed widely where files matter, which is in an enterprise environment. And that's not necessarily a bad outcome, as Dropbox has invested a lot in building itself out as a potentially powerful business sharing and collaboration tool, specifically with its "project harmony" applications. But whether that will be an outcome that will satisfy CEO and founder Drew Houston — along with the direction he ultimately decides to take the company — is up to him.
Facebook inevitably settled on a more open approach, connecting other services and websites by allowing them to log in and share activities on Facebook's News Feed, where it could place ads. But perhaps the real reason for the company's success was its shift to focus almost exclusively on developing mobile applications — including standalone applications that don't make sense as part of the core Facebook app — and finding alternative ways to monetize mobile users, something Dropbox has yet to do.
Houston's problem is a familiar one to tech companies that rose to prominence among consumers in the desktop age. Figuring out the natural extension of the Facebook application and platform on mobile devices was the single-biggest hurdle for Facebook to clear as it headed into its initial public offering. After getting crushed by investors in its opening months, Facebook has managed to build a successful mobile advertising business that now generates billions in annual revenue. The company has been rewarded by investors, making Facebook one of the most valuable publicly traded technology companies. It's worth well more than $150 billion.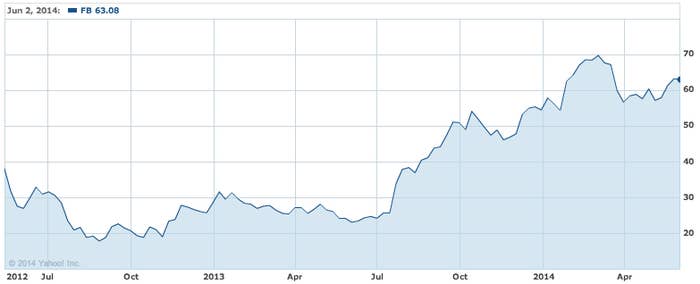 With the hype worn off, Dropbox must decide what kind of platform it wants to become. Simply existing as a walled-off bulk online storage depot might not be enough given that much larger tech companies have deeper pockets and drive down the cost of storage. The alternative — turning Dropbox into a completely open platform — is equally risky, as it leaves Dropbox vulnerable to being cannibalized by more focused startups. One example of a startup gunning for a Dropbox "vertical" is Picturelife, a venture-backed company that synchronizes photos across every photo-storage platform on the web (like Flicker and Instagram) and places them in one unified "home."
"To consumers, Dropbox always felt great because it felt like an extension of our operating system, and now those same features really will be an extension of our operating system," Picturelife co-founder Nate Westheimer tells BuzzFeed.
"People use our service precisely because we're not a dumb hard drive in the cloud, but a smart home for photos. It's just one example, but you are not going to see Apple or Dropbox provide direct syncing from Instagram and Flickr, using check-in data to make your photos more searchable. Nor are you going to see them algorithmically surfacing your best photos right when you need them to make sharing better."
That's not to say Dropbox has been standing still, or betting the company on photos – it has actually spent a lot of time and money acquiring companies and products that could push it into mobile devices. The company snapped up Loom, a popular "infinite camera roll" application similar to Carousel and Picturelife, in April of this year. Last year, Dropbox acquired Mailbox, a slickly designed email app, for around $100 million. Dropbox also said it would acquire Droptalk, a stealth messaging startup that currently has a Chrome extension with a cloud storage component and plans for iOS and Android versions, earlier this week.
Dropbox, too, released its own photo-viewing application, Carousel, earlier this year at an event in San Francisco, though that product has not fared well on the App Store.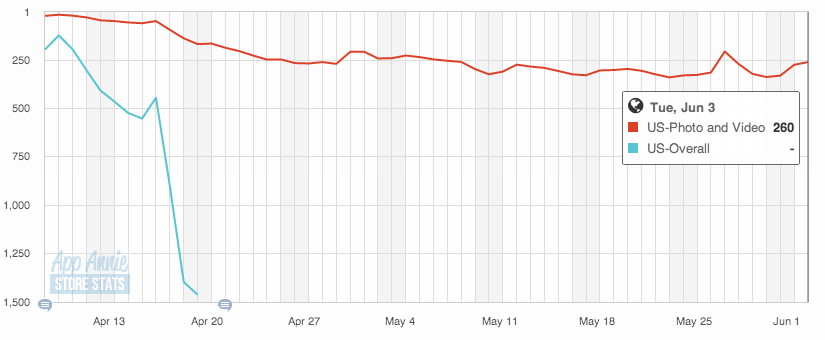 In fact, Dropbox's core application, while remaining a top-five application in the productivity section of Apple's App Store, hasn't quite achieved the mainstream status enjoyed by Facebook, Snapchat, and Instagram. While photo-sharing applications are naturally more popular than storage apps, the idea of needing to take "files" anywhere would imply that users need to access those files on a regular basis. And on smartphones, the most-accessed "files" tend to be photos.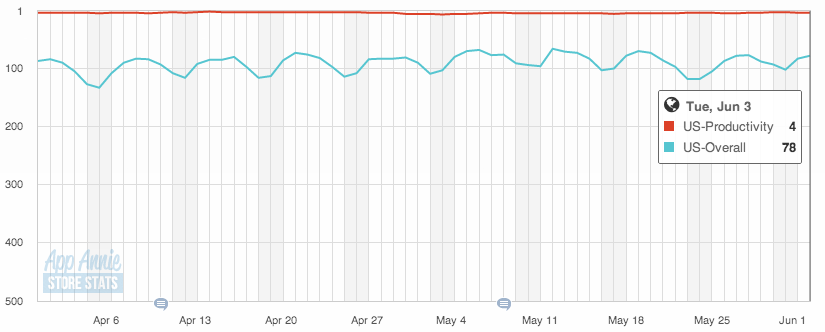 Mailbox, too, hasn't quite reached the same highs as other buzzy productivity applications like Evernote and Dropbox's core application.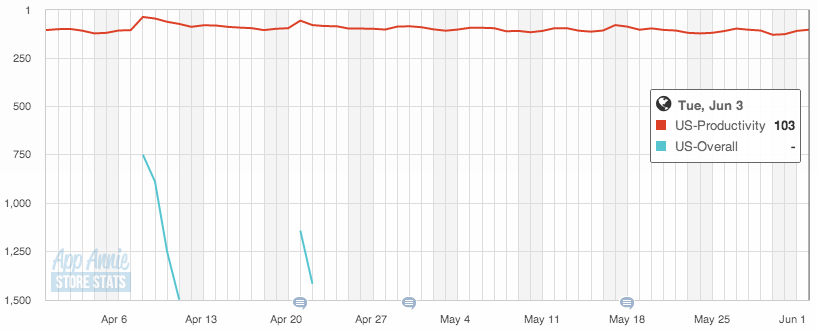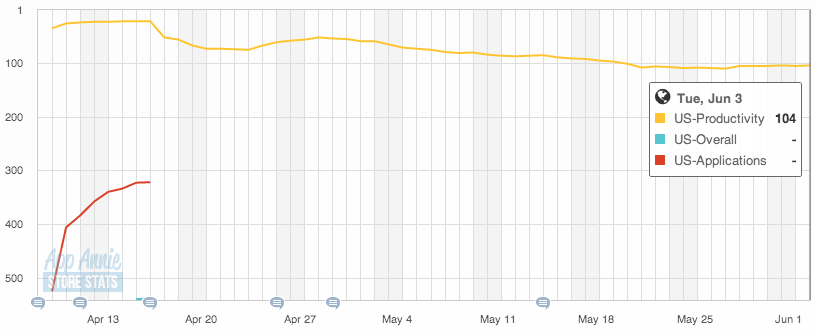 And the competition has never been steeper. This week at its annual developer conference, Apple decided to up its game with its own online infinite camera reel that's priced even lower than Dropbox, at 20 gigabytes of photos for 99 cents a month.
Dropbox's core business continues to perform well, but is it big enough to justify an IPO? And if photos are the "files" of the future, Dropbox still hasn't quite figured it out.
"The difference between a Word file and a Powerpoint file, they're relatively all similar types of files," Westheimer said in an earlier interview prior to WWDC. "But photos and videos... they are completely different... Dropbox makes a killer product when it comes to dealing with your files, we run our business off Dropbox from a productivity perspective. But when it has to do with your photos and videos, technically they are files but that's not how you should treat them and they can't get out from under their own way."
A representative for Dropbox didn't respond to an emailed request for comment.