The 5 Questions From Wall Street Microsoft Has To Answer Today
Steve Ballmer and company are holding an analyst meeting today. It's the first in several years, and comes at a time where the future of Microsoft is basically up in the air.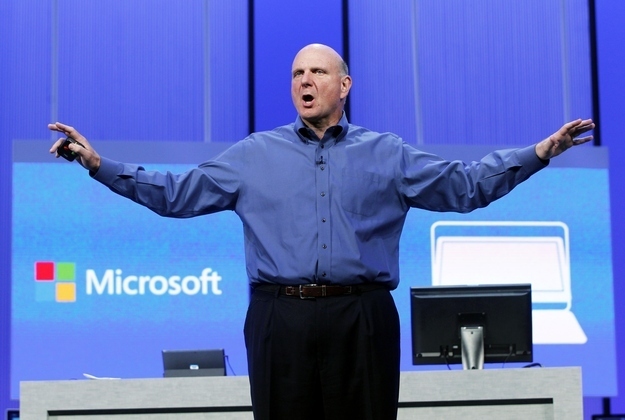 For the first time in two years, Microsoft is going to host an analyst day and attempt to address questions from Wall Street and analysts about the future of the company.
It comes at a time when Microsoft's CEO is on the way out, it just purchased a massive phone company for a small fortune, and there is still no clear heir apparent at the company. Steve Ballmer has left his stamp on the company ahead of his departure, completing a major reorganization of the company into a "devices and services" company that looks a lot more like Apple.
And yet, Microsoft's stock price is — as it has always been — largely static during Ballmer's tenure, as competitors like Apple and Google have skyrocketed.

It's convenient timing because it's a good opportunity to start looking at some of the major questions Microsoft has to answer as it essentially has to find a new identity if it's going to find a way to become relevant again in a mobile-dominated world that's essentially been conquered by hardware from Apple and software from Google.
What is Microsoft going to do about its partners — which it is now competing with?
Microsoft has always been the Windows company, which has worked out because an entire industry sprung up around the operating system with manufacturers like Dell and HP.
But now, Microsoft is a "devices and services" company much like Apple — and it's going to be making its own tablets and phones. So, Microsoft is going to have to figure out how to work around the entire industry wrapped around Windows and its mobile operating system on Windows Phones. It's a problem that Google is now facing by making its own Android phone despite working with major partners like Samsung and HTC to build top-of-the-line Android devices.
"Microsoft has to figure out, what are you going to claim as your own, how are you going to manage in some cases, and are you going to be competing with your suppliers," S&P CapitalIQ analyst Bobbi Coffey told BuzzFeed.
How is Microsoft actually going to crack into smartphones?
No, seriously.
Microsoft spent a small fortune buying buying Nokia's devices and services division and also bringing its CEO Stephen Elop back into the fold. It raised a lot of questions about what Microsoft actually plans on doing with Windows Phone, which has essentially had a negligible share of the market for its entire life.
But Apple actively deciding to ignore the lower end of the market actually opens the door for Microsoft to step in with a lower-cost device, BTIG analyst Walter Piecyk said.
"Apple is ceding the low-end of the market, that might be an opportunity for them to take advantage of through their acquisition of Nokia," he said.
Does Xbox have a future within Microsoft?
Microsoft has actually cracked an elegant way of interacting with the television using its motion controller, Kinect — and it has a new Xbox coming out later this year. But many industry watchers have wondered about whether that fits into Microsoft's grand vision of a world powered by Windows and its connected services.
"It's a good product and there's a search for how people are gonna interface with the television," Piecyk said.
However, the living room is turning into a major battlefield between Microsoft, Apple and Google, and for the most part Microsoft has a significant head start. The Xbox also serves as a very good connecting point for getting online services like Netflix and Hulu onto the television.
Still, the company has yet to actually articulate how the Xbox fully fits in with the rest of its devices and services.
Will Office forever be duct-taped to Windows?
Microsoft has an essentially negligible share of the smartphone and tablet market — it even took a $900 million write-down on its last batch of Surface tablets. So the company now has to actually address whether its most profitable services, like Office, will remain tethered to Windows or branch out and treat other competing mobile operating systems like the iPhone and Android as first-class citizens.
This is a very, very tough decision.
Microsoft has traditionally been strongest when Office and Windows were coupled, but it's threatened by other de-coupled services like Google Docs, analyst Rob Enderle told BuzzFeed in an earlier interview.
And, typical to Microsoft, the decision will probably be delayed again and again. But it's a question that is critical to Microsoft's future.
How is Microsoft going to return actual value to shareholders?
Microsoft recently announced a major $40 billion share repurchase program that serves as a way to directly return value to Microsoft shareholders. But it's largely in line with what the company has done in its programs, Coffey said.
"This is replacing what they put in," she said. "It's appealing to shareholders, but I don't look at it as something new and different."
And Microsoft shareholders have been frustrated by the stock price, which has essentially stayed static throughout the entire tenure of Ballmer. On his way out, the stock price spiked, but basically gave up gains after the company said it would acquire Nokia's devices and services.
Microsoft has made some bets that have some spark of risk-taking, such as spending billions on acquiring companies like Skype and an enterprise social network service called Yammer. But, essentially, not much has changed and Microsoft has played it pretty safe — and it needs to find a way to actually turn it around.