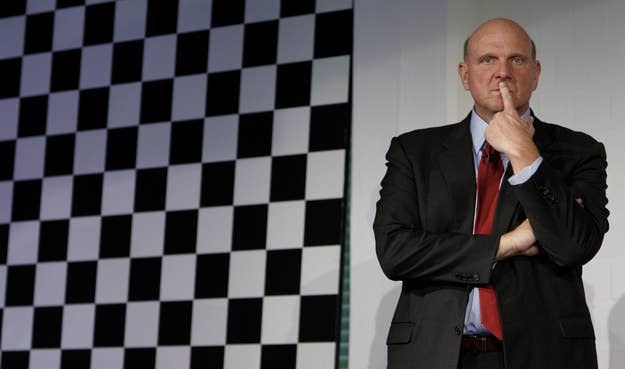 Microsoft CEO Steve Ballmer will retire in the next 12 months once his successor is chosen, the company announced today.
Ballmer had been CEO of Microsoft for more than a decade, and during his tenure he saw the rise of major competitors like Apple and Google, which have eaten away at his company's market share with their smartphone and tablet initiatives. Most recently he completed a major reorganization that would, hopefully, make Microsoft better-equipped to handle those competitors. And under Ballmer, Microsoft's stock price also essentially stayed the same.
Shares of Microsoft are now up nearly 8% in trading.
"There is never a perfect time for this type of transition, but now is the right time," Ballmer said in the statement. "We have embarked on a new strategy with a new organization and we have an amazing Senior Leadership Team. My original thoughts on timing would have had my retirement happen in the middle of our company's transformation to a devices and services company. We need a CEO who will be here longer term for this new direction."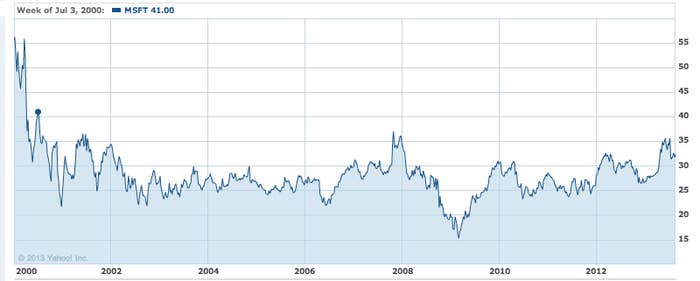 As far as CEOs go in terms of shareholders, that isn't the greatest performance in the world, compared to companies like Apple and Google which have seen their share prices double several times over.
And even now it's increasingly obvious that there is no heir-apparent at Microsoft, after former officer and Windows guru Steve Sinofsky's unceremonious departure. Among the other executives that industry watchers say, at one time, could have succeeded Ballmer that have also left: Ray Ozzie, Robbie Bach, and Bob Muglia.
And more notably, in his departure announcement, the company said that it has hired a recruiting firm to search for both internal and external candidates for the position. Granted, there are a lot of fresh executives being given larger roles at the company following a major reorganization that was supposed to flatten organizational structure at the company. Most notably, Julie Larson-Green is now running the company's massively important devices and studios division.
Heidrick & Struggles is the executive recruiting firm hired to find the company's next CEO. Chairman Bill Gates is also going to be on the committee searching for a replacement, and Ballmer will still be continuing as CEO as the company searches for one.
Here is Ballmer's full farewell letter:
"I am writing to let you know that I will retire as CEO of Microsoft within the next 12 months, after a successor is chosen. There is never a perfect time for this type of transition, but now is the right time. My original thoughts on timing would have had my retirement happen in the middle of our transformation to a devices and services company focused on empowering customers in the activities they value most. We need a CEO who will be here longer term for this new direction. You can read the press release on Microsoft News Center.

This is a time of important transformation for Microsoft. Our new Senior Leadership team is amazing. The strategy we have generated is first class. Our new organization, which is centered on functions and engineering areas, is right for the opportunities and challenges ahead.

Microsoft is an amazing place. I love this company. I love the way we helped invent and popularize computing and the PC. I love the bigness and boldness of our bets. I love our people and their talent and our willingness to accept and embrace their range of capabilities, including their quirks. I love the way we embrace and work with other companies to change the world and succeed together. I love the breadth and diversity of our customers, from consumer to enterprise, across industries, countries, and people of all backgrounds and age groups.

I am proud of what we have achieved. We have grown from $7.5 million to nearly $78 billion since I joined Microsoft, and we have grown from employing just over 30 people to almost 100,000. I feel good about playing a role in that success and having committed 100 percent emotionally all the way. We have more than 1 billion users and earn a great profit for our shareholders. We have delivered more profit and cash return to shareholders than virtually any other company in history.

I am excited by our mission of empowering the world and believe in our future success. I cherish my Microsoft ownership, and look forward to continuing as one of Microsoft's largest owners.

This is an emotional and difficult thing for me to do. I take this step in the best interests of the company I love; it is the thing outside of my family and closest friends that matters to me most.

Microsoft has all its best days ahead. Know you are part of the best team in the industry and have the right technology assets. We cannot and will not miss a beat in these transitions. I am focused and driving hard and know I can count on all of you to do the same. Let's do ourselves proud.

Steve"