Amazon CEO Jeff Bezos Just Bought The Washington Post For $250 Million
The CEO of Amazon now owns one of the largest media properties in the world.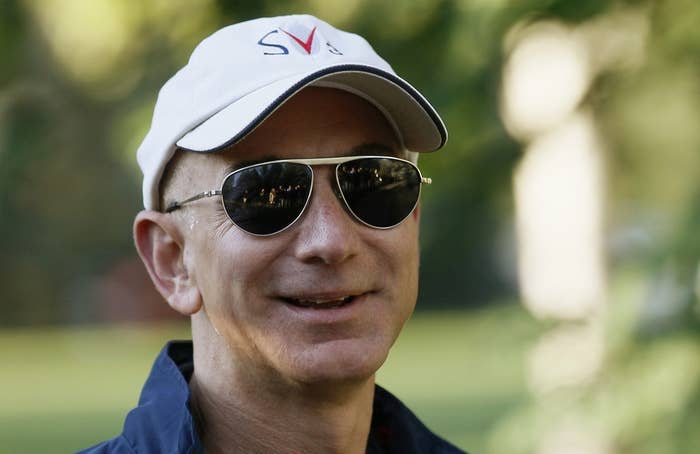 Jeff Bezos is the CEO of Amazon and a pretty active investor — and he now owns one of the largest media brands in the world after buying The Washington Post for $250 million today.
This isn't the first time Bezos has invested in media properties. Earlier this year, Bezos invested $5 million in Business Insider, another online news publication that focuses more on tech and business news. Bezos, however, is known for not really letting anyone in on his grand plans for his investments. The Washington Post Co. will retain ownership of the other assets like Slate and its educational assets and continue on under a new name.
"There is no map, and charting a path ahead will not be easy," Bezos told Washington Post employees in a letter. "We will need to invent, which means we will need to experiment. Our touchstone will be readers, understanding what they care about — government, local leaders, restaurant openings, scout troops, businesses, charities, governors, sports — and working backwards from there. I'm excited and optimistic about the opportunity for invention."
Bezos — not Amazon — is the one buying The Washington Post, and he isn't going to be leading the company in day-to-day operations, he said in his letter. In another letter to the paper's employees, Washington Post publisher Katherine Weymouth said Bezos requested she remain on board, and she has asked the senior management team to do the same.
It's also worth noting that Bezos was present at the Sun Valley conference this year along with representatives of Allen & Co. and The Washington Post Co. executives, along with Washington Post Co. board member and IAC chairman Barry Diller (IAC, on Saturday, sold Newsweek, which had been owned by The Post). The Sun Valley conference is where many of these larger deals are hatched and executed.
And of course, there is his relationship with Washington Post Co. CEO Don Graham. "I have had the great pleasure of getting to know Don very well over the last ten plus years," Bezos said in the letter. "I do not know a finer man."
"Our revenues had declined seven years in a row," Graham said in a letter to Washington Post employees. "We had innovated and to my critical eye our innovations had been quite successful in audience and in quality, but they hadn't made up for the revenue decline. Our answer had to be cost cuts and we knew there was a limit to that. We were certain the paper would survive under our ownership, but we wanted it to do more than that. We wanted it to succeed."
The sale comes amid massive changes in the newspaper world, with News Corp just spinning off its publishing assets from the company's entertainment assets. Traditional publishing companies have been upended by the emergence of digital media outlets, forcing publications like The Washington Post to reconsider their approach to the digital news business.
"All the macro trends in the newspaper industry right now are negative," said Ed Antorino, media analyst with Benchmark Co. "Advertising is declining, circulation is struggling, most companies are looking to cut costs — The New York Times and Gannett both just posted bad quarters." The Washington Post Co.'s publishing arm, which includes the newspaper, lost $14.8 million in the second quarter this year, up from a loss of $12.6 million a year ago.
The Washington Post Co. is still liable for pensions for retired employees, while Bezos will take on pension obligations for current employees. The Washington Post is essentially giving Bezos $50 million for current employees' pensions. In contrast, when The New York Times sold The Boston Globe, it retained all of the employees' pensions, according to a report by Reuters. Pensions can be a burden for a workforce-heavy newspaper company — Reuters reported that The New York Times' pension plan was underfunded by $500 million last year — though The Washington Post's pension plan is fully funded.
News of Bezos' purchase also follows Boston Red Sox owner John Henry's purchase of The Boston Globe over the weekend from The New York Times for $70 million. Another famous billionaire, Warren Buffet, has been buying up newspaper properties as well, but he has spent his time buying smaller publications.
While the purchase may seem strange, it does fit with Bezos' personal ventures in a weird way. He has invested in space travel, as well as a clock that will last for thousands of years. "I don't want to imply that I have a worked-out plan," he told The Washington Post. "This will be uncharted terrain and it will require experimentation."
Here's what Graham said in a story in The Post about the sale:
"Every member of my family started out with the same emotion — shock — in even thinking about" selling The Post. "But when the idea of a transaction with Jeff Bezos came up, it altered my feelings."
"The Post could have survived under the company's ownership and been profitable for the foreseeable future. But we wanted to do more than survive. I'm not saying this guarantees success but it gives us a much greater chance of success."