How A Gadget Rental Startup Wants To Master The Returns Process
Lumoid, which just raised $1.1 million in new funding, is bringing a bit of data science into the world of renting and selling photography equipment.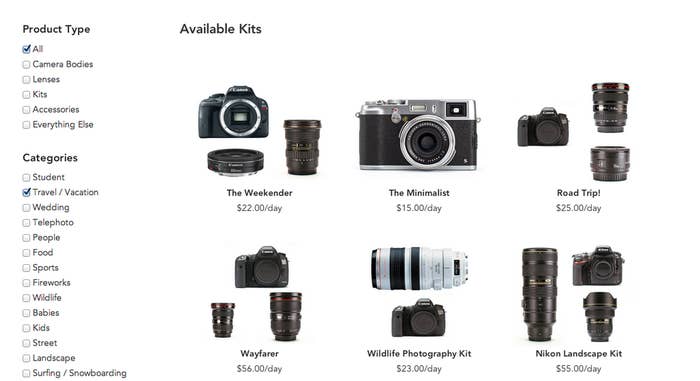 Most e-commerce companies are trying to figure out how to sell more products, but Lumoid wants to help people return them.
The try-before-you-buy service led by Aarthi Ramamurthy — an alumnus of Netflix and Microsoft's Xbox division who also went through Y Combinator — just raised $1.1 million in its first round of funding after opening its service to the public in January. Lumoid, unlike other e-commerce startups, devotes much of its technical prowess to perfecting the process of returning and re-stocking products in order to make them available for rental again quickly.
"Most e-commerce companies don't think about the returns process, that's where you can optimize and see a definitive impact," she said. "The longer it takes for you to process returns, the longer it takes to get it back on the shelf. That's someone else not getting the gear."
Lumoid specializes in photography equipment — lenses and kits, which can easily run into the thousands of dollars as an upfront expense — but also rents out other kinds of devices like Google Glass and GoPro cameras. Shoppers are charged a fee each day they have the equipment, which is sent directly to them, and then 30% of that fee is accrued as credit that can be put toward purchasing any device in Lumoid's inventory.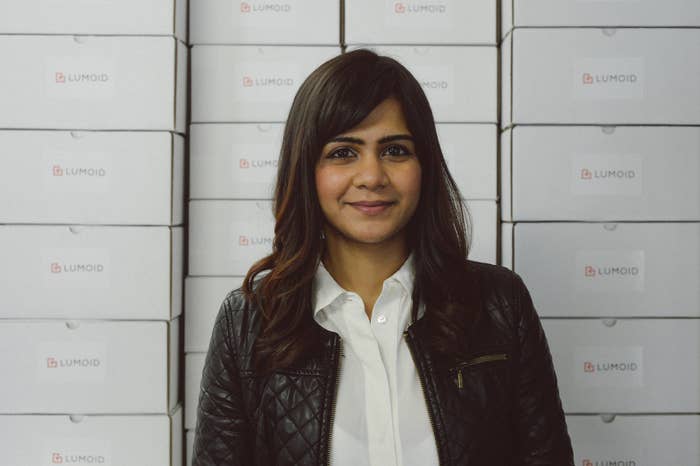 The try-before-you-buy approach is particularly popular in apparel. Bonobos and Warby Parker have both raised tens of millions of dollars, though they are focused on getting shoppers to purchase products rather than rent them. Meanwhile, Rent The Runway, which does focus on the rental experience, has raised more than $50 million in venture capital.
"We are living in the height of the access economy where the behavior of renting has been normalized across industries," Rent The Runway CEO and co-founder Jennifer Hyman told BuzzFeed. "Consumers are smarter about how they spend their money so it just makes sense that they would gravitate towards innovative new business models that offer them flexible, convenient solutions. These business models are legitimizing the behavior of renting, which has really been around for decades — it has just involved consumers purchasing, using and fraudulently returning an item to a store."
Ramamurthy said having the ability to both rent and purchase makes sense for expensive camera equipment and wearables, and has the added benefit of giving Lumoid two revenue streams. Ramamurthy said the company built out its own returns suite to collect data on how its customers are using and returning equipment to make the fulfillment process — industry parlance for getting products to consumers — more efficient.
"We realized that making small software changes made a ton of difference," she said. "We do an analysis, how long it takes to ship, how long the lead time is, and it's an unusual set of gear that these people are looking for normally."
One of the things they were able to find out is that people in certain geographic locations want specific kinds of gear. For example, when the music festival Outside Lands plays in August in San Francisco Lumoid users tend to seek out long camera lenses. "The long lenses are the ones that are gonna go out, so that week we have enough set up for those lenses," she said. "We know what they are looking for, that range of products, and it helps us to cater to them faster."
Understanding how customers are renting and returning products is useful beyond Lumoid's own recommendations as well. "If a customer rents a Canon and a Nikon, and they buy the Canon, Nikon wants to know why," Ramamurhty said. "That's gonna get really interesting pretty soon. If you can figure it out ahead of time, using the data we provide, there's a better correlation toward purchasers and the intention to purchase."
Focusing her startup around photography was a natural place for Ramamurthy to start since she is an avid photographer herself. At Microsoft, she used to take photos and sell them to other employees as part of a charity drive — and Microsoft would double that sum. And, of course, photography is notoriously expensive, especially considering all the lenses required for even a semi-professional photographer to be effective.
"Say we bought a lens for $1,000, and a bunch [of people] have rented it from us for 20 days for $10 a day, then we've made $200 off it so far," she said by way of example. "The remaining difference is $800, and we can sell it back at a profit. Our customers get a good value, since around $800 is a good price and under what they might find on eBay or other commerce sites, and we still make a margin off that."
Lumoid's sales are also starting to creep out from beyond its online site in the form of partnerships with hotels and other travel-oriented destinations. Part of the reason for that, Ramamurthy said, is that the company was getting requests from customers to ship items directly to Airbnb homes and hotels because they didn't want to carry around such expensive and heavy equipment.
The next natural move for Lumoid is likely into smartphones, tablets, and new product categories like smartwatches and fitness trackers since there is an incentive among consumers to try out these emerging and discretionary tech products.
"It's more of a curiosity aspect," Ramamurthy said, noting that trying out something through renting takes away the awkwardness of borrowing it from one of your early-adopter friends.