Facebook's Challenge: Much Of The World Is Already On Facebook
Facebook pulled in $3.2 billion in revenue in its most recent quarter. With 1.35 billion users, the company is approaching full internet saturation — except in China, its final frontier.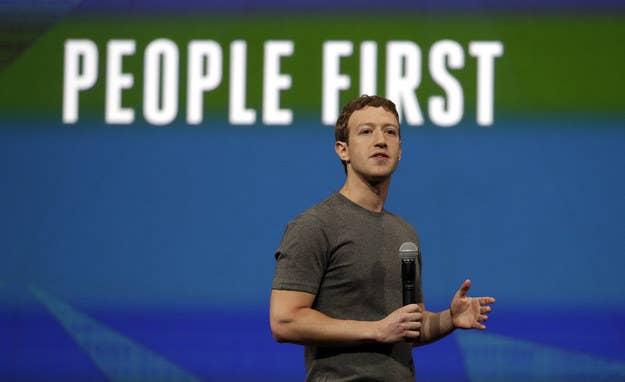 Facebook's mobile advertising business continues to chug along, bringing in $3.2 billion in revenue and exceeding Wall Street's expectations for people checking the app every day.
When the company first went public in 2012, its mobile advertising business didn't exist. Today, mobile advertising revenue is 66% of total advertising revenue. Facebook also reported adjusted earnings of 43 cents per share.
That's about in line with what Wall Street was looking for, with analysts expecting Facebook to earn 40 cents per share on $3.12 billion in revenue. However, Facebook said it expected to make between $3.6 billion and $3.8 billion, which falls a little bit under analyst expectations of $3.73 billion. Facebook CFO Dave Wehner cautioned that the fourth quarter would see increase spending.
Wehner's comments, and the expectations, sent Facebook shares tumbling as much as 10%, erasing about $20 billion in value from the company.
The company said its user base grew to 1.35 billion monthly active users, while 864 million of those users were checking the company's applications every day. Wall Street was expecting 1.35 billion monthly active users and 851 million daily active users.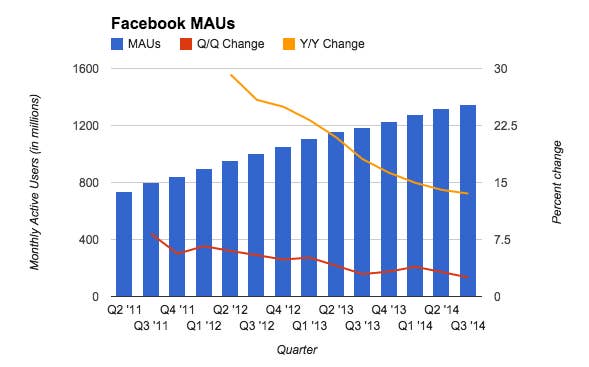 Facebook's monthly active user growth has started to flatline, though its daily active user growth is still strong. At more than 1.35 billion users checking in at least once a month, the site is hitting a metaphorical wall as it reaches most of the internet — at least most of the internet that's possible to reach when you are banned in China. Still, there are about 2.8 billion people on the internet, according to Internet World Stats, which means there's still some room for growth for the company.
But The Great Firewall of China now divides Facebook from what is essentially the last large population of internet users not already signed up. In that context, Mark Zuckerberg's recent visits to China, where he now sits on the Management Advisory Board of the Tsinghua University School of Economics in Beijing, are notable. As are his valiant efforts to speak Mandarin.
For now, with China out of reach, the challenge is to turn those 1.35 billion monthly users into daily addicts. That level of engagement is important, because it translates into more ad dollars. It also underscores the importance of some of Facebook's efforts to grow the total population of people on the internet, as that increases the total pool of people who could become Facebook users that it could eventually monetize.
One potential avenue for growing Facebook's business is creating new revenue streams. That's part of the reason why Facebook's expenses are expected to rise in the fourth quarter, as the company heavily invests in new products like WhatsApp and Oculus Rift, which currently aren't generating a ton of revenue for the company.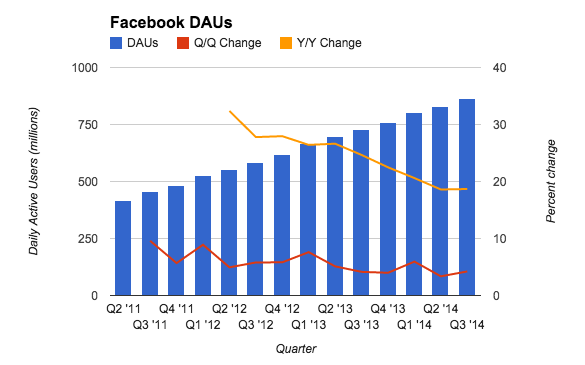 In addition to launching the Facebook Audience Network and its mobile app install advertising product, which has quickly grown to what analysts have predicted to be a $1 billion annual business, the company recently relaunched an advertising platform called Atlas. That expands the company's advertising footprint to applications off of Facebook, and means marketers can tap into Facebook's data to better target their ads.
Facebook is expected to increase its share of the worldwide digital ad market from 5.8% in 2013 to 8% this year according to eMarketer. By comparison, Twitter is expected to hold a 0.8% share of digital advertising, up from 0.5% in 2013.
"We believe the digital advertising industry is growing faster than previously expected and Facebook continues to gain share," Sterne Agee analyst Arvind Bhatia wrote in an analyst note to investors.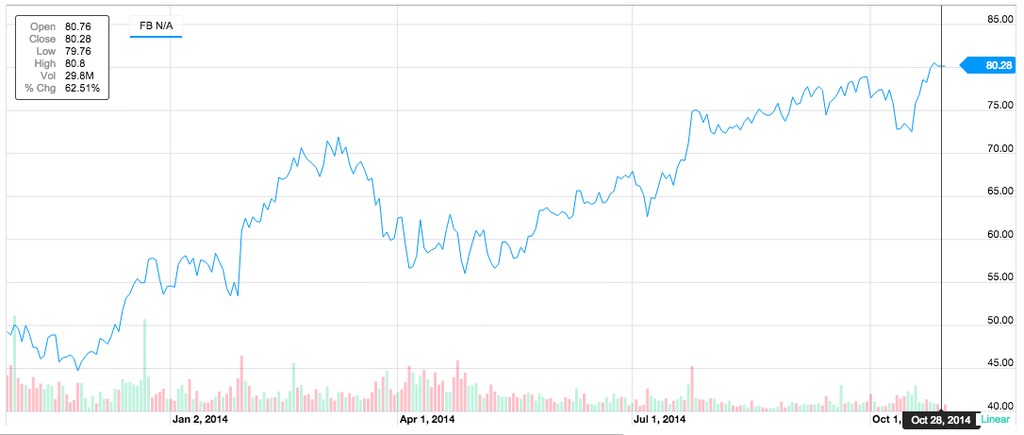 Part of the trick for the company has been figuring out how to not only grow its user base, but also figure out how to correctly rank and target its mobile ads. As BuzzFeed News previously detailed, the company has around 13 million to 14 million active advertisements on any given day, and the company works to whittle those ads down to the 10 or so that the company shows to its users on a daily basis.
Thanks to the growth of its mobile advertising products, the company has continued to beat analyst expectations and prior to the drop today, the company's shares had a long streak of continuing to rise on strong financial reports. That's driven the company's valuation to nearly $200 billion and beyond historically iconic American companies like Coca-Cola and IBM.