Costolo Under Siege: Can Twitter's CEO Outlast His Critics?
Twitter employees may feel a bit perturbed that their well-liked leader was roughed up in a Wall Street Journal article. But regardless, Costolo and his team still need to figure out what Twitter really is.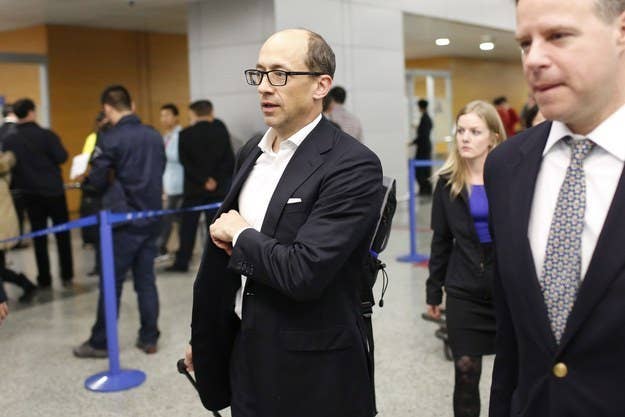 Twitter CEO Dick Costolo was the target of a bruising story in the Wall Street Journal today, which detailed a number of big investors who have sold down their stakes in the company amid what some say is poor leadership at the top.
One particularly strong comment on Costolo came from Walter Price of Allianz Global's $1.3 billion technology investment fund. "I'm just very frustrated," he told the Journal, adding that "people are losing confidence in him."
The story hit newsstands around the one-year anniversary of the company going public, and with many Twitter employees out of the office for its regular "#FridayForGood" day of community service. But Twitter's recently promoted head of product, Kevin Weil, took to the service to defend his boss.
Weil, a longtime Twitter employee, was appointed head of product in yet another management shake-up earlier this year that removed Daniel Graf, a recent hire from Google. He is the third person to serve as head of product this year, with Michael Sippey leaving the role in January.
Still, the executive changes may be buying Twitter's CEO some time. Costolo can go to investors and his board and tell them that, if the growth is slow, it needs new operational leadership — and then Chief Operating Officer Ali Rowghani is shown the door. If its growth continues to slow, it can be explained as complications with the product itself, hence the need for a new product chief and a new direction.
But some analysts say buying time is far from the only reason for Costolo's shake-ups. "I think that's probably somewhat overplayed," said Scott Kessler, equity research leader with S&P Capital IQ. "I think it's a very cynical view to suggest that making management changes is solely to buy time for presumably the investing public, since there hasn't been many public widespread announcements about these changes."
Twitter clearly has a growth problem, as well as a degree of confusion as to who its core users really are and how big its reach could eventually be. Today's Journal piece detailed many of the challenges that have bedeviled the company for years, particularly in its struggle between placating veteran users who are familiar with — and often fiercely protective of — the service's quirks and idiosyncrasies, and making product changes that could help Twitter reach out to the hundreds of millions of social media users who do not use Twitter.
Costolo is ultimately in charge of navigating through that minefield, and he is beloved by many Twitter employees, who believe he will right the company. In recent years, Twitter has tried to distance itself from comparisons to Facebook, and internally, management has held the view that massive growth will take time — and that includes potential management changes and shifts in product direction. Recently, the company has said it wants to improve its onboarding process for new users to make it more approachable, and now thinks carefully about people who visit the service without ever signing in.
Costolo, though sometimes fickle in his executive decisions, is seen by many in the company as a visionary, and he's also well-liked on a personal level — thanks no doubt in part to his years spent in comedy. Still, externally, investors aren't pleased with the constant movement in the top. Since going public, Twitter shares reached a high of nearly $72, only to see that value nearly sliced in half amid slowing user growth. Twitter continues to make money and build new advertising products, but the company has not shown investors — who often make the comparison to Facebook as an advertising business — that it can grow at the same rate as Facebook.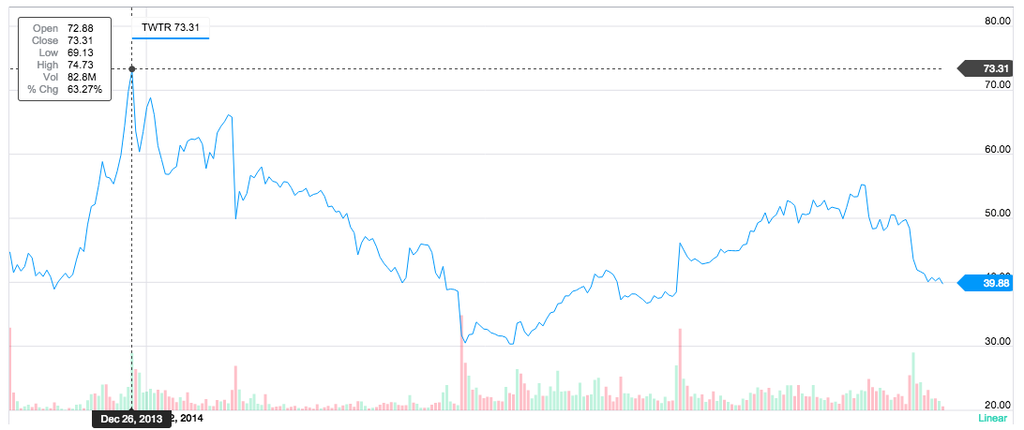 Employees, still, are confident that Costolo will find the right team to put in place, even if it means promoting and demoting people. Twitter recently was able to hire Anthony Noto, a longtime Goldman Sachs banker who helped take Twitter public and is held in high esteem among those involved in the process. In its most recent earnings call, Noto took most of the questions instead of Costolo.
Costolo also took a backseat at Twitter's most recent developer conference. The platform team made several hours of presentations on its new products geared toward attracting developers it had scared off in its formative years, stressing that it would make it easier for developers to use Twitter's login service, and make money off advertising through its ad network, MoPub.
The company has only been public for a year, and in its short lifespan has struggled to define to both investors and users what, exactly, it is. One chance will come at its analyst day, scheduled for next week
"A lot of folks importantly want to see what kinds of contributions are made by Anthony Noto," Kessler said. "I think, importantly, he understands the way that Wall Street thinks and acts. I think that he definitely is someone that people are looking to especially given all the changes around different roles around the company. I guess we'll see, as important as what Dick Costolo says, is really what Noto has to say."
Still, the challenge of finding a future for Twitter is ever-present — and Costolo and his new team will be in the hot seat to discover what that is.