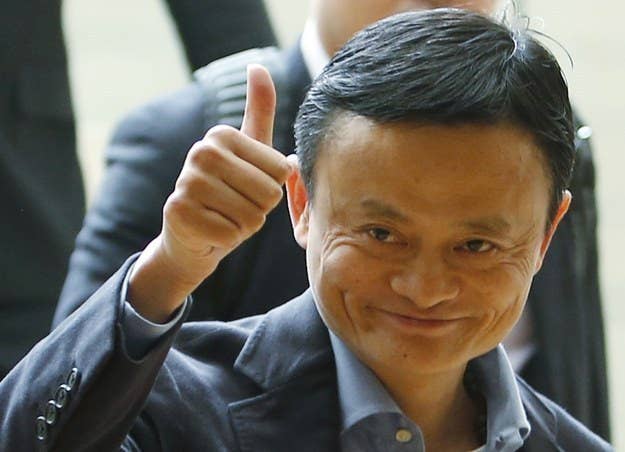 Alibaba made its public debut on the New York Stock Exchange Friday, with its stock soaring from an offering price of $68 per share to just below $100 at one point before settling in at around $90 and finally closing at $93.89.
The $25 increase, a gain of 38%, values Alibaba — one of the largest e-commerce companies in the world — at a bit more than $231 billion. That valuation makes Alibaba, whose founder Jack Ma became the richest man in China as a result of the IPO, not only bigger than internet companies like Facebook, eBay, and Amazon, but also iconic U.S. such as Pfizer, Coke, and AT&T.
In selling more than 12 million shares, Ma nets himself proceeds of nearly $1 billion (about $870 million, to be exact) before taxes and proceeds. Ma, who still owns nearly 8% of the company, has a stake worth more than $13 billion at the initial public offering pricing, which rose to around $18.2 billion when it began trading today.
The IPO's underwriters — which because of the size of the offering total an eye-popping 35 banks — exercised their right to an additional batch of shares, making this the largest initial public offering in the United States. Alibaba's IPO is one of 13 China-based companies that have gone public in the U.S. this year.
Alibaba's IPO is one of 40 debuts scheduled to list on the NYSE over the next six weeks, with the exchange expected to raise a record $10 billion in capital next month alone. Though they have been overshadowed by more glamorous M&A deals like Comcast's $45 billion purchase of Time Warner Cable or AT&T's $60 billion for DirecTV, both the NYSE and the Nasdaq are on pace to post record years for IPOs, beating last year's record of 222 combined listings.
Alibaba's IPO has arguably been the most anticipated offering since Facebook's both due to the massive growth of its business and the fact that it is a largely unknown company to U.S. investors.
"There is more excitement with this than Twitter, and this is a bigger deal," Peter Costa, a floor governor and NYSE trader, told BuzzFeed News. "In my 33 years on the floor, this is by far the biggest IPO extravaganza since I've been down here."
The last offering to match the excitement, if not the size, of Alibaba's IPO was Facebook's in 2012. The social network's offering on the Nasdaq was marred by technical glitches, something that was still fresh on the mind of NYSE officials today. Thought markets opened at 9:30am EST, Alibaba shares didn't start trading until just before noon, a delay owed both to precaution and the massive buy and sell orders coming in for its shares.
"You could see they've been so deliberate and it showed today," said Scott Cutler, the NYSE's head of global listings, told BuzzFeed News.
The immediate "pop" in Alibaba's shares was expected since the company had raised its price range during its "road show," a two-week period during which the company made its sales pitch to investors as to why they should buy shares. Though Ma was conservative and kept Alibaba's offer price low, the market decided it is worth over $50 billion more than its initial $168 billion value.
Alibaba caters to the commerce environment in China, which has enabled the company to mint an incredibly profitable set of businesses selling goods online with low overhead. The company boasts a profit margin of 47.5%, meaning that it converted nearly half of its revenue to profit for its 2014 fiscal year. By comparison, Amazon's gross margin for its most recent operating quarter was 30.7%.
Most of Alibaba's revenue comes from Chinese-centric commerce applications, including Taobao Marketplace, one of the country's largest online commerce services, and Tmall, China's largest third-party commerce platform where retailers sell their products. Part of the reason why the company listed on a U.S. exchange is to increase its exposure with an eye toward international expansion.
But that will be a challenge. For its 2014 fiscal year, Alibaba generated $7.3 billion in revenue from Chinese commerce, but only $782 million from international commerce. Its international commerce segment grew 16.6% year-over-year, compared to 54.7% growth in its Chinese commerce segment, according to the company's IPO documents filed with the Securities and Exchange Commission.
Still, the company has raised a massive war chest in order to continue expanding, and it has begun making a series of strategic investments in companies outside the country. It has been on a bit of an investing spree in the U.S. in particular, where it has put money into companies like Shoprunner, a members-only online shopping service, and Tango, a video messaging application. Alibaba has also emerged as another attractive acquirer for U.S. venture-backed companies alongside not only Facebook and Google, but also Chinese internet giant Tencent. When asked about whether he would acquire U.S. companies, Ma said on CNBC that he would be open to many types of partnerships, but only if it could help small businesses.
"Before I turned 50 years old my job was making money," he said. "But now that I've turned 50 years old, it's helping people in China make money."
And it's not as if Alibaba's home country has matured.
"China is still growing, this market is so strong," said Mayayoshi Son of SoftBank, which is a large investor in Alibaba.
Alibaba's debut is also a big win for Yahoo. As part of the initial public offering, Yahoo sold around 121 million shares, immediately minting a return of more than $8 billion at the IPO price of $68. More importantly, Yahoo still owns 401 million shares, or a 16.3% stake in Alibaba, that based on Friday's trading pop equates to around $37 billion, or a little less than Yahoo's current overall worth of $41 billion. Credit for the investment in Alibaba is owed to Yahoo co-founder Jerry Yang, who orchestrated the incredibily savvy early investment in the company by winning of Ma.
Under CEO Marissa Mayer, Yahoo has essentially received a pass to acquire dozens of companies and try to find a new direction for its stagnant advertising business as long as it returned proceeds from its stake in Alibaba to shareholders.
And Yahoo intends to: The company said it plans to return half its stake in Alibaba to shareholders in the form of dividends and share buybacks.
What Mayer plans to do with the remainder of the company's windfall from Alibaba's IPO after it returns half of it to investors is still a mystery. Mayer has aggressively acquired companies in order to find a new future for Yahoo, but so far hasn't been able to find a "killer app" that will bring the company to prominence in 2014. It spent $1.1 billion on Tumblr, its largest acquisition, but the jury is still out on that deal.