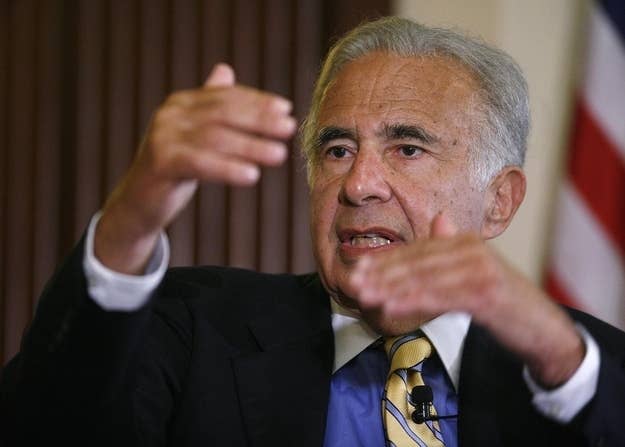 Here's a new hedge-funder strategy: bullying Apple into buying back shares and paying out dividends.
The latest contender today is billionaire Carl Icahn, who said on Twitter that he has a large stake in Apple and has discussed a larger buyback with Tim Cook today. The Tweet alone sent shares up more than 2% — which, for Apple, is a pretty significant jump.
Here are the tweets:
And here's what happened to the stock:

Mind you, this is amid a $100 billion buyback and dividend currently in progress that's supposed to be completed by the end of 2015.
It was somewhat a result of a similar bullying strategy carried out by billionaire investor David Einhorn to encourage Apple to use some of its massive cash pile to return value to investors — a presentation which was dubbed "iPrefs." Einhorn agitated for the buyback in February this year, and Apple announced the buyback in April.
Apple's response was pretty much what would be expected: "We appreciate the interest and investment of all our shareholders. Tim had a very positive conversation with Mr. Icahn today."
His announcement comes at a time when Apple's shares have been struggling as the company has faced problems with its public perception — and whether Apple, the creator of the iPhone and iPad, can actually innovate any more. Android has become an increasingly large threat to Apple's dominance over the smartphone market.
Apple is expected to unveil its next iPhone at an event on September 10, and is also reportedly working on a cheaper iPhone that will help it recapture the lower-end market of smartphone users where Android has done a lot of damage to Apple's share.
Investors viewed Icahn's involvement in Apple as a positive sign, sending the company's shares up about 5%, to about $490, to end trading Tuesday. More than 30 million Apple trades were made on the day, roughly 20 million more than its daily average over the past three months.