Apple Beats Most Expectations For The Fourth Quarter
The company delivered its fourth-quarter earnings, but the stock is down more than 3%. It missed sales expectations for iPads.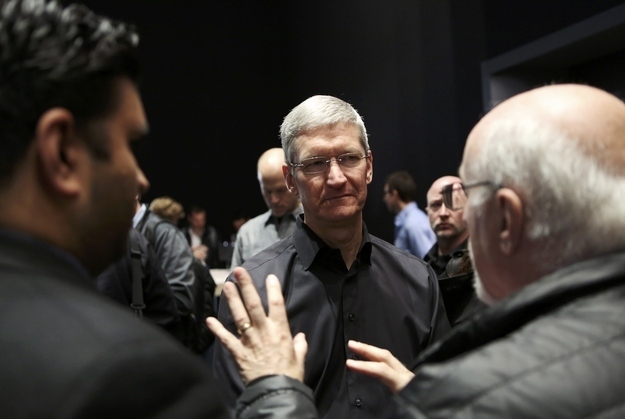 Apple reported a beat on most parts of its fourth-quarter earnings report, aside from a slight miss on iPad sales — but its stock still tumbled more than 3% in extended trading after the report came out.
Apple's gross margin, the amount of money it makes off its products, is still falling — now at around 37%, compared with 40% in the fourth quarter a year ago and 40.3% the year before that. That's partially a result of a mix of more diverse, cheaper products that are geared less toward the top end of the market, like the iPhone. It's expecting gross margins between 36.5% and 37.5% in the holiday sales quarter.
However, on the call CFO Peter Oppenheimer said some of the margin compression came as a result of deferrals for its free software on the iPhone and Mac — like Mavericks and iLife. Without that, the margins would be higher. Since the call, which started at 5:00 p.m. eastern time, the company's shares have returned to about flat.
Apple CEO Tim Cook also re-iterated that Apple would release new products "across 2014" on the earnings call. That means, as expected, new iPhones and iPads, but there could be some new categories in there too.
"In terms of new product categories, if you look at the skills Apple has from hardware, software, services... These set of things are very unique, no one has a set of skills like this," Cook said on the call. "We obviously believe we can use our skills in building other great products that are in categories that represent areas we do not participate today."
The iPhone beat analyst expectations, coming in at 33.8 million iPhones in the fourth quarter after the iPhone 5s and iPhone 5c came out. Analysts predicted 32.8 million iPhones. Apple sold 14.1 million iPads, about flat compared with the year earlier, compared with analyst expectations of 14.3 million iPads.
Apple did just release a set of new iPads that are set to go on sale next month in time for the holiday season. The lowest-end tablet, the iPad Mini, is also cheaper than it was a year ago. Just about every product in Apple's lineup is getting an update in time for the holiday quarter.
[Update: Adds additional comments from Apple executives from the earnings call, as well as the most recent stock price.]