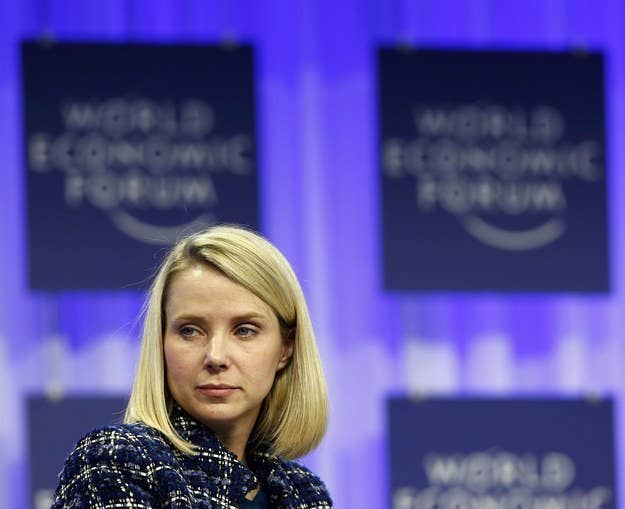 Yahoo will spin-off its large stake in Alibaba, the Chinese e-commerce giant, without incurring a massive tax bill, the company announced today.
Based on Alibaba's current valuation, about $39.5 billion of Yahoo's $46.6 billion market capitalization comes from its 15% stake in the Chinese company. When Alibaba went public late last year, Yahoo's take was more than $10 billion, before having to pay $3 billion in taxes. Yahoo won't be able to sell any of its remaining Alibaba shares until September of this year, due to a "lock-up" agreement. Marissa Mayer said in a broadcast that had Yahoo sold its Alibaba stock, it would have been taxed at around 40% and would have resulted in a $16 billion tax bill.
Yahoo said that it will form a new company whose stock will be distributed to Yahoo's existing shareholders. Yahoo also said that the new company will include "a legacy, ancillary Yahoo business."
Yahoo investors cheered the announced plan, with the stock up 6% in after-hours trading. The company did not announce plans for its stake in Yahoo Japan, a publicly listed joint-venture with Japan's Softbank. "We will continue to explore ways to maximize the value of Yahoo Japan," Mayer said. Yahoo's stake in that venture is worth about $7 billion.
"Throughout my tenure with the company, we have worked tirelessly on a tax-efficient alternative that would maximize the value of our Alibaba investment for our shareholders. A tax-free spin off accomplishes this and delivers value directly and exclusively to our shareholders," Yahoo chief executive Marissa Mayer said in a statement today.
What to do with the remaining portion of Alibaba without incurring too large of a tax bill has been the key strategic question for Yahoo chief executive Marissa Mayer and her chief financial officer Ken Goldman. Mayer said in October that Yahoo had " the best tax experts in the country, working intensively on structures to maximize the value to our shareholders of our remaining stake in Alibaba."
The company said it expects the spin off to happen in the fourth quarter of 2015, and it is awaiting a favorable decision on the move from the Internal Revenue Service.
Yahoo's core business — display advertising on its web and mobile products — has shrunk for most of the last two years as the value of the company has grown thanks to the breakneck growth in value of Alibaba. Since Mayer was named CEO in 2012, Yahoo's stock has more than tripled while its revenue, not counting payments to acquire web traffic, has gone from $1.08 billion to $1.18 billion. Analysts polled by Thomson Reuters expected $1.19 billion in revenue for the most recent quarter.
The hedge fund Starboard Value, who acquired a stake in Yahoo last year, suggested in a letter in September that Mayer spinoff Yahoo's core business and acquire AOL, thus combining two of the largest web publishers. In a January letter, Smith expressed concern that Yahoo was considering large acquisitions, like the cable network Scripps or CNN, and would choose a not maximally tax efficient way of getting rid of its Alibaba and Yahoo Japan stakes.