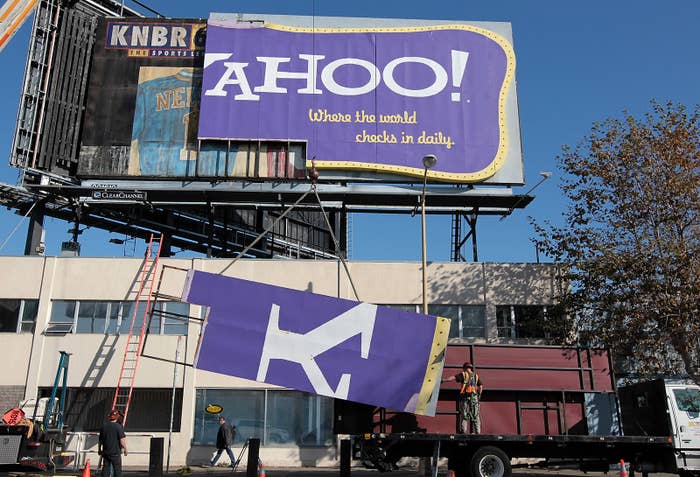 Yahoo is promising another turnaround, this time saying it will slash its workforce by 15%, close some international offices, and cut its expenses by $400 million a year. And while all that is going on, its board will be entertaining "qualified strategic proposals" — corporate-speak for selling at least some of the company.
Yahoo's board "believes that exploring additional strategic alternatives, in parallel to the execution of the management plan, is in the best interest of our shareholders," the company's chair, Maynard Webb, said in a statement. He specifically said that while he wants to be able to spin off its valuable stake in Chinese e-commerce giant Alibaba, "we will engage on qualified strategic proposals."
The job cuts could amount to about 1,500 people being let go. Staff had an awkward preview of the looming cuts in January when, the New York Post reported, CEO Marissa Mayer told employees in a meeting that there would be no layoffs "this week."

In quarterly results announced today, Yahoo reported $1 billion in revenue, excluding traffic acquisition costs, slightly above what analysts expected. Revenues are down about 15% from a year ago.

In its efforts to cut costs and sharpen its focus, the company said it would jettison some other business, including shutting down some digital magazines, games, and its smart TV businesses. Yahoo has also "begun to explore divesting non-strategic assets of value," like patents, real estate "and other non-core, non-strategic assets," it said. These sales "could generate between one and three billion dollars in cash."
What will the plan achieve, if everything goes right? "As a result of this four-point plan, Yahoo is expected to return to modest and accelerating growth in 2017 and 2018."
Some of the investments Yahoo has made haven't turned out as well as they expected. Yahoo wrote down about $4.5 billion of units when they determined that the value on its balance sheet was above their estimates for their fair value. Yahoo's chief financial officer, Ken Goldman, said that the decrease was driven by Yahoo's falling value as a company, lower projected cash flows, and a decline in public market prices for technology companies across the board.
Goldman said that Tumblr's value was written down by $230 million and another $3.7 billion was written down in the U.S. and Canada business units.
Yahoo bought Tumblr for about $1.1 billion, including over $100 million in debt, valuing the business at $990 million in its most recent annual report. When Yahoo acquired Tumblr, it said its cash, securities, tangible assets, technology, customer relationships, and name were worth $356 million and then the remaining $751 million was goodwill, almost a third of which was written down at the end of 2015.
Yahoo stock fell about 2% in after-hours trading, and has dropped 34% in the last year.
The dilemma for Mayer and Yahoo's management is twofold: Its core business — advertising on its apps and websites — is not growing, while its stakes in two Asian internet giants, Yahoo Japan and Alibaba, are responsible for most of the company's market value. The company originally planned to spin off its stake in Alibaba, in a deal that would give its shareholders the Alibaba stake along with a small Yahoo business unit.

Yahoo's revenue is declining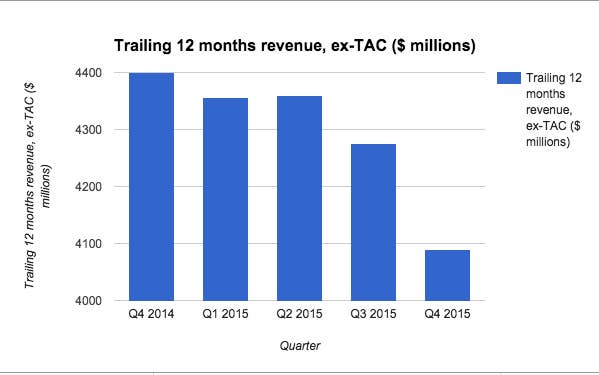 Yahoo scrapped its initial plan late last year after the IRS declined to give a guarantee regarding its tax implications. At today's market prices, Yahoo's stake in Alibaba is worth $25.4 billion before taxes, or $17.3 billion at the 38% corporate tax rate. Its Yahoo Japan stake would be worth about $3 billion after taxes. Yahoo said it was still pursuing some kind of spin-off for its Alibaba stake. Goldman said that the spin-off, if it goes through, will "more likely ... be taxable."

The company is currently valued at about $27.8 billion, including several billion dollars of cash and other securities. The numbers imply that Yahoo's actual internet business is a marginal part of the company's overall value, valued by the market at perhaps $2 billion.