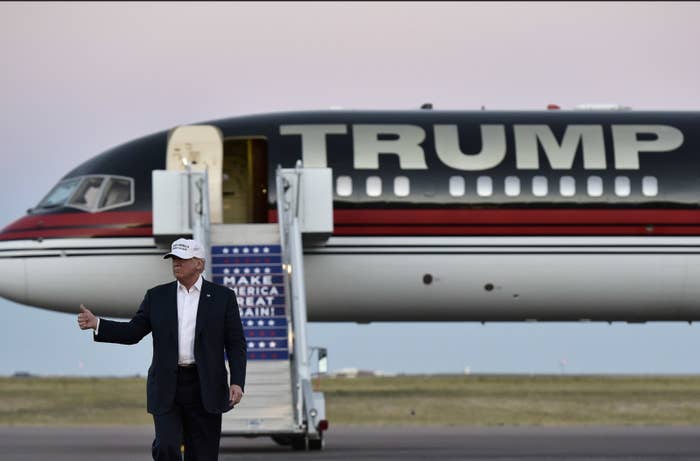 If Donald Trump moves into the White House in January, his administration could take charge of multi-billion dollar negotiations with a bank he owes hundreds of millions of dollars to.
Last week Deutsche Bank confirmed the Department of Justice has proposed it pay a $14 billion penalty to settle claims related to its activities in the lead-up to the financial crisis. The settlement, first reported by the Wall Street Journal, would be among the largest levied on a bank in the wake of the crisis, and could hammer Deutsche Bank shareholders.
The German bank, currently valued at about $17.3 billion, has said it does not expect to pay anywhere near the figure proposed by the DOJ, which it considers to be an opening bid in haggle that could drag into 2017. Deutsche Bank's stock is already down 50% this year, and has fallen by 13% in the days since it confirmed the DOJ proposal, with investors worried it may have to raise new capital — diluting their ownership in the process — if the final settlement figure is too high.
But if Trump is elected president in November, Deutsche will have a man in the White House whose commercial fortunes are closely linked to being able to borrow money from it — and whose businesses owe the bank hundreds of millions of dollars.
Deutsche Bank has led or participated in $2.5 billion worth of lending to Trump affiliated companies since 1998, according to a Wall Street Journal analysis. It is one of the few banks that continues to lend to him, and being able to keep those loans flowing is a crucial part of Trump's property business.
"With the real estate guys, how well they do depends on a good relationship with the bank — the bank gives them credit, they'll extend credit, they'll make the terms better, but if the relationship goes sour, the real estate people can get in trouble," Richard Painter, who was the chief ethics lawyer for the Bush White House from 2005 to 2007, told BuzzFeed News. "The banks have a lot of control over how much money he could make in his business, it's all about borrowing money."
In his financial disclosure form, Trump has listed loans from Deutsche Bank connected to his Florida golf course — one that's between $5 million and $25 million, and one over $50 million. For the Trump International Hotel and Tower in Chicago, there's a loan of $25 million to $50 million from Deutsche Bank. And for luxury hotel project at the Old Post Office building in Washington DC, Trump was able to secure a $170 million loan from Deutsche Bank.

Trump's relationship with the big banks was stretched thin by a string of casino bankruptcies in the 1990s that left lenders with huge losses. Wall Street bankers have described lending to his businesses as coming with a "Donald risk," the New York Times reported in May, saying many will no longer do business with him. It means the relationships that remain — such as with Deutsche Bank — are particularly valuable.
"I'm very worried about the the relationship between Deutsche and other lenders and Trump," Painter said.

That relationship was able to survive Trump's 2008 lawsuit, when he argued that he shouldn't have to pay Deutsche Bank $40 million that he had personally guaranteed as part of a $640 million construction loan. Trump claimed the force majeure clause in the loan agreement, covering so-called acts of God such as natural disasters, applied to the financial crisis.
He also demanded $3 billion in damages from Deutsche Bank, which countersued in response and called his lawsuit "classic Trump." The cases were eventually settled out of court.
Deutsche has signaled that it expects to settle its claims with the Justice Department for a fraction of what the government is asking for. Based on how many mortgage-backed securities it actually underwrote and sold in the lead-up to the financial crisis, the "implied" settlement amount expected by the bank is just over $3 billion, according to JPMorgan analysts.
But Deutsche Bank has tended to fare worse than its American peers in settlements with US authorities and is widely perceived by analysts to be at a disadvantage in its regulatory affairs. "Deutsche has had a tough time with US regulators," Frontline Analysts senior research adviser Dan Davies wrote last year.
Could that disadvantage be overcome if a major borrower ends up in the White House? Representatives of the bank, and the Trump campaign, did not respond to requests for comment. Trump has said that he would deal with myriad real and perceived conflicts of interest between his businesses and his political ambitions by having his children run the Trump Organization if he is elected to office.
Such an arrangement would be far from the so-called blind trusts that other politicians have used to hold their assets while in office. Even if Trump were to transfer ownership to his children — which he has not said he would do — a Trump administration could still be deciding whether to severely punish a bank that plays a key role in his family's success in the real estate business.

Speaking last week, Ivanka Trump said she and her brothers would run the Trump empire in a way that steered clear of their father's presidential influence.
"We can say 'you know what, we'll do less deals and not going to do that deal, even though it's a fine deal, it's economically reasonable because it could create a conflict of interest,'" she told Good Morning America. "We'll act incredibly responsibly."