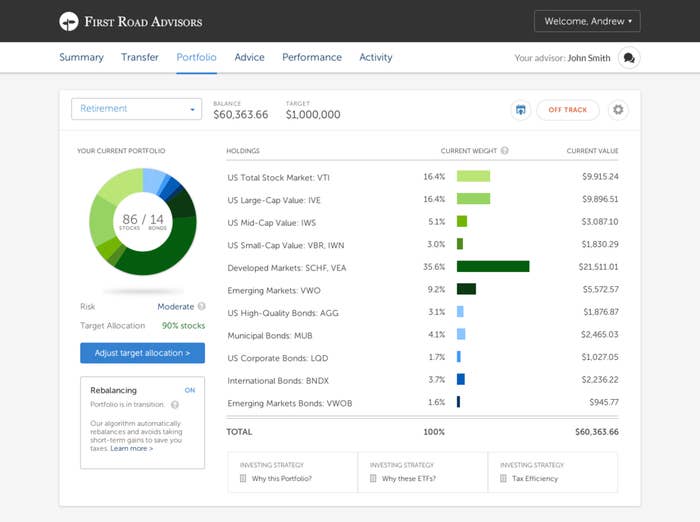 Betterment, the four year old automated web-based financial advisor, doesn't just want to be the place where you park your savings, but also a new feature for old-school financial advisors. The company is rolling out a platform for financial advisors, diversifying its business from its online wealth management platform aimed at individuals.
Betterment, which competes with lower-end discount brokerages and its more direct online competitors like Wealthfront, is making a play for wealthier clients that already have or will have relationships with financial advisors — including those that work with fund and brokerage giant Fidelity. The privately owned Boston-based fund behemoth, which manages almost $2 trillion and administers another $2.9 trillion, will make Betterment Institutional an option for advisors who use to Fidelity Institutional Wealth Services, its platform for independent financial advisors.
"It's exciting to have such a powerful set of tools to launch and to be pushing a new platform," Betterment chief executive officer and founder Jon Stein said.
The platform will give financial advisors access to some of the features that make Betterment distinct, like paperless signup, mobile apps, automated billing, dashboards, and co-browsing for client and advisors. They will also have to use Betterment's own investment products, including the 12 stock and bond exchange traded funds it uses to construct portfolios for clients.
The new product will also have a new cost structure. On top of the fees clients pay to their advisors already, often in the neighborhood of one percent of assets under management, Betterment will charge the advisor another .25%. For its retail, individual product, Betterment charges between .15% and .35% of assets, depending on the size of a customer's balance. Betterment now manages $875 million of its 49,000 customer's assets — who are, on average, in their mid 30s — still short of its main rival Wealthfront, which manages over $1 billion
Betterment Institutional, what the new platform is called, is a major step for the company, which was founded in 2010. While Stein said that the project has been "on the docket" since the company was founded, it was Betterment advisor and Convergent Wealth Advisors founder Steve Lockshin who pushed Stein to work on it more seriously two years ago, and it was only ready to launch thanks to a dedicated ten-man team.
For advisors, the presence of a young company that's native to the web could help advance an industry whose customer base is older and which still does much of its important work on paper and by hand. Consultants and wealth managers themselves have pointed to enhanced web services as a way to appeal to younger investors.
While advisors will still be able to customize their portfolio recommendations for clients — albeit while still using Betterment's selected securities — they will get access to Betterment's proprietary features, including optimizing sales of assets for taxes. "All of this is built out of the system and you get it out of the box, and advisors love that," Stein said. With access to Betterment, becoming an investment adviser can take about a month of getting approved and then signing up with Betterment. "Now there's just a tool where [people] can just go out and be an investment advisors."
The Fidelity partnership will give Betterment access to almost 3,000 investment advisory firms. While the partnership may seem odd — Fidelity's massive assets under management and higher fees are exactly what investors and entrepreneurs salivate over when they talk about disrupting financial services — Betterment sees it as an opportunity to catch potential clients that fall in the gaps between do-it-yourself investing with discount brokerages or having a financial advisor.
"Fidelity Institutional Wealth Services and Betterment share an interest in helping advisors realize that digital advice should not be perceived as a threat, but rather an opportunity to evolve their engagement models to better attract new business segments, particularly the emerging affluent," the company said in a statement.
Stein sees the target audience for Betterment Institutional as investors who don't have the, say, $10 million in assets advisors go after, but do have a sufficiently complicated financial life that they would benefit from financial advice. "Once you're at that level where you have an advisor, they're generally doing a lot of others things that you wouldn't do, like estate planning, trust creation, and thinking about your other holdings."
For the advisors partnered with Betterment, they will have access to what amounts to a turnkey web interface, default portfolios, and specific investments to use to advise clients. In exchange, Betterment has control of the entire investing process, including custody of client assets and execution of the trades. "We had to have access over that full stack of technology to do tax loss harvesting, to do the statements, to do the fractional shares and the full support for the solution that we've built."
When asked if he saw himself as giving up on stealing marketshare from big advisory shops like Fidelity, Stein instead sees himself as both winning over new investors and becoming the industry's technology provider. "I think that technology shift in the advisory community is inevitable -- they're all going to have to adopt it."
This piece has been updated to clarify the relationship between Betterment and Fidelity.