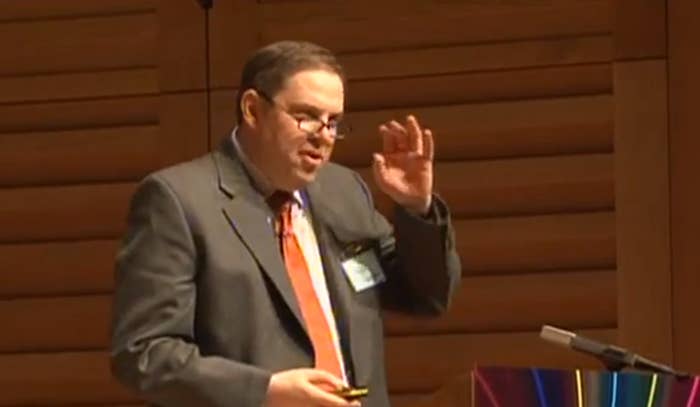 Reuters Wednesday decided that it cares more about its business than its brand, ending a big bet on becoming a major player in online news.
In a memo sent to the company today, Reuters chief executive Andrew Rashbass announced that the company will end its Reuters Next project, a comprehensive reworking of the company's legacy web product built around building streams of content, even from outside sources, tied to a specific news event. He also announced the departure of Jim Roberts, the executive editor of Reuters Digital and Daniele Codega, the design director — and Reuters insiders told BuzzFeed they expect another wave of layoffs soon.
One Reuters source said "the majority of the web and design team are being cut," amount to more than 20 staffers.
The project, which had been in place for around two years and pulled in dozens of editorial and product staff, had been oft-delayed, even though a preview version of site launched at the end of of April. Rashbass, who is based in London, did not travel to the project's Times Square, New York, hub to break the bad news, instead dialing in from his office in London with select Reuters staff to explain his decision. A Reuters employee on the call said that Rashbass "indicated there would be trimming and slimming down staff." Barb Burg, a Reuters spokeswoman, would not comment on staff moves.
In a memo to staff, Rashbass said that the decision to shutter Next and focus on the existing website "will feel somewhat 'Back to the Future,'" but that "Next is a long way from achieving either commercial viability or strategic success."
Rashbass, a Brit without a background in journalism, came to Reuters at the end of May after working at the London-based Economist Group for 15 years, where he had been CEO since 2008. His position, overseeing the entire news operation within Thomson Reuters, the parent company of Reuters, was newly created for him. He was brought in to help turn around the company's news division. The segment of the company that includes Reuters News reported a $62 million loss in the second quarter of this year. Rashbass is widely admired in the media business for his successful —and profitable — stewardship of The Economist.
Reuters insiders said Rashbass began asking skeptical questions about Next — which had at one point been slated to launch on the first of this year, and was nowhere near ready — as soon as he started. And many of the questions focused how to make money off venture that many inside saw — like a splashy new magazine and an investment in opinion writing — as more about turning Reuters into a prestigious news brand than about generating cash flow. Part of that push was also an investment in high-profile talent: Chrystia Freeland, who was U.S. managing rditor at the Financial Times before she landed at Reuters and ascended to managing director and editor, consumer news; Roberts, a former assistant managing editor at the New York TImes, Felix Salmon; a finance blogger who runs Counterparties, an aggregation site for financial and economic news who came from Conde Nast Portfolio; and Jack Shafer, former Slate media critic is now writing for Reuters' opinion site.
Freeland had made the focus on the brand clear in a memo in January. "The new website and apps are an essential element of Reuters' drive to create a consumer news platform which is a valued and effective showcase for all of our journalism," she wrote, describing Reuters Next as "the public face of Thomson Reuters as a whole" while noting that it would be "organically connected with our paid-for subscription products."
One Reuters insider Wednesday described the decision to shutter Reuters Next as "very much a singular decision," a second Reuters source said that "it all came down to money — it was decided by Rashbass that he didn't want to throw money at this."
"There were some very cool things we wanted to happen but it was going to involve a lot of cash and there was no clear way how we would recoup that cash," said another.
The need for a new platform had grown urgent. The legacy web product, Reuters.com, had very few of the features now expected at top-line news websites. Even putting in a hyperlink, one Reuters source said, was "a very complex issue." Reuters had to put its blogs and opinion columns on a Wordpress platform so they could easily link to outside sources and embed videos.
But a project that was supposed to launch this Jan. 1, and then this spring, and then possibly in October, never made it close to being ready. A Reuters source said that the project was plagued by "deadline problems and technological delivery problems for quite some time." When Rashbass came in, he immediately began asking questions about the progress and viability of the project, the source said.
But the Reuters Next product, never quite made it to being ready for primetime, let alone taking over the entire existing web property, and the decision to kill it left people who worked on Next pointing fingers, and arguing over whether bad initial decisions — hiring outside developers; then moving the project in house — or a simple lack of patience had torpedoed the project.
"We never really had the development resources, the urgent became the enemy of the good, there was too much urgent stuff for there to be good stuff," a Reuters source said. With a focus from Rashbass on consumer news being a vital and profitable part of the business, the expensive new project was too uncertain in its profitability for continued investment."
In his memo to staff, Rashbass did not make clear how Reuters will relate to a changed media ecosystem without a contemporary website.
"We need to focus on our unique photography and video to win in an increasingly visual media world; and we need to make our core strength of international news relevant to local audiences — which means, among other things, having local-language sites." Barb Burg, a Reuters spokeswoman, said that "Rashbass had been evaluating the website since he arrived and determined that the legacy Reuters.com was a much better place to start." Burg also pointed to Reuters.com's 37 million views a month and foreign language editions in Japanese, Chinese, Portuguese, French, German, Spanish, and Italian.
Meanwhile, the high-profile journalists have moved on. The future of Next, in fact, began to look shaky when Freeland left Reuters in late July to seek a parliamentary nomination in her native Canada. A month earlier, Paul Smalera, the project manager for Reuters Next, left the company for the New York Times. Roberts is now expected to leave shortly. Burg said that the departure of several key Reuters Next staffers over the last year had no impact on Rashbash's decision to end the project.
And now, editorial staffers eager to write for an audience beyond wire service clients are left with an unclear future.
"If it was ever true that they considered editorial to be a brand bet, they don't anymore," said one staffer.
Ben Smith contributed to this report.
This article has been updated with more information about expected layoffs. (9/19)