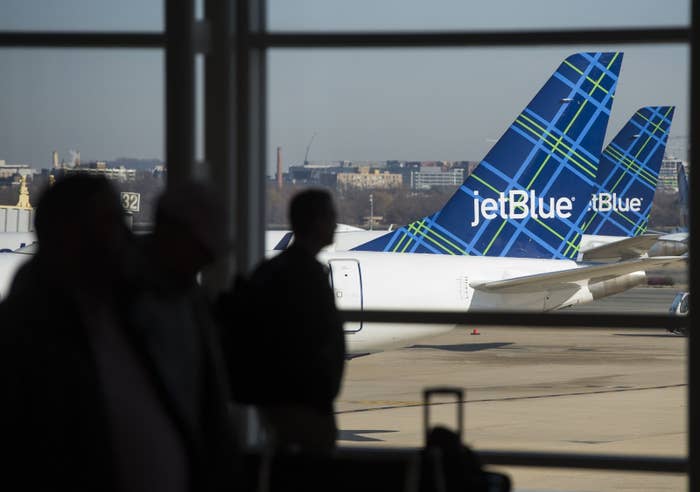 JetBlue wants you to know that it's the Nice Guy of the airline industry. Not only will it not have goons drag your beaten and bloody body off a plane, it won't even deliberately overbook flights in the first place.
"We are committed to our policy of not overselling flights," JetBlue chief executive Robin Hayes told analysts in April. "We don't oversell our flights."
But when it comes to bumping people from flights without their consent, JetBlue is currently the leader of the pack, according to Department of Transportation data.
In the first three months of this year, 1,415 JetBlue passengers were, in the parlance of the Department, "involuntarily denied boarding." That comes out to 1.61 involuntary denials per 10,000 passengers — a rate higher than any other US airline, according to the data.
JetBlue's sudden rise to the top of the charts comes despite the airline taking great efforts to avoid booting passengers — efforts that were largely successful until recently. Just 28 JetBlue passengers were involuntarily denied boarding in the same period of 2016, and the airline's rate was the second lowest in the industry.
The DoT distinguishes between people who are voluntarily denied booking — those who accept the offer of a different flight, or cash, or both — and people who are involuntarily denied, meaning they get bumped without their consent. In the former category, JetBlue remains one of the industry's best performers.
JetBlue said problems mainly arise when the airline is force to change the model of plane used on a flight, due to mechanical issues. When it switches from a larger Airbus A321 to a smaller Airbus A320, it means the flight has dozens fewer available seats, and the airline must rush to rebook them. That is happening more often as JetBlue adds more of the larger A321s to its fleet.
"In the rare cases when this occurs, customers are typically notified more than four hours in advance of their flight," JetBlue told BuzzFeed News in a statement, "and we work to limit the impact with auto-rebooking on the next available flight or by adding extra flights to the schedule."
JetBlue's rising number of involuntary bumpings was noted last December by airline blogger Brett Snyder, who runs the Cranky Concierge service for fliers.
JetBlue's policy of never overbooking flights may contribute to its problems, Snyder wrote. While others like Delta and United routinely overbook, they have also invested in sophisticated systems to manage the process of bumping passengers and encourage fliers to accept alternate flights, refunds or other kinds of compensation — putting them into the "voluntary" category.
Because JetBlue finds itself in this situation far less frequently — Delta reported more than 34,000 passengers were voluntarily denied boarding in the first three months of 2017, compared to just 553 at JetBlue — it seems to be less skilled at convincing people to give up their seat.
And when the situation does arrive, it involves dozens of passengers needing to be bumped, not just a few — marking it much harder to get enough volunteers.
"Normally when an airline overbooks, it might need a couple of volunteers," Snyder wrote. "But if you need 50, you're in serious trouble."