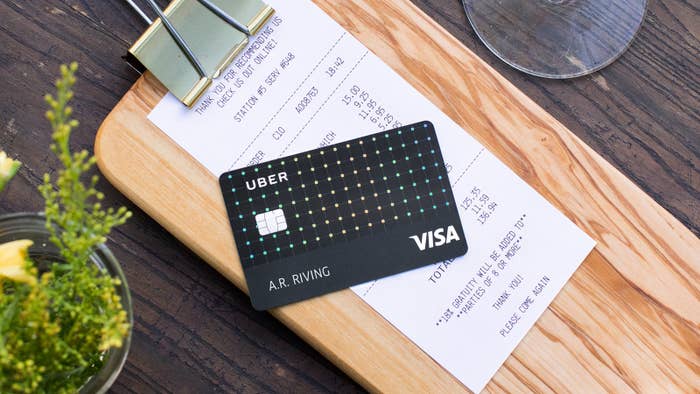 Uber has listened to its customers and heard the answer: They love Netflix and they love eating out.
Starting Nov. 2, Uber will begin offering a Visa card issued by Barclays, with applications processed inside the Uber app.
The card is designed for rapidly accrued, incremental rewards instead of big-ticket items, quick rides instead of long flights. The rewards and benefits paint a portrait of the ride-hailing company's typical US consumer that seems culled from every article about millennials ever written. They want to consume "experiences" (i.e. travel and restaurant meals), and, of course, they want to get an Uber to a restaurant — or maybe order in, with the food delivered by an Uber driver.
The package of rewards was designed after surveys of Uber customers and focus groups with them, Drew Quinn, an Uber product manager, told BuzzFeed News. Quinn said that these customers didn't like some credit card rewards programs that encouraged hoarding and then redeeming points all at once later. Instead, the Uber card will allow users to redeem points for Uber rides or UberEATS delivery instantly in the Uber app. "We wanted everyday uses: getting that free ride home or a free meal," Quinn said.

"The Uber Visa has an unusually generous rewards structure and lots of perks for a card with no annual fee," Kimberly Palmer of the personal-finance site NerdWallet said. "If you're a frequent Uber customer who wants to avoid annual fees without foregoing perks like Spotify, Netflix, and Amazon Prime subscription credits, the Uber Visa is definitely worth considering."

The card has no annual fee and offers four points for every dollar spent on food, including UberEATS; 3% on travel; 2% on "online purchases," including Uber trips, Amazon purchases, or music streaming like Spotify; and 1% on all other purchases. There's an additional $100 bonus for spending $500 in the first 90 days of having the card.
Cardholders can also get $50 on "online subscription services" like Netflix after they spend $5,000 in a year. "It's a unique benefit for the marketplace," Quinn said. If you use the card to pay your monthly phone bill, you get up to $600 of insurance in case of damage or theft of your phone.
The Uber Visa's rewards are not as rich as those offered for incredibly popular credit cards with fees like the Chase Sapphire Reserve or the American Express Platinum cards, but they are comparable to popular no-fee cards.

The Chase Freedom card, the top-rated no-fee card from the credit card comparison site the Points Guy, gives up to 5% cash back or five points for purchases in some categories up to $1,500 spent and 1% back on all purchases, along with a $150 bonus after spending $500 in the the first three months.

While Barclays is not a powerhouse credit card issuer like Chase or American Express, they have a big business in cobranded cards, like cards issued with Barnes & Noble or L.L. Bean. A Barclays executive said at a conference in September that its cobrand business "is ranked top 5 in the United States." Overall, the British bank estimates that it has about 1% of the nonbranded card market, but 2% or 3% of the overall market.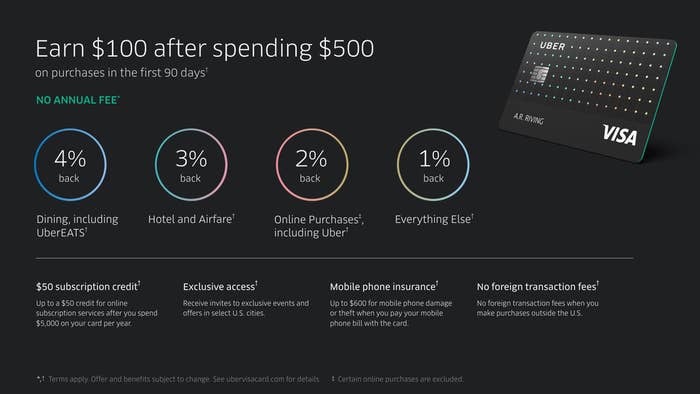 Uber has been working on developing a credit card for about a year, Judy Zhu, who works on partnerships for Uber, told BuzzFeed News. Zhu would not disclose the exact business arrangement Uber had struck with Barclays.
Some other cards, like the American Express Platinum card, offer Uber benefits — the AmEx card gives you up to $15 every month in Uber rides. Capital One used to offer a 20% discount on its Quicksilver card for Uber rides and then, through March of this year, it gave a $15 Uber credit for every nine rides purchased through the card.
The Uber Visa card application itself will be processed through the Uber app, with some of the fields prefilled with information Uber already has. While a physical card won't arrive for seven to ten days after approval, the credit availability will show up in the Uber app's wallet instantly after approval and will allow users to start using it to pay for rides and UberEATS deliveries.