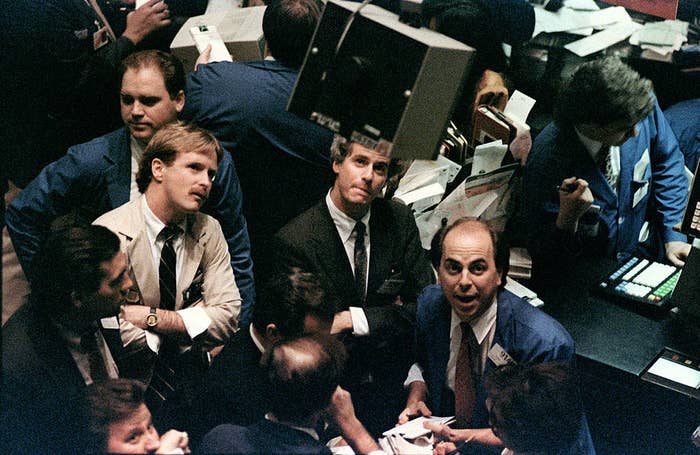 The Trump administration will attempt to roll back many of the financial industry rules that were introduced in the wake of the bank bailouts of 2008, satisfying a key Wall Street demand.
The Dodd-Frank financial reforms, passed in 2010, are "a disastrous policy hindering our markets and reducing access to credit," White House press secretary Sean Spicer said on Friday. "It does not adequately protect consumers," he said, and "it does not solve too big to fail."
President Trump signed two executive orders Friday, each aimed at cutting back regulation of the financial sector, but exactly how the administration will overhaul Obama-era financial reforms remains unclear. During the campaign and transition, Trump and his advisors would swing wildly on the issue, from criticizing Obama for not doing enough to fight Wall Street special interests to vowing to overturn the rules regulating the industry.
In the first order, Trump instructed his Treasury Secretary (who has not yet been confirmed) to come back to him with a reporter four months to see if the full gamut of financial regulations comply with certain "core principles" that largely mirror the concerns House Republicans have with Dodd-Frank and other post-financial crisis rules.
While Trump could later direct administration officials to not implement some of the rules and set out "core principles" for how the Dodd-Frank rules should be rolled back, he would need the cooperation of Congress to actually scrap the legislation. Standing over his shoulder while he was signing the orders was Jeb Hensarling, the chairman of the House Financial Services Committee, who has in the past presented plans to remove and replace the bulk of the Dodd-Frank rules.
On Friday morning, Trump complained that some of the Dodd-Frank rules, designed to ensure banks keep enough money in reserve to withstand a financial shock without needing government bailouts, are holding back lending.

"We expect to be cutting a lot out of Dodd Frank, because frankly I have so many people, friends of mine, that have nice businesses and they can't borrow money," he said. "They just can't get any money, because the banks just won't let them borrow because of the rules and regulations in Dodd Frank. So we'll be talking about that in terms of the banking industry."
Another target of Trump's actions today was the "fiduciary rule," finalized by the Department of Labor last year, which requires advisors and brokers for retirement plans to act in the best interest of their clients. The executive order tells the Department of Labor to "review" the rule, although a full removal of it could involve an intensive, years-long regulatory process.
In the executive order, Trump directed the Department of Labor to "examine" the rule "to determine whether it may adversely affect the ability of Americans to gain access to retirement information and financial advice" and to examine if the rule "has harmed or is likely to harm investors due to a reduction of Americans' access to certain retirement savings offerings." If it makes that finding, the executive order says, the Department should start the process to revise the rule.
"The Department of Labor will now consider its legal options to delay the applicability of the date as we comply with the President's memorandum," the Department said in a statement Friday afternoon.
Spicer described the rule as "burdensome" and "a solution in search of the problem." The rule's advocates say that in its absence, advisors and brokers are encouraged to sell expensive, complex financial products, which provide lucrative commissions but are not necessarily a great deal for retirees and others.
The rule was scheduled to start going into effect this April, and many financial services companies have already shifted their businesses to comply with it. Even if the rule is scrapped, many company policies have already shifted.
"We are skeptical whether many of them will reverse course simply because such a reversal may look like the firm is putting its interests ahead of its customers," a Keefe, Bruyette & Woods analyst note said today.
Josh Brown, a financial advisor and writer, described the proposed regulatory rollback as "populism: the right to gamble with deposits and sell brokerage products with hidden fees."

Gary Cohn, the former number two executive at Goldman Sachs who now runs the Trump administration's National Economic Council, also gave the fiduciary rule a populist spin: it's a bit like denying people their right to a burger and fries, just because you know it's bad for them.
"This is like putting only healthy food on the menu, because unhealthy food tastes good but you still shouldn't eat it because you might die younger," he told the Wall Street Journal.
And that wasn't even the worst fiduciary rule analogy to come from a top Trumpworld figure and Goldman Sachs alumni: in October Trump fundraiser and advisor Anthony Scaramucci compared it to the Dred Scott decision, which ruled that a former slave could not be a citizen because of his race.
"The left-leaning Department of Labor has made a decision to discriminate against a class of people who they deem to be adding no value," he wrote in an email to Investment News.