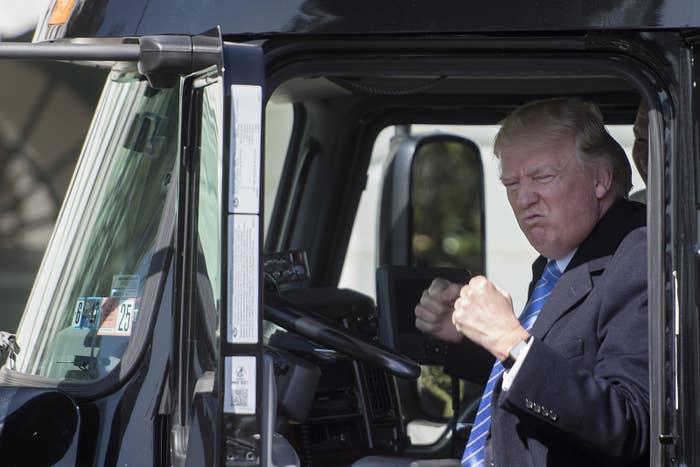 Whenever there's good news from the stock market — which recently has been almost every day — President Trump is sure to tweet about it. Whenever there's good economic data, he likes to say "JOBS."

But analysts and economists on Wall Street, in Washington, and across the political spectrum are more skeptical about giving Trump credit for every piece of good news during his nine-month presidency. What is happening instead is a carryover from the solid, if not exactly, barn-burning growth in the economy and especially the labor market during the Obama years.
"There's not really a qualitative difference" in job growth or overall economic growth since Trump took office or since the election, Dean Baker, the co-director of the progressive Center for Economic and Policy Research, told BuzzFeed News.
Some exuberance in the stock market, which can respond to news much faster than companies or a whole economy, may be linked to Trump's promises to lower corporate tax rates and his overall stance against federal regulations. But, Baker cautioned, even if you believe that the Trump agenda of low taxes and massive deregulation will meaningfully boost growth, it hasn't happened yet.

"The president taking full credit for things that haven't been realized is very precarious," Gordon Gray, the director of fiscal policy at the conservative American Action Forum, told BuzzFeed News. "If you really want to stake your economic success on noisy monthly data and minute-by-minute data you'll probably regret that decision."
While Trump boasted about the most recent Census report showing over 3% economic growth, Baker cautioned that growth in the first quarter of this year was 1.2%. There were several quarters of at least 3% growth under Obama.
"I don't see anything that leads me to believe we're on a faster growth path at this point," Baker said. Economic growth in 2014, 2015, and 2016 was 2.6%, 2.9%, and 1.5%, respectively.
The same can be said about the labor market: The trend lines show a continuation of the job growth that was happening during the second half of the Obama administration, and, if anything, it may be slowing down.
"You would really be hard pressed to identify something that's kicked up in the labor market, the rate of job growth is a little slower," Baker said.

In the first eight months of 2016, the average job growth was 194,000 net new jobs per month. In the first eight months of 2017, the average monthly job growth was down to 171,000. And that's not counting the 33,000 jobs lost in September, which most analysts attribute to the spate of hurricanes that wrecked havoc across the Gulf Coast.
"The core labor market still reflects a tepid recovery, the recovery is there, ongoing and that's good," Gordon Gray said. "The pace has been disappointing."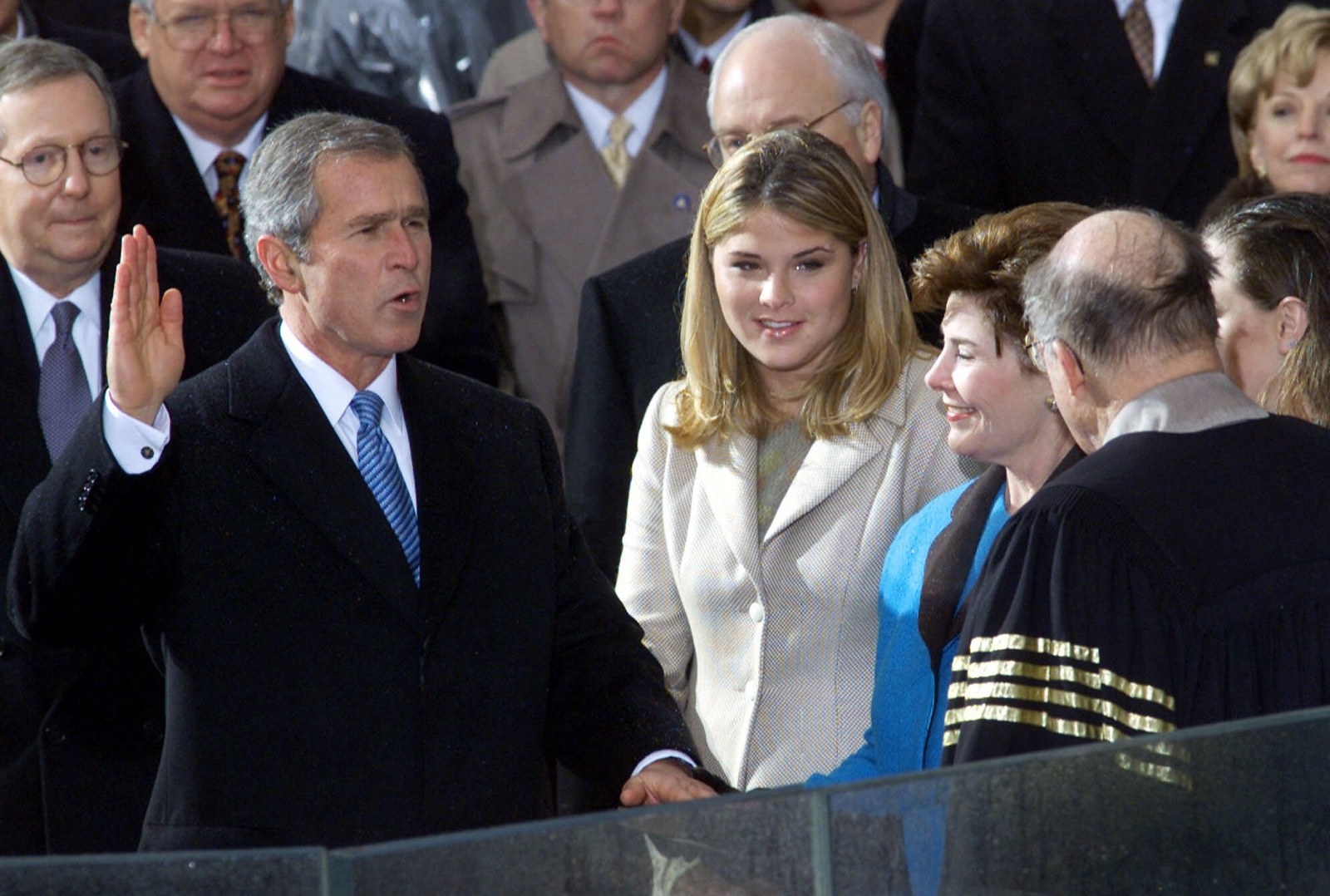 Unlike the past two presidents, Trump has inherited a strong economy from his predecessor. The economy plunged into recession in March 2001, two months after George W. Bush took office. The high-flying, tech-heavy Nasdaq had already peaked in the previous March and had fallen 45% by inauguration day. The unemployment rate bottomed out in April, 2000 and climbed 1.5 percentage points in Bush's first year in office, leading Republicans to say that he had "inherited" a recession.
In the first full month of Barack Obama's first term, the economy would shed 702,000 jobs. The country had been suffering through the worst economic downturn since the Great Recession since December, 2007. Trump finds himself in the opposite boat: inheriting a placid, solid macroeconomy.
But Trump claims that major policy changes on the way, like a big corporate income tax cut, and some deregulation that's already happened, have jolted the economy out of its Obama-era doldrums. The unemployment rate is no longer "phony" to Trump, as he had once claimed: it's declined from 4.8% to 4.2% since the beginning of the year and now it's real, and it's spectacular.
The US unemployment rate

But not everyone sees things the president's way. "The labor market has been reflecting the underlying trends that have persisted and likely will continue to do so," Gray said.

And while there's been some deregulation — most of the substantial bills the Trump administration has signed have been rescinding regulations passed towards the end of the Obama administration — businesses take some time to make investments and hiring decisions in response to policy changes, Gray said.
"I would suspect and I would believe there's been some prospective investment and hiring going forward that's reflected in the jobs market, but I think it would be very easy to overstate that," Gray said.
In the stock market, however, there's a better case to be made that the sizable gains since election day are due to the market anticipating policy it likes from the White House and Congress. The S&P 500 has risen 20% percent since election day, and soared over 10% in the four months after Nov. 8, 2016.
The companies whose shares that did especially well following the election were ones that had high tax rates. "It's what we expect if the market was suddenly expecting major tax reform after Trump's win," said Ernie Tedeschi, the head of fiscal analysis at Evercore ISI and a former Treasury Department economist.
But by mid-December, Tedeschi, said, that "optimism peaked" and by July, the relative out-performance of the low-tax companies had died out. Since the "big six" Congressional leaders came out with a framework for tax legislation, the high-tax companies' relative performance improved but has since declined again.
"I interpret this as being consistent with a market that has gradually gotten more pessimistic on tax reform's chances and isn't pricing much probability in any more," Tedeschi said.
The Trump administration, however, has been so confident in the relationship between expectations for a major corporate tax cut and the performance of the stock market that they think if a tax bill fails to pass, much of those gains will evaporate.
Markets hit new highs Friday morning after the Senate narrowly passed a budget resolution that's the first step to tax cuts that could add $1.5 trillion to the federal budget deficit over ten years.
"There is no question that the rally in the stock market has baked into it reasonably high expectations of us getting tax cuts and tax reform done," Treasury Secretary Steven Mnuchin told Politico Monday. "To the extent we get the tax deal done, the stock market will go up higher. But there's no question in my mind that if we don't get it done you're going to see a reversal of a significant amount of these gains."