Tim Geithner Asked Dinesh D'Souza "How It Felt To Be Such A Dick"
Old Ivy League ties. Geithner's memoir, out tomorrow, reveals the time he crossed paths with the vitriolic Obama critic.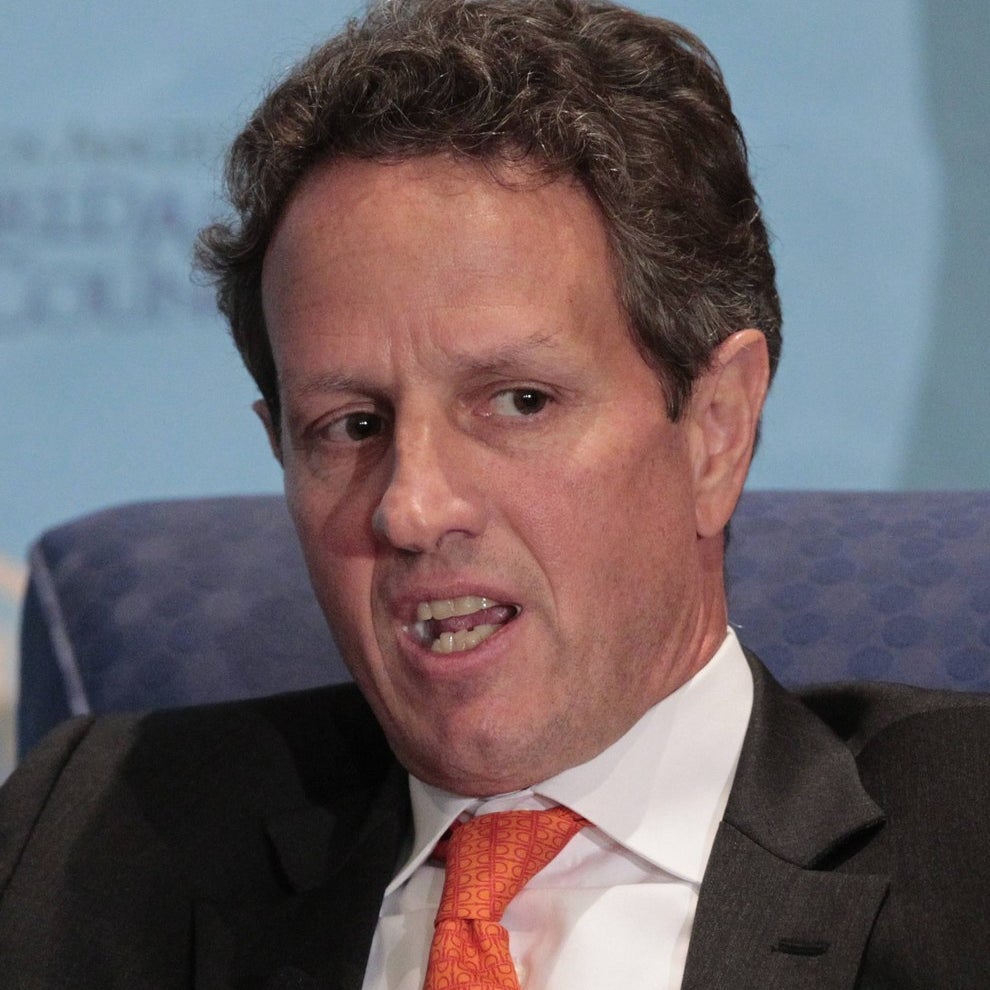 Timothy Geithner and Dinesh D'Souza.
Former Treasury Secretary Timothy Geithner, who steered the U.S. economy through some of its most perilous moments, spent little time in his life in partisan politics before his 2009 appointment by President Barack Obama.
But he had an early tangle with one of Obama's most ardent and controversial foes while only in college: the conservative author and filmmaker Dinesh D'Souza.
In his memoir Stress Test, Geithner writes that, despite being a registered Republican during his time as a Dartmouth undergraduate in the early 1980s, he "develop[ed] a strong aversion to the strident conservative Republican political movement that was spreading across college campuses at the time."
A central figure in that movement was D'Souza, who was then editor of the Dartmouth Review, a conservative newspaper founded with the support of prominent conservatives that included longtime National Review contributor, Dartmouth English professor, and Nixon speechwriter Jeffrey Hart, whose son Ben was one of its founders. Jack Kemp, Patrick Buchanan, and then-National Review publisher William Rusher were three of several well-known Republicans to serve on its advisory board.
D'Souza helped turn Dartmouth into the heart of a new campus conservative resurgence. He brought Review to national fame with vitriolic attacks on the bogeyman of the day, political correctness, and with a prankish sensibility that influenced the nascent Republican youth movement of the Reagan era. Most infamously, the Review in 1981 published a list of members of the campus's gay–straight alliance, outing several students who had not yet publicized their sexual orientation.
The New York Times reported that one outed student "became severely depressed and talked repeatedly of suicide" while another's grandfather learned of his grandson's sexual orientation "when he got his copy of the Review in the mail."
Geithner writes that after the Review published its "McCarthy-style list" he "ran into a Review writer named Dinesh D'Souza at a coffee shop and asked him how it felt to be such a dick."
It's very possible that the language Geithner used was harsher — despite his mild public image, he is known for his expansive use of profanity in meetings. The head of the task force that oversaw the bailouts and restructuring of General Motors and Chrysler, Steve Rattner, said in his memoir that Geithner was "given to occasional bursts of profanity and odd fits of giggling." Geithner himself writes that a friend suggested his book be called Bonfire of the Profanities. Geithner says several Review writers went on to join the Wall Street Journal's editorial page, where "they would not be big fans of my later work."
D'Souza went on to work in the Reagan White House and publish a series of strident best-sellers, including in 2007 The Enemy at Home, blaming the "cultural left" for 9/11 and alienating even many of his fellow conservatives. He would later direct the documentary 2016: Obama's America, based on his book The Roots of Obama's Rage, where he argued that much of Obama's presidency can be explained by him sharing the anti-colonialist views of his father. He has more recently claimed political bias in a federal campaign finance case against him for allegedly abusing the law to finance the campaign of a Dartmouth classmate.
Geithner's passing review of his old classmate's latest: "a "conspiracy-minded best-seller."