This Could Maybe, Possibly Be A Breakout Year For Bank Of America
With its legal costs potentially subsiding and the U.S. economy growing, the beleaguered banking giant might have a chance.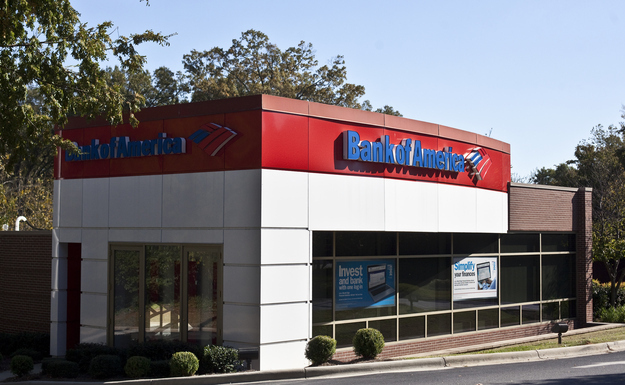 Is Bank of America "no longer impacted by legacy issues?" A team of analysts at Citigroup lead by Keith Horowitz think so, upgrading the massive North Carolina-based bank to a "buy" in a note today. The analysts put a $19 share price target on BofA compared to its current price at $16.15. Why the good news? It's a bet on the U.S. economy improving, which many economists expect in 2014, and those nasty legacy issues receding for the second-largest U.S. bank with $2.1 trillion in assets.
Bank of America is perhaps the institution still carrying the most weight from the financial crisis, with its $40 billion acquisition of the mortgage lender Countrywide in 2008 that has since cost it at least $40 billion in legal expenses alone (not to mention its government arranged swallowing of the then near-failure investment bank Merrill Lynch). BofA's stock price jumped 34% in 2013, putting it at almost triple its 2011 low of $4.99 even if it's still nowhere near its 2006 high of over $53. The bank's stock was last at $19 in November 2008.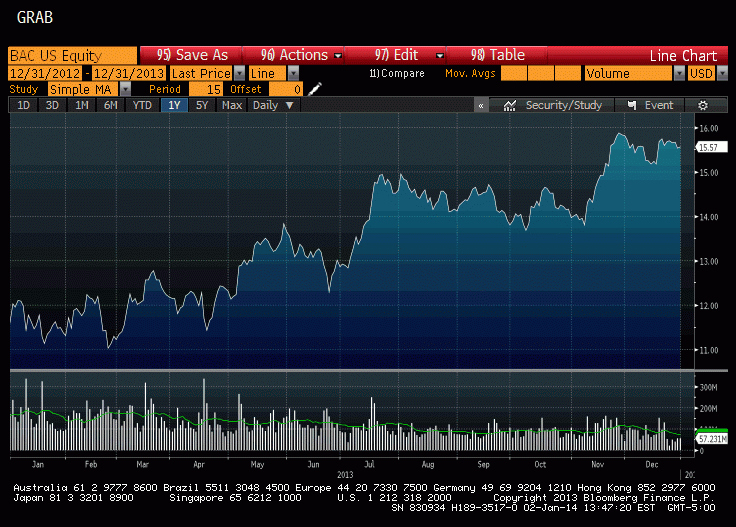 One thing Bank of America has is businesses that do especially well when the U.S. economy is growing quickly. With economic growth for the third quarter at over 4% and economists expecting quicker growth this year than last year, the bank's businesses like credit cards and residential real estate lending will be even stronger.
In the 2012 fiscal year, BofA had over $5 billion in income from its card services and just over $4 billion in income across the whole company. Citi sees Bank of America's consumer and business banking, which means things like making loans to businesses and individuals, growing 11% partially thanks to consumers' increased willingness to put more money on credit card balances.
The analysts say that, "if the US economy continues to improve, we believe investors will look to BAC...as a play on the US economy due to an asset sensitive balance sheet and exposure to the US consumer." For the last five years, Bank of America has most reflected the county in its name, with huge exposure to residential real estate and the now-worthless financial products constructed during the boom times that have dragged down its fortunes since the recession.
Even with its earnings and projections now pointing positive, Bank of America is still looking like a laggard compared to its peers. Citi estimates that it will earn 87 cents a share this year, compared to $15.24 for Goldman Sachs and $4.41 for JPMorgan Chase.