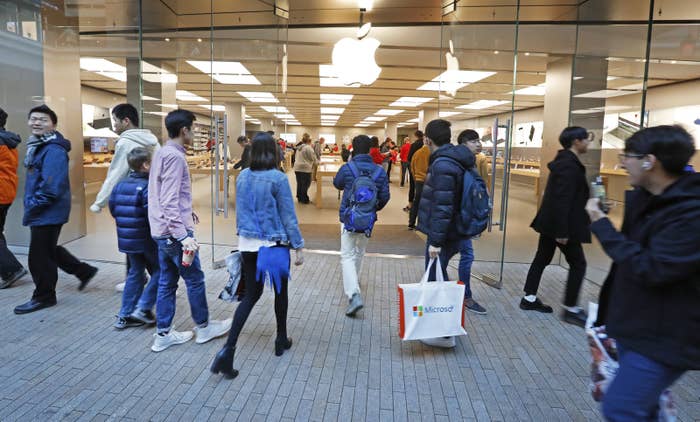 Apple should be worth more than $1 trillion, a Wall Street analyst declared on Monday, as a surge in the company's stock price pushed its valuation above $800 billion for the first time.
"We believe Apple remains among the most under-appreciated stocks in the world," Brian White, an analyst at Drexel Hamilton said in a note. Investors are now "focused on the iPhone 8 this fall," he said, as well as the company's plans to return some of the more than $250 billion in cash it has stockpiled to its shareholders.
While Apple reported its first revenue decline in more than a decade last year, it has posted growing revenues in its two most recent quarters, and the iPhone 8 hype machine is going strong. "We believe the market became overly negative on Apple for all the wrong reasons," White wrote. "With just 14.6% worldwide smartphone market share in 2016...we believe Apple has plenty of room for growth."
This is not the first $1 trillion call Apple has received from analysts. in 2015, the brokerage firm Cantor Fitzgerald said Apple should be worth more than $1 trillion, pointing to the release of the Apple Watch and the brand's growth prospects in China.
And Apple isn't the only company in the race to $1 trillion. Amazon is currently valued at $450 billion, but is in the process of rolling out businesses that could crush entire segments of the retail industry. In March, Barclays analysts said the e-commerce giant "is likely to be one of the first trillion-dollar market cap companies; it's just a question of when, not if, in our view."
Google's parent company, Alphabet, is currently worth about $650 billion, with almost all its revenue coming from its online advertising business.
But as the giants of technology hurtle toward a 13-figure valuation, a titan of the old economy could beat them to it. Saudi Arabia's state energy company, Saudi Aramco, is in the middle of a lengthy process of becoming a publicly traded company. Aramco controls an estimated 18% of global oil reserves and could be worth up to $2 trillion after its stock market debut, Saudi officials have said, although some analysts have guessed its valuation could end up being as low as $400 billion.
Apple stock was up by 2.7% on Monday afternoon, making the company worth more than $810 billion.