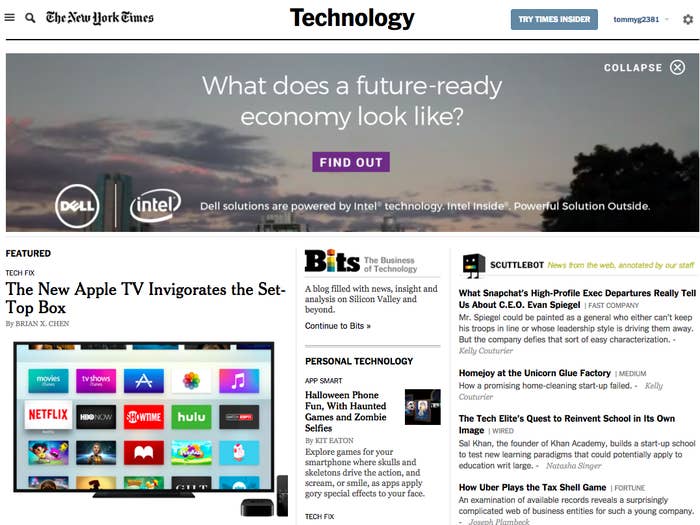 "Let me make it clear that we oppose ad blocking," New York Times chief executive Mark Thompson said on an earnings call Thursday. "The creation of quality news content is expensive and digital advertising is an important way in which we and other high-quality news providers fund operations."

The company seems set to test a number of responses to ad blocking software, in a manner similar to the Washington Post. As BuzzFeed News reported in September, the Post has experimented with pop-up windows asking users to turn off ad blockers, and others directing those who want an ad-free experience to become paying subscribers.
Thompson said the Times was "exploring a number of options, including, but not limited to, technical solutions, to mitigate the blockers should the threat increase."
Like most print media companies transitioning to digital, the Times is banking its future on a combination of paid online subscriptions and digital advertising. While the former category has outperformed expectations, the latter is struggling amid an industrywide glut of ad inventory and the rapid shift by readers mobile devices.
In the third quarter, the Times pulled in $48.6 million in revenue from its more than 1 million digital subscribers. Revenue from digital advertising shrunk 5% to $36.5 million and made up just over a quarter of its total advertising revenue of $136 million. In total, the company made a $22 million operating profit on revenues of $365 million.
While other publications have taken direct action in response to the rise of ad blockers, the Times has not. Along with the Washington Post, GQ sometimes asks readers to turn off their ad blocker or pay $.49 for an article, while the Guardian asks readers who use ad blockers to make a donation.
Meredith Kopit Levien, the Times' chief revenue officer, told analysts "I think the Times is at industry average in terms of the rate of adoption of blockers on the web." And the company, she said, is working to address the basic dislike of online ads that has driven the rise of blocking software in the first place.
"We're hard at work at making better digital advertising and creating more relevant experiences for our users that kind of match the surrounding New York Times product and editorial experience," Levien said.
While revenue from classified and display advertising both declined from a year ago, the "other" advertising category, which includes branded content, jumped 42% to $5 million.
Thompson told analysts "you can certainly expect to see us experimenting" and that the company was "exploring reactions and working out what works best."
On Thursday, the popular AdBlock tool reported spotting 17 blockable ads on NYTimes.com.